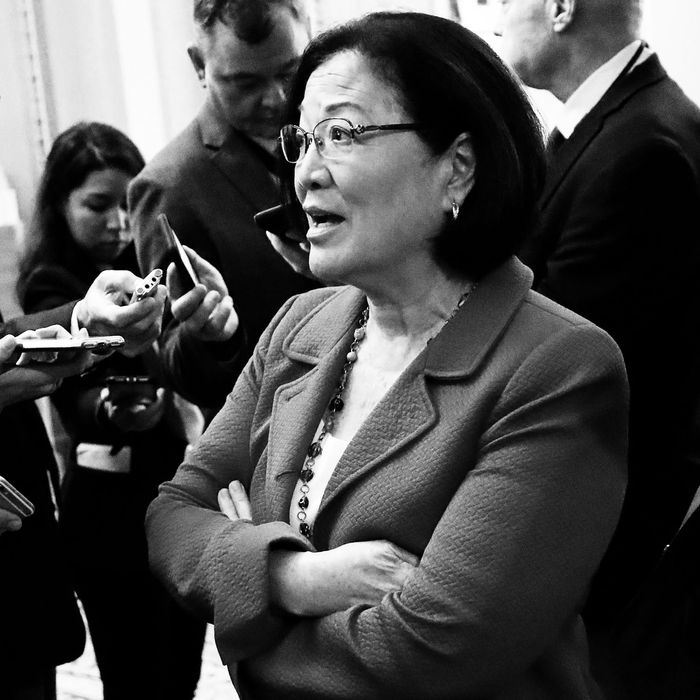 Mazie Hirono.
Photo: Pablo Martinez Monsivais/AP/REX/
Democratic senator of Hawaii Mazie Hirono has traditionally been described in a way that's similar to how Hillary Clinton was and is often discussed: having a flat affect, being slightly dispassionate, lacking personality. And often, when colleagues or the media talk about Hirono's tenacity, the praise is couched. Senate Minority Leader Chuck Schumer has said that while the senator may be soft-spoken she has a "spine of steel." NPR has stated she has a "quiet rage." Hirono herself has told Time that she views descriptions of how she has "found her voice" or is "stepping out of the shadows" to be slightly sexist.
Now, amid the multiple allegations of sexual misconduct directed at Brett Kavanaugh, Hirono has been thrust into the spotlight for her loud and direct opposition to the Supreme Court nominee. "I just want to say to the men in this country: Just shut up and step up. Do the right thing, for a change," Hirono said last week at a press conference. During confirmation hearings before the Senate Judiciary Committee in early September, she flat-out asked Kavanaugh under oath if he's ever engaged in sexual or physical misconduct. And when the Republican committee members handling the allegations of Professor Christine Blasey Ford said they've done "everything" they could to contact Ford, Hirono responded, "That is such bullshit, I can't hardly stand it."
Hirono's participation in call-out culture is something of an anomaly for Asian Americans, especially women — typically, we are cast as non-disruptors. Besides Hirono, which other Asian Americans are openly condemning abusive behavior on a national stage? Awkwafina? That's about it. At a time when there's a shift from Asian Americans being seen as invisible to a new discussion over what Asian-American politics, entertainment, activism, and social change looks like, Hirono's newfound spotlight is encouraging.
Hirono, the first Asian-American woman elected to Senate and the only first-generation immigrant in Senate, came to the U.S. from Japan at the age of 8 so her mother could escape her abusive husband. Hirono didn't speak English when her family arrived in Hawaii with a single suitcase, and grew up to become a state legislator in 1980 and work on improving sexual-assault laws. During her time as a politician, she has pushed for the passage of the DREAM Act, fought for increased Asian-American Pacific Islander (AAPI) data, and shared her personal #MeToo story. She's a politician whose lived experience directly mirrors those she is fighting for, and she's finally being heard.
The New Yorker pointed out the inextricable link between Hirono's past experiences, her identity, and her line of questioning for Trump's appointees "Since you became a legal adult," she has asked Kavanaugh and others, "have you ever made unwanted requests for sexual favors or committed any verbal or physical harassment or assault of a sexual nature?" The magazine observes that her justifiable anger likely comes from being treated a certain way as an immigrant and a woman:
"What is revealed in the moments when she does — when she angrily calls on America's men to be better, for instance — is a steeliness that comes from decades of navigating public life in this country as an immigrant and a woman. If and when Christine Blasey Ford testifies, there will be few reassuring faces on the Senate Judiciary committee. But Ford should take heart that Hirono's will be one of them."
The reasons Asian Americans are often seen as non-political can be somewhat cyclical. For some, there's a lack of belonging within American politics. Politicians target Asian Americans at a rate of only 31 percent, compared to the national average of 53 percent. This, coupled with the fact that 75 percent of Asians in American are foreign-born, can lead to barriers in voting. Experts have pointed to these factors as reasons for the lack of Asian-American political engagement, but people like Hirono can inevitably help break what think tank New America calls a "non-participation feedback loop."
As the discussion goes in Hollywood, representation matters — and even more so in the political arena. Although I don't have a history of family abuse like Hirono does, I — like every other woman being forced to excavate past pain and distress at this political moment — have been on the receiving end of sexual misconduct. It was striking for me to see an Asian American take the lead in calling out a powerful white man, and to witness people hearing her. Hirono's questioning of Kavanaugh tells other Asian-American women who have been told they should be docile, meek that it's not something they have to endure, and that their concerns are worthy of being heard.
Hirono has said that her family's history factors heavily into what she's fighting for today. "For all intents and purposes, I wouldn't be sitting here if my mother hadn't made a decision when I was young that she needed to get us away from an abusive husband," Hirono told Makers. "She had tremendous courage at a time in Japan where women in Japan just didn't do this sort of thing. There's nothing I could do in my life that's as hard as what she did bringing us to this country."