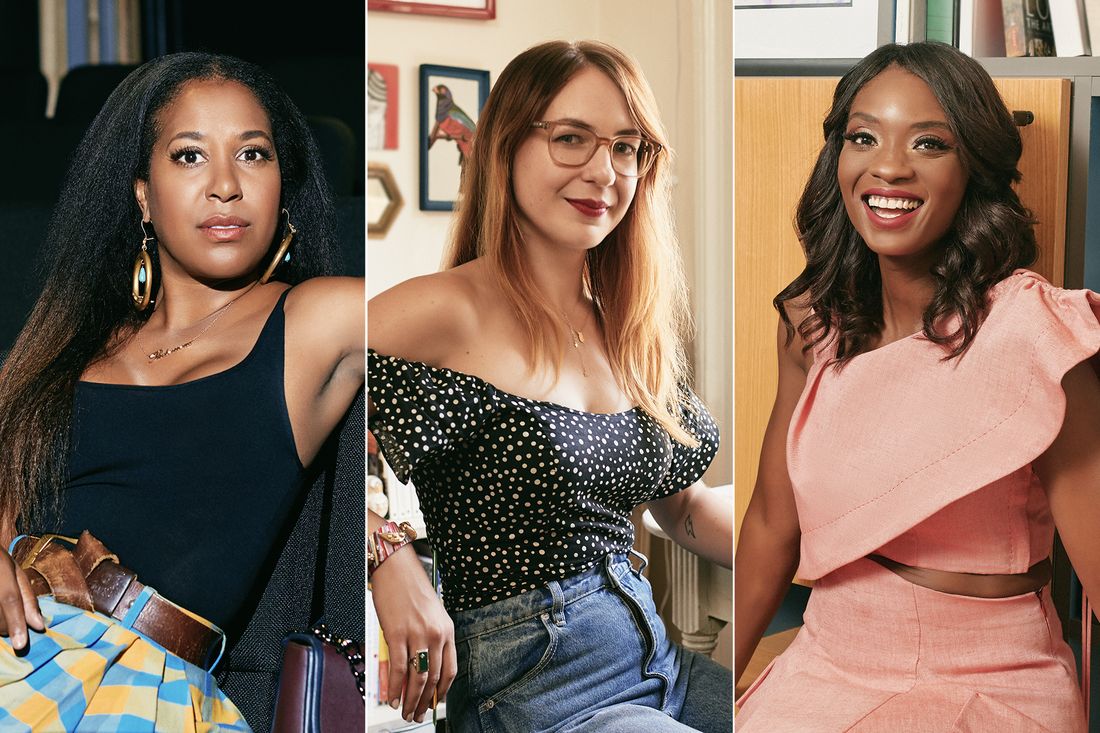 From left: Sade Lythcott, Mari Andrew, and Lola Ogunnaike.
Photo: Ryan Slack
Maybe it's a perfectly fine-tipped pen, noise-cancelling headphones, a family picture, or the work bag you always bring to a big meeting: How we style our offices can make us feel ambitious, in control, and unfazed by a steady deluge of emails. Searching for the platonic ideal of productive workspaces, we asked three successful women how they organize their offices to do their best work.
For writer and illustrator Mari Andrew, it's a drawer full of ribbons, ready to be tied on a drawing before she sends it off to a publisher. For National Black Theatre CEO Sade Lythcott, it's African art and a photo of her mom. And for journalist Lola Ogunnaike, it's a stack of colorful notebooks. Learn how they've designed their "offices" for maximum comfort, efficiency, and creativity below. And find out what kind of work bag—supplied here by TUMI—helps each keep their essentials close.
Sade Lythcott
Sade Lythcott is CEO of the National Black Theatre, the oldest black theater in New York City, which was founded in 1968 by her late mother, the visionary Dr. Barbara Ann Teer.
On the significance of her two offices: I have two workspaces. The National Black Theatre is on Fifth Avenue and 125th Street. When my mother bought the property in the '80s, Harlem was a very different place and half of people thought this black woman could not buy a city block—this old jewelry factory—and the other half were like, why would you want to? She said, "I want to buy this property because it's the most famous address in the entire world." She said, "Think about it: You say 'Fifth Avenue' anywhere and people immediately think New York City, opulence. When you say '125th Street,' they immediately know Harlem, black culture. And if I can buy the intersection of black culture and opulence, I want to build this theater for our people."
When my mother had myself and my brother, she moved the executive offices into our home, which is a brownstone about 15 blocks away. She set up her office there so she could be close to us kids. So I work between both spaces, my home and the theater.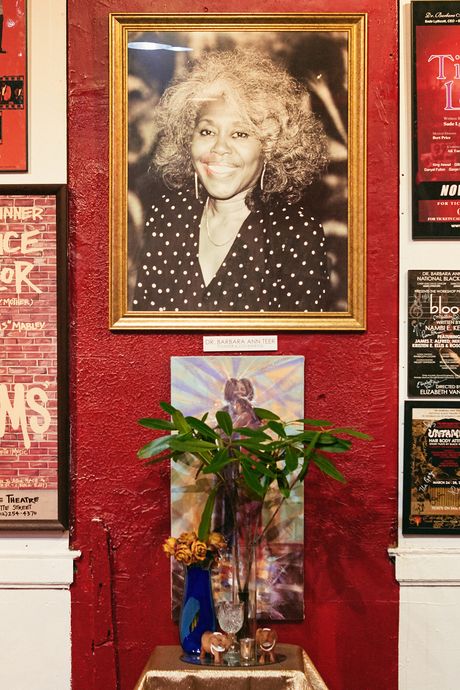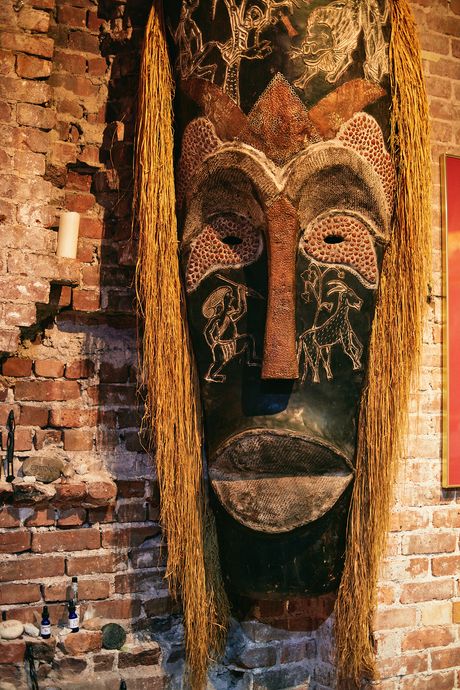 On being a CEO in the house where she grew up: In 2008 my mother suddenly passed of a heart attack, and I had worked in fashion my whole life up until that moment. [I was asked] if I could for a very short period of time step in and be the CEO while they hunted for somebody else, and I've been there ever since. It's been ten years. I call myself an accidental CEO. It's the most meaningful work I've ever done and it's totally my life's purpose.
I think I never really understood the gravity of it until last year when I had my first child. Raising a kid in the same hallowed halls where I ran around as a little kid is kind of mind-numbingly beautiful. I really understand in a much more profound way what it is to not do the work for yourself, but for the next generation—to be of service to our community.
The most cherished possessions in her office: Our African art collection. Both of my spaces are covered in carvings and statues, mostly from different countries in Africa. Most of our works are commissioned or were given by chiefs or medicine people. They all have such meaning because they've all been carved with such intention and spiritual juju. The intention is to help the space hold a certain vibration that is all about liberation. So when people come in, they don't know why they feel so good.
What she needs in a work bag: I am a working mom who is always on the go, so I need enough space where I have a toy for my kid or wipes or snacks. I love the unique shape of this purse, and it's big enough to carry a considerable amount of items but small enough that you're not overwhelmed by the weight or size of it. I have a tendency to fill big bags, so this really makes sure you have all of what you need and none of what you don't.
Mari Andrew
Writer and illustrator Mari Andrew creates highly relatable watercolor drawings for nearly one million followers in her East Village apartment, and she's currently working on her second book. Her debut, Am I There Yet?: The Loop-de-loop, Zigzagging Journey to Adulthood, was published earlier this year and became a New York Times bestseller.
The office décor that makes her feel powerful: Right by my desk I have a bookshelf of just books that my friends have written. I have a lot of artist and writer friends, and it's so cool to look at that and see what people have accomplished and also feel—kind of for the first time, because my book just came out this year—that I am part of a community. It can be a little lonely working by myself; I don't have co-workers and I actually really miss that. So this shelf is like my version of co-workers, all my people just sort of watching me work, and it makes me feel like I'm part of something bigger than myself.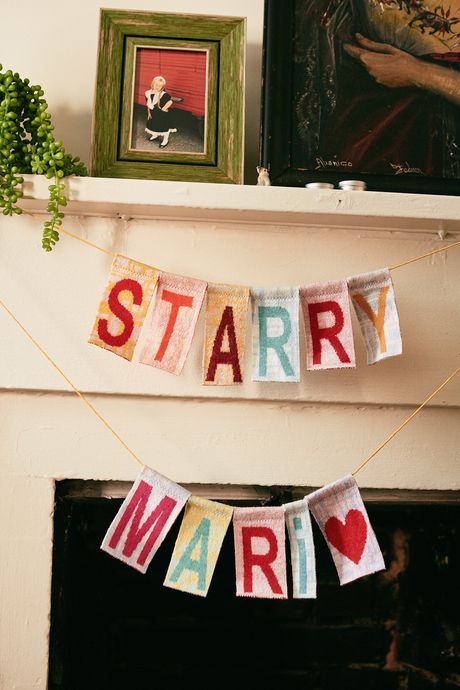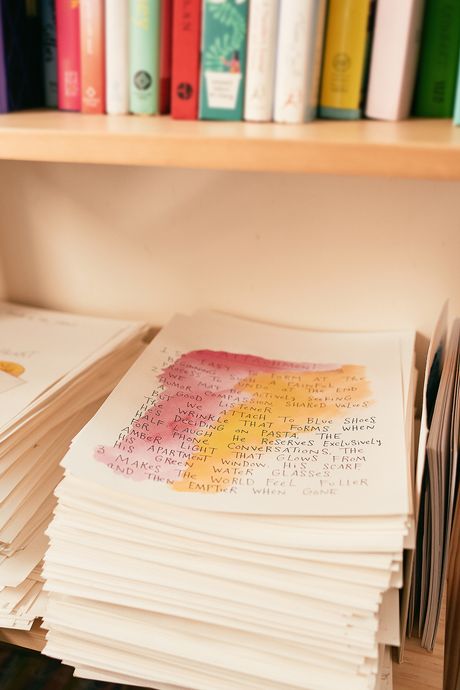 Her most underrated desk accessory: In my desk drawer I have a collection of ribbons, and I like to tie my art with a polka-dot ribbon or something just to give it a little touch. I think I got it from this scene in Little Women, which I was very influenced by, where the author ties her manuscript with a ribbon and puts a rose in it. And I thought, that is the coolest. A big part of the work that I do, I like to make it really personal. So, to me, it's such a beautiful, chic [gesture], like, "Here is my art from my soul, and I present it to you."
Her ideal bag for work: I only work out of bags. I'm sort of like my dream [version] of myself when I was 12, just a woman who carries her art supplies everywhere. The paper I use is 9 inches by 12 inches, so it has to be kind of a good-size tote, but also comfortable to slip in a laptop because I travel a lot and use it as a carry-on. It has to be roomy for snacks and all of the things you bring on an airplane. I love a simple leather tote that's expressive while still presenting very impressively, which is increasingly important to me.
Lola Ogunnaike
Lola Ogunnaike is the host of PeopleTV's Couch Surfing and works in a downtown Manhattan office building where the show films.
On working in her office vs. on set: We usually shoot two or three times a day, and when I'm on deadline my entire team likes to congregate in my upstairs office [above the show's studio], which is fun. The office is where I change and prepare for my interviews, because I write a lot of my own questions. It's a creative space, but it's not quite as glamorous as being in hair and makeup, which involves a lot of lashes and curlers and lipstick, which happens downstairs on set.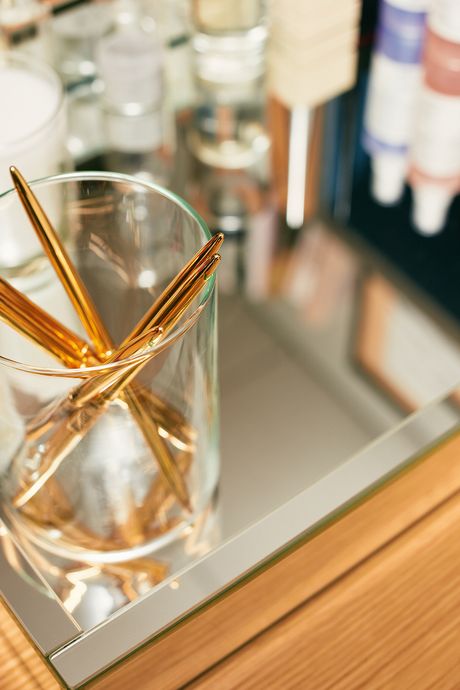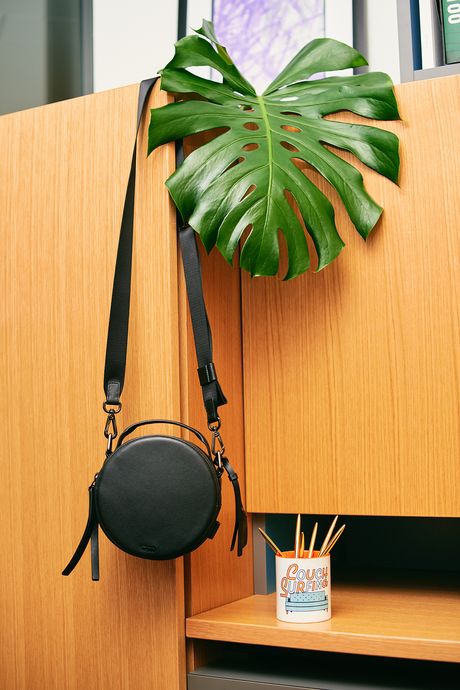 On keeping her office clutter-free: I'm not quite paperless yet, but I'm trying to slowly get there. My issue has always been that I like hard copies of everything, and that can result in me sifting through a mountain of paper trying to find that one article from 2010. So now my associate producers have helped me come to terms with the idea that it's okay to just read links to things and you don't need a 50-page file for each interview. Three hard-copy articles and a host of links will give you more than enough information.
Her favorite work bags: I'm obsessed with crossbody bags. If I have to catch my toddler, I don't have to worry about a bag getting in the way. I love how functional and chic this one is—I can even fit a little pen and a little notebook in there, which I always have on hand. On days when I'm carrying a larger purse, I need a tote that can also hold the snacks my 3-year-old son prefers: a water bottle, a bag of crackers, a yogurt pouch, and a bag of grapes.
This is paid content produced for an advertiser by New York Brand Studio. The editorial staff of The Cut did not play a role in its creation.