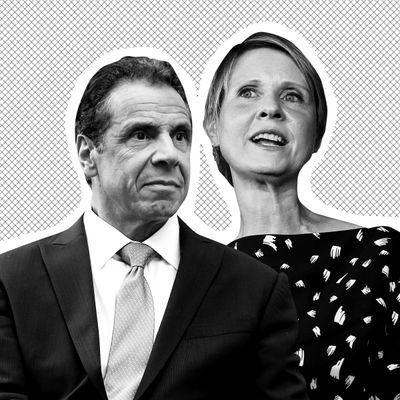 Andrew Cuomo, Cynthia Nixon.
Photo: Getty Images
Cynthia Nixon's campaign was always a long shot. She was a political newcomer facing off against a famously vengeful two-term incumbent Governor with over $30 million and strong establishment backing. Ultimately, Andrew Cuomo won his third term by over 30 percentage points, and I look forward to spending the majority of the next four years stuck underground in a subway tunnel without reading material.
But the race was not futile. For one, Cuomo was forced to think and publicly talk about acclaimed HBO comedy drama Sex and the City. And Nixon actually got her opponent to sit down to a one-on-one debate for the first time in over a decade. Crucially, she also pushed him further to the left on a number of policies over the course of just a few months, a noticeable change often referred to as "The Cynthia Effect."
Nixon acknowledged those victories in her concession speech. "Some people have called it The Cynthia Effect," she said at her primary party. "That's not what I call it. I call it Holding Our Leaders Accountable." (When asked during a press conference on Friday if Nixon had pushed him to the left, Cuomo responded, "No, not at all.")
Here, we look at the most significant and direct shifts.
Dismantling the IDC.
One of the most troubling aspects of recent New York politics was the Independent Democratic Conference: a group of state senators who were elected as Democrats but who, starting in 2011, caucused and voted with the Republicans. After years of loud criticism, which became deafening after Nixon announced she was running in March, Cuomo called a meeting to dissolve the IDC in April. It was too little, too late: The majority of members, including ringleader Jeff Klein, were ousted by progressive newcomers last night.
A step closer to marijuana legalization.
As of January, Cuomo took a stern stance on marijuana legalization, saying he needed to conduct additional studies and think about it more extensively. Nixon, meanwhile, pushed legalization to the forefront of her campaign — this included everything from highlighting the racial injustice at play in marijuana arrests to adding a $4.20 donation button on her site. By June, Cuomo's study and report concluded that there were more positives than negatives when it came to legalization.
Restored voting rights for parolees.
Nixon pushed hard for widespread criminal-justice reform in New York from the beginning of her run, from ending the cash bail system to closing the notorious Rikers Island jail complex. In April, Cuomo made a move of his own and announced that he intended to restore voting rights to parolees.
The plastic bag ban.
Does Andrew Cuomo ever feel like a plastic bag, drifting through the wind, wanting to start again? This remains to be confirmed, but we do know that he flipped and supported a plastic bag ban in New York within a month of Nixon entering the race.