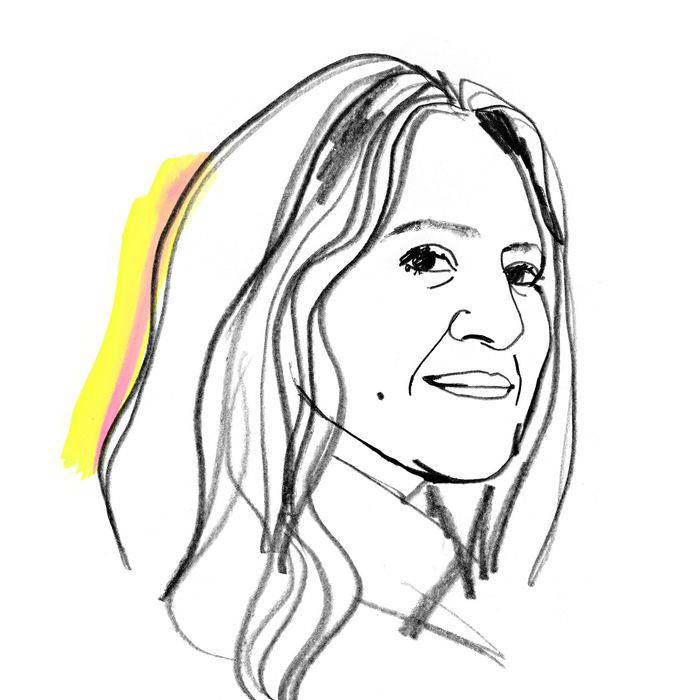 Ariel Palitz
Illustration: Lauren Tamaki
Last fall, New York City mayor Bill de Blasio announced the formation of an Office of Nightlife as well as a hunt for the perfect person to lead the department, a role he called the "nightlife mayor." In March 2018, he appointed Palitz, 47, who owned and operated the nightclub Sutra Lounge for ten years and who's been promoting and party-planning since her youth on the Upper East Side. She's lived in multiple apartments at the same intersection of the East Village for 20 years. Here's how she gets it done.
On the struggle to enjoy mornings:
My bedtime used to be sunrise. Literally, when the sun came up, I knew it was time to go to sleep. Now I go to bed around 1 a.m., which I think is major progress. I am sort of a naturally nocturnal person, and I always have been. It's a part of why I gravitated toward the nightlife industry. With this new waking-up-early routine, I've devised a way to make it more pleasant. I ordinarily set my alarm a half hour or so before I need to wake up so I can just snooze every few minutes, and I wake up gradually and happily. Then I usually will go brush my teeth, put on a face mask, and sit and meditate for 10 or 15 minutes. I find my center, and release any concerns, worries, or fears. Jump in the shower, make myself a Marley recyclable K-cup. Then I'll watch the news while getting dressed.
On adjusting to office life:
This is my first office job in probably 20 years. Though running a nightclub, I did have an office and an office staff, and we did show up every day and do regular work, like phone calls and emails — the regular routine, except we had a disco ball and cases of vodka everywhere. City government is a really new world for me. It's a lot of acronyms to learn.
On decorating the new space:
I've got a lot of stuff in bags and boxes, posters from my nightlife promoter days and all kinds of stuff I'd like to put up. I haven't quite had the chance yet. The midtown office is really cool. There are a lot of old New York relics. In my actual, personal office, I have an old New York City parking meter, randomly. We have subway straps hanging from the ceiling, and traffic lights. It's really fun. I have a "congratulations" plant from my dad.
On her typical day:
Essentially, the office of nightlife is meant to be a liaison between the city agencies, the hospitality industry, and residents, to advocate for a vibrant and safe nightlife industry and culture and economy. A lot of it is coming into the office, getting acclimated, trying to learn as much as I can about the basic infrastructure and this whole language of government. I spend just as much time going uptown, downtown, to all five boroughs, meeting with commissioners, with police departments, with nightlife operators, with community groups. I'm getting one-on-one time with people, and getting a sense of what the offices are, what the city resources and agencies do and can offer. Then taking it back to the office of nightlife and starting to connect those dots.
On creating an entirely new government department:
This is a new office in New York, but the concept of an office of nightlife exists in over 30 cities around the world, including London, Berlin, Amsterdam. The hospitality industry is, in New York, a $29 billion industry, and employs over 250,000 people. It is essential to not only our economy but also to how we compete on the world stage as far as tourism. It contributes to our culture, our identity.
You can really look at the nighttime policies and economy and culture as an ecosystem. We want to create a proactive plan that helps to deal with not only nightlife but life at night: not just nightlife venues but transportation, sanitation, policing, city planning. We need to take a step back and see how all these city agencies, and how the industry and the residents, are coexisting. Right now they're not coexisting as harmoniously as everyone would like, and how I think we can.
On her professional honeymoon period:
I'm loving every minute of every day since I have been appointed to this position. That in and of itself is such an accomplishment. To have this office created and to have been chosen, every moment feels like an absolute … I don't want to say "a gift" because that's corny. There really hasn't been a person or a meeting or a phone call or a day gone by that I haven't really appreciated, or haven't felt that something important is being done here. There's so much potential.
On going out every night:
I'm not going out anymore than usual. I mean, I've always loved going out. But it's not part of my job description. I go out at least two to three times a week. I visit friends in the industry, at old spaces, or who DJ, or who are throwing parties. I love to dance, I love music, I go to restaurants with my friends. I'm a huge foodie. As we become more established here, I do see that actually ramping up. I think it is imperative that we go out into the field, so to speak, to get a sense of all perspectives: from the operators, from the patrons, from the residents. I don't think that can all be assessed from a desk.
On her first job in the nightlife industry:
I grew up in the city, so the minute you can go out, you do. At my first opportunity, I worked at this club called Mars — not Mars Bar, but Club Mars — with my friend Michael Tron, who was one of the original club kids. We grew up together, went to high school together. I helped him promote his Saturday nights: I would call people on the phone and let them know they were on the guest list, for hours. I was just old enough, let's put it that way.
On New York losing its edge:
First, I want to get one thing straight: New York will always be cool. Okay? There's no doubt that New York has changed. Back in the day, we used to roll around in these huge cliques and party hop. You could hail a limo for $20 and people used to get dressed in there. It was free-spirited and sexy and unexpected, and high and low culture were clashing and dancing. There were holes in the wall, and you didn't know what was behind the door. Was it a warehouse? Some little speakeasy? New York is a magnet for the most creative and brilliant people in the world. I think that remains true.
At the same time, it's true that the rising cost of residential and commercial rents, as well as the cost of living and doing business, has risen dramatically in ways that challenge the diversity and free spirit of the city. In some ways, it has, for now, stifled its ability to really express its creativity. But it's not dead. The spirit is not dead. You know, I'm an optimist and a New York loyalist. I believe New York is evolving and it's finding its way to make room again for those creative spaces. The establishment of the office of nightlife itself is a sign of a new era that recognizes and respects what the nightlife culture and community and economy contribute to the city, and that it needs to be nurtured and protected as a precious commodity that defines our identity and influences the whole world.
On what makes for a perfect nightlife spot:
I think what separates New York from the rest of the world is our high standards. We have very little patience and very high standards. The quality goes into the details. First, the staff: Who's greeting you at the door? Are you getting a smile, or attitude? The lighting has to be perfect. The sound levels, not too loud and not too soft. I want it to smell good. The vibe is something that's really unique to each nightlight operator and owner. You make people feel welcome, safe, comfortable, and cool.