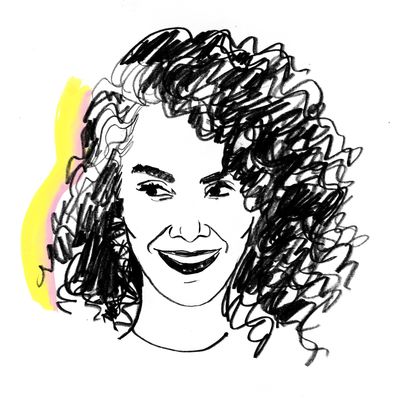 Illustration: Lauren Tamaki
Mara Brock Akil is a Hollywood writer, director, and television producer. The creator of Girlfriends, The Game, and Being Mary Jane, she's also worked on shows like Moesha and The Jamie Foxx Show. Her latest project is the romantic drama Love Is ___, which she and her husband, director Salim Akil, created for the Oprah Winfrey Network. The script is inspired by their own relationship and marriage of 20 years. Brock Akil lives in Los Angeles with her husband and their two sons. Here's how she gets it all done.
On busy mornings:
The alarm goes off anywhere between 5:30 and 6 a.m. I wake up with a prayer, thank God, and do a stretch in bed. If I have any ideas — and typically I do — I note them on my phone. Then, I get the boys up, make breakfast, and get us all out of the house so we can make the carpool drop-off at both schools.
After that, I get a Starbucks tea and I go on a hike. The hike is very important. I love to do it with Salim, but it depends on if he's home or not. On the way down, we talk about everything — business, our personal lives, administrative stuff, kid stuff, and what's on our minds spiritually. If I'm alone, I'm doing that by myself. And then on the way up the hill, which is more strenuous, I spend my time meditating and praying. Once I'm done, I run home and I get dressed.
On how she stays focused at the office:
I tend to compartmentalize. I try to schedule everything that involves interacting with other people on the same day, which I call Boss Day, and then I'll leave myself space the next day to just write. On Boss Day, I go into the Warner Brothers office, but I typically do not go into the office when I write. We have a loft — a creative space in Venice — or I will go to Soho House or the public library. I have to find a place where I can flow. More recently, if I'm in post-production, I dedicate one day to that. It allows me to be laser-focused.
On work–life balance:
I take the time to run to my children's games and events. They sacrifice a lot with two parents in this business, so we try to make sure that when they look up in the stands, one of us is there. Going to events means I'll have to go back to the office afterward, so I might work until 8 p.m that day, but if I work late, I make sure that the next night I am home. I try to limit things that will keep me away from the house so that the majority of the week, my children see me at the end of the day.
When I walk through the threshold of the house in the evening, there is no more working. That's a rule that Salim and I created even before children. Our business is so consuming that at some point you have to cut it off. There have been times when I've sat in the car on a call for 30 minutes before I walk in the house, so that when I do walk through the door, I can be present.
On not watching television:
I don't watch a lot of TV. I used to be embarrassed not being up to speed with all the different shows, but I had to accept that I can either make TV or I can watch TV. I do sometimes preview a show just to see what's going on, but to be an avid viewer, that is very difficult to work into my schedule. And when I'm being creative, I can't let other thoughts come in when I'm trying to get my thought out. There was a time when people were like, Oh your show is a little like this one, and I would not watch that other show, because I didn't want what they were doing to influence me.
On dressing the part:
When I'm a writer, I wear nothing restrictive. I don't wear jeans unless they're really relaxed and comfortable. It's mainly airy dresses or loungewear because I'm inside. I also always have a writer's sweater. I have to be warm; I can't be cold.
If I'm selling and I'm taking meetings, I'm cute with all my accessories and everything. But if I'm on set as a director, I wear men's clothing: black slacks with white shirts. I find men's clothing is more efficiently made. It's comfortable, it's durable, it has pockets — you don't even know I have a phone in my pocket. It's a uniform; I don't have to think about it.
On the challenges of working in Hollywood:
In this business, people can respond to stressful situations like the sky is falling, but I've accepted that it's not. Not to say that I'm devoid of stress, but typically I can snap out of it sooner, or my husband will recognize it and help me snap out of it sooner. I do breath work, or I'll walk around the block. I love the New York street at the backlot at Warner Bros. I walk around there and remember how I would have killed just to be on that lot, and I'm reminded about the gift it is to do what I do, at the level at which I do it.
On working with her husband on Love Is ___:
Working with my husband is great because I'm also working with one of the best directors in the business. It's also great because I'm working with my best friend. We have our moments, so it's good we also have our own offices and our own space [laughs], but he's great. Earlier in our career, there was a time when we were working together seven days a week, literally 24 hours a day, for maybe a five-year span. It was a beautiful investment of time together. Now, in this last year, we don't see each other that much.
The series, Love Is ___, is an answer to the question of how we've been able to balance it all. People have been asking that question for a minute and wanted me to write a book, but it became a TV show. I think both of us are at a place of confidence and security where we can share our story. In this day and age, everyone wants to put a filter on everything and show their best face and be perfect, and we know that our love is not perfect. It's deliberate and intentional. We work at it, and we wanted to show that.
On her evenings:
I still put my kids to bed and kiss them goodnight at ages 9 and 14. If Salim is home, I'll come back downstairs and sit with him on the couch and talk more about our day. If he's not home, most times I go back to work. I'll watch a cut or read a script. On average I get six to seven hours of sleep. But there are times I pull all-nighters. I catch up on the weekends. My kids let me sleep until 9 a.m. on the weekends if we don't have a game before that. You know what I do every night? I say a prayer. I always thank God before I go to bed and pray that we wake up healthy and that the world is still intact.