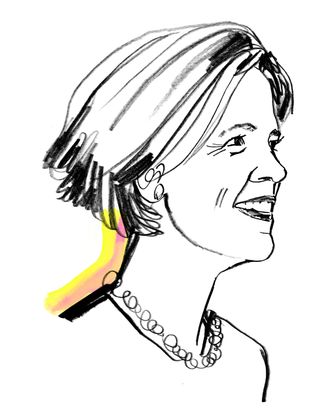 Illustration: Lauren Tamaki
Zephyr Teachout wants to be the next attorney general of New York. The 46-year-old Fordham Law professor and constitutional law expert is no newcomer to the political stage: she ran for governor in 2014 and attempted a bid for Congress in 2016. This year, when the AG role unexpectedly opened up, she hit the campaign trail once again — this time, while pregnant. The progressive favorite has since received prominent endorsements from outlets like the New York Times and the New York Daily News. Here, she tells the Cut how she gets it done.
On a typical morning: I now wake up at 5. I do so much of my thinking between 5 and 8. I feel completely clear in the morning. Honestly, I'm a total nut for the birds — I love the birds in the morning. If I'm working on an op-ed, it's the best time for writing. It's the best time for looking over what we did yesterday and planning forward. It's also the time that I'll read decisions or briefs in relevant cases. And then sometime between 7:30 and 8, I typically go to Harlem Coffee and I get an everything bagel and an iced coffee and then come into the office.
On campaigning while pregnant: I feel really lucky to be pregnant. I'm slightly older, so I wasn't sure that I was gonna be able to be pregnant. Honestly, it's a source of power and inspiration. Both because I am very excited about having this baby and, when the baby kicks, you feel this unconstrained energy. And I obviously think about what kind of world the baby's gonna come into, and that's a source of power and determination to keep working. And it's really fun just to get into old wives' tales — people will come up to me and say, "I can tell it's a boy because of the way you're carrying."
On managing stress: I find the more serious the task, the more important it is to stay really even-keeled, to focus on the work. The work itself is grounding. I eat well. I sleep well. And I do that for the job. I do that for the work that I care about. I do that for the baby I'm carrying.
On her nighttime routine: There are some events that go later, but I like to shut off the campaign around 8 p.m. or so. I like my sleep. I do sing to the baby. I don't get to see my husband every night now, but when we're together we have a nice dinner together. We play backgammon. I listen to music. The band that I love right now is Nathaniel Rateliff & the Night Sweats.
On how she stays motivated during her third campaign: It's about the work that needs to get done. I have been consistent about this core problem we have, which is big money in politics. I'm really proud of how, in 2014, we got 34 percent of the vote without anything. Literally anything: Not name recognition, not money, not institutional support. The deep goal is, to put it bluntly, justice and equity in this state and this country. And as an attorney general, there's so many ways in which I can, representing the people of the state, make this possible. That's what motivates me.
On exercise: Last year I ran maybe five or six races. I'm a little embarrassed to say that I ran the New York City marathon but I didn't finish. I made it to mile 18. I like running and I have been doing not as much as I'd like. Actually, right before I got pregnant I started getting into some rock climbing with my husband.
On her past as a champion runner: My high school team had a huge impact on me because there's this combination of intense competition and intense solidarity. You're running against somebody who you're also close friends with. There's so much that sports in high school is important for but one is to understand, especially as a woman, that you can be an unabashed competitor — doing everything you can to win — and still have totally cordial relationships with the person afterwards. When you're running, you're three inches away from your competitor. You're breathing down her neck or she's breathing down yours. Women being comfortable with tough competition is something that's really important. I was a pretty tough competitor. There are other ways to get there, but sports does teach you a comfort with just being unashamed about wanting to win.