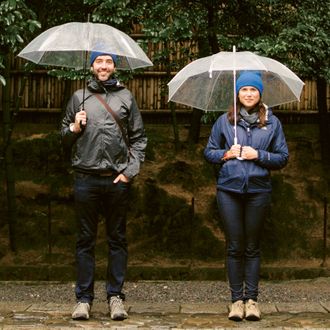 Alexandra and David Brown in Japan.
Photo: A Year Off by Alexandra and David Brown, published by Chronicle Books 2018.
In their book A Year Off, married couple Alexandra and David Brown describe how they quit their jobs and traveled together for a year, after knowing each other for only four months. They visited 20 countries, from New Zealand to India, Japan to Ireland. "It wasn't all this blissful, sailing off into the sunset romance," Alexandra said in an interview. The book offers budgeting tips and advice for navigating dietary restrictions and health issues, as well as photographs and vignettes from their time on the road.
When they returned, both had jobs lined up in their respective fields. "While I was away, I kept up the networking," Alexandra said. "I would periodically email recruiters I knew to keep them informed about where I was and when I would be coming back." If you attempt a similar trip, Alexandra advises being honest with your boss about why you're leaving work, and staying positive. "Having the belief and confidence that this is possible is crucial," she said. "It's the best investment you can make in yourself, if you have the privilege to be able to do it in the first place."