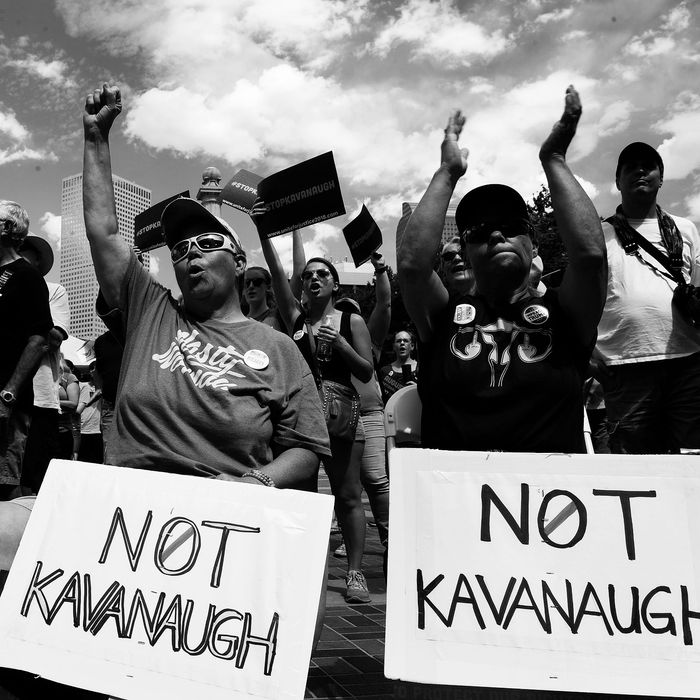 Protest against Brett Kavanaugh.
Photo: Helen H. Richardson/Denver Post via Getty Images
On Tuesday morning, the Senate began its Supreme Court confirmation hearings for Brett Kavanaugh, a Trump pick with historically low approval ratings. People around the country have been protesting Kavanaugh's nomination since it was first announced on July 9, but Tuesday marked a new and increasingly intense chapter of the fight to block the conservative judge; in just the first day of hearings, 70 protesters were forcibly removed from the room, arrested, and charged with civil disobedience.
Were Kavanaugh to be confirmed, his anti-abortion and anti-LGBTQ stances would endanger over half the U.S. population for decades to come. But the opposition against him had been surprisingly weak leading up to the hearings. As Irin Carmon noted at Daily Intelligencer, his appointment hadn't really felt like a national emergency "outside of the Twitter feeds of professional progressives who raise hell for a living." This took the pressure off of Democratic senators in red states as well as pro-choice Republicans — two groups that are crucial in keeping Kavanaugh off the SCOTUS bench.
But, advocates continue to insist, this is not a done deal. As activist Lynda Tran wrote in an op-ed for CBS, "Democrats can still win against Kavanaugh — if we make it clear that the public is with us." Below, an updated list of rallies to attend, elected officials to call, and other ways to #StopKavanaugh.
Attend a nearby demonstration
Cities across the country are likely to hold their own protest or rally, but most major actions have been planned so far in Washington, D.C. Here they are:
What: Rally to Stop Brett Kavanaugh
When: Thursday, September 6, 6 p.m. to 8 p.m.
Where: Groups, including the Planned Parenthood Action Fund, will hold a protest to send the message, "With our rights on the line, with the President implicated in a serious crime, this is no time to be silent or apathetic."
Check out the Facebook event here.
Line the halls of the U.S. Capitol
Every day this week from 11 a.m. to 1 p.m., activists with Planned Parenthood Action Fund will line the U.S. Capitol's halls outside of the hearing room to protest Kavanaugh. To confirm your attendance, RSVP here.
Volunteer for a voter contact shift
In order to regain control of the house, the Democrats will need to win 24 seats by November 6. As such, Move On has organized a slew of events where you can volunteer for a shift at a local U.S. House candidate's campaign office to speak directly to voters. Move On has suggested "themes" for specific days, and from September 8-12, the suggested theme is "Stop Kavanaugh Voter Day of Action." To see if there's a nearby event or to organize one yourself, visit Move On's website.
Call your elected officials
In late August, a number of progressive groups, including Indivisible — NARAL Pro-Choice America, and MoveOn — launched the website Whip The Vote, which makes it easy to figure out which senators to call. All you have to do is enter your name, telephone number, email address, and zip code, and the website will instantly give you the information you need.
The website also offers sample scripts to read to both a select number of specific senators, as well as Democratic and Republican senators in general. For example, in the script for red-state Democratic senators Joe Manchin, Joe Donnelly, and Heidi Heitkamp, Whip the Vote would help you speak to the specific legislation that would be under threat were Kavanaugh to be confirmed.
"We know he's ruled in the past to dismantle net neutrality, sabotage the Affordable Care Act, and block women from having abortions," the script reads. "He's also considered one of the most anti-environment judges in America. He wouldn't have been on Trump's list of 25 potential nominees in the first place if Trump weren't confident that he would strike down the Affordable Care Act, overturn a woman's right to choose or harm LGBTQ rights."
To see where your senator stands, Whip the Vote also has a convenient Google doc that has elected officials sorted by how they're expected to vote, and how you can contact their staff to demand answers.
Above all, activists stress, it's important to not lose hope. "History has been shaped by people refusing to listen to people telling them that progress isn't possible," NARAL president Ilyse Hogue told Vox earlier this week. "We believe this is winnable and we're putting everything we have into it."