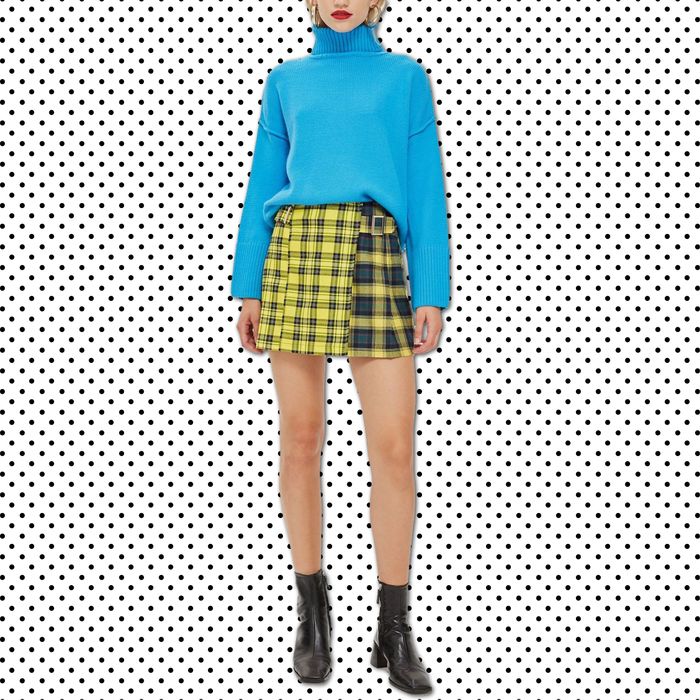 Photo: Courtesy of the retailer
Cher Horowitz from Clueless is a fashion icon. Even during the minimalism wave that swept fashion over the past few years, hyper-feminine Cher and her yellow plaid suit remained in the back of our minds. But now, because everything eventually comes back in style, rainbow plaids are having a moment. They're most effective when they're in the form of a matched set that matches your BFF's matched set, but designers are playing with the vibrant trend in all sorts of ways — brick-sized flip phone not required.
If you're not going for rainbow-bright, rest assured that there are more subtle approaches, like jewel-toned heels or a dress that you can just throw on and go. We've rounded up 16 iterations on the trend we love.
The '90s Lookalike
In pink, it's just this side of a Clueless costume.
Available in sizes 0–14.
The Fall-Ready Dress
Colorful plaid doesn't have to be outre. This dress is work-, date-, and apple-picking friendly.
Available in sizes 14–24.
The Skirt Suit
This look is half Clueless, half Heathers. Pick your poison.
Available in sizes XS–XL.
When You're Not Ready to Commit
Test the trend out with a pair of shoes. These have a swinging '60s vibe and would look great with a pair of socks for the fall.
Available in sizes 6-10.5.
The Girly Option
If you like to dress in a traditionally feminine way, this dress has the ruffles and neck-tie to satisfy you.
Available in sizes 14–28.
The Neon School Skirt
Pair with color — preferably something really bright.
Available in sizes 0–14.
The Classic Tartan Pant
A trendy but work-appropriate plaid that's not gray.
If You're Feeling the '80s Comeback
Slouchy work pants are effortlessly cool. Make a statement in this blue, red, and yellow plaid.
Available in sizes 0-14.
The Versatile Dress
You know how good it feels to have a dress that you can throw on and wear pretty much anywhere? This dress falls squarely in that category.
Available in sizes S–XL.
The Best Wide-Leg Crop
Two trends at once!
Available in sizes 0–10.
For Those Who Prefer Elle Woods As a Style Icon
Elle Woods would totally wear this — with a matching outfit for Bruiser.
Size 14–24.
The Statement Piece
Mustard plaid is a scene-stealer.
Available in 0–14.
The Best Midi Skirt
This skirt has a bit more movement than traditional plaid pieces (they tend to be a bit thick).
Available in sizes 0–18.
The Designer Option
This isn't your average plaid skirt. It's a punk plaid skirt.
Available in sizes 0–12.
If you buy something through our links, New York may earn an affiliate commission.