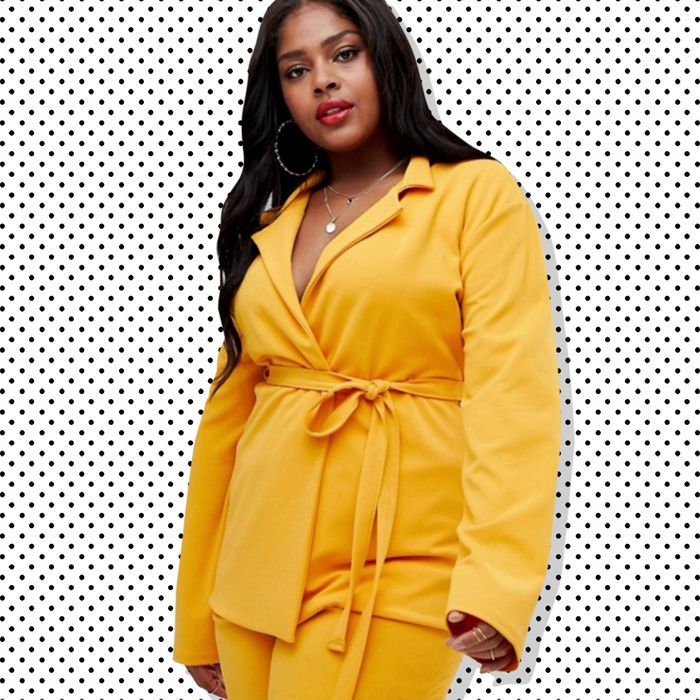 Photo: Courtesy of the Retailer
If you're used to thinking that suits come in exactly three colors — black, navy, and gray — it's time to reimagine what a suit can be. The new suit is bright, smart, and a lot less corporate. It looks put-together but packed with personality. This season's street style offers a lesson on how to wear it: Just add a white shirt, or, if you're feeling bold, skip the shirt entirely and let the jacket act as your top. Shop 13 options below.
The One That Makes Business-Casual Fun
It's more conservative than some other options, but adds a zhuzh to the workplace uniform.
Available in sizes 14–28 in short, regular, and long.
Available in sizes 14–28.
The Kardashian Dupe
This satin tuxedo is giving us major Kim vibes.
Available in sizes 0–14.
The Feminine Option
This has everything a fall suit needs — sophistication, comfort, and clean lines.
Available in sizes 0–14.
The Updated Pinstripe
Turns out a red makeover was what the pinstripe needed all along.
Available in sizes XXS–L.
The Bold Stripe
Striped suits are street-style bait. Rack up followers (or just impress your co-workers) in this one.
Available in sizes XS–L.
The Interesting Gray Plaid Suit
This is an incredible suit because it takes a classic fabric and turns it into an true statement, complete with the flared pants, asymmetrical blazer, and velvet blazer tie. Brava.
Available in sizes 14–28.
The Under $150 Work-Appropriate Option
It's a gray plaid suit, but one that's modern, stylish, and affordable.
Available in XS–XXL.
Available in sizes 0–18W, 00P–16P.
The Ray of Sunshine Suit
Brighten up those rainy all days with this suit. How can you not be happy in marigold?
Available in sizes 14–24.
The Ethically Made Black-Tie Suit
If dresses just aren't your thing, here's what to wear to a formal event. Suistudio puts a lot of effort into making sure their business is sustainable and their clothes are made ethically.
Available in sizes 0–12.
The Best Suit to Mix-and-Match
The elements of this slouchy, effortlessly cool suit look equally good as a full set as they do when styled separately.
Available in sizes XS–L.
The Bold Red Suit
A red suit can speak for itself, but this set with a cape-like blazer and detailed pants will make you the center of attention.
Available in sizes 16–28.
Available in sizes 14–28.
The Classic Red Suit
The fit is relaxed and glamorous, and the color just seals the deal.
Available in sizes 0–12.
If You Are Truly Sartorially Fearless
This Robert Rodriguez suit comes in a highly unusual artichoke-green plaid.
Available in sizes 0–12.
If you buy something through our links, New York may earn an affiliate commission.