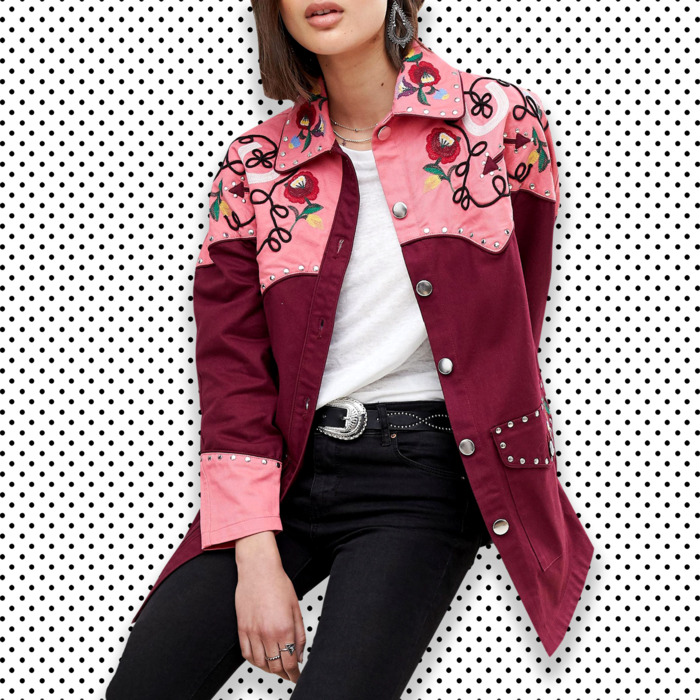 Photo: Courtesy of the Retailer
Western dressing has been floating in the ether for about a year now. Ever since Raf Simons took over at Calvin Klein 205W39NYC, he's been championing Western flair as part of his vision of Americana. Phoebe Philo's Celine — that bastion of taste — showed dresses with black cowboy boots last fall and revisited the trend again last Spring. Fendi and Isabel Marant have also embraced cowboy boots as the new status shoe. It's helped by the rise of Prairie dressing, as seen at Danish favorite Ganni, where the #GanniGirls wear blousy dresses with bold cowboy boots.
Full-on cowboy is a bit of an intimidating look, but it doesn't have to be. We've rounded up 24 best ways to embrace the trend without looking like an extra in Westworld.
The Belt
A big buckle can change the entire vibe of your outfit.
The Shirt
Whether it's all-out embroidery or just a simple pearl snap, the Western shirt is all about the details. Pick your favorite below.
The Boots
The most important part of any Western look. So many brands have done iterations on cowboy boots that it's easy to find ones that feel chic and not corny. Pair them with a prairie dress or wide-leg jeans for an effortless look — no horse required.
The Outerwear
Jackets and shawls are paramount in the wild, wild West (it gets cold at night for a cowpoke.) Go for a leather jacket, an embroidered piece, or a cozy poncho.
The Finishing Touches
If there's one thing a cowboy loves, it's accessories. Seriously: John Wayne was always kitted out in a hat, scarf, vest, and badge. (Sure, it was a sheriff's badge, but still!) Any of these will add intrigue to any look. And bolos are back, so dive on in.
If you buy something through our links, New York may earn an affiliate commission.