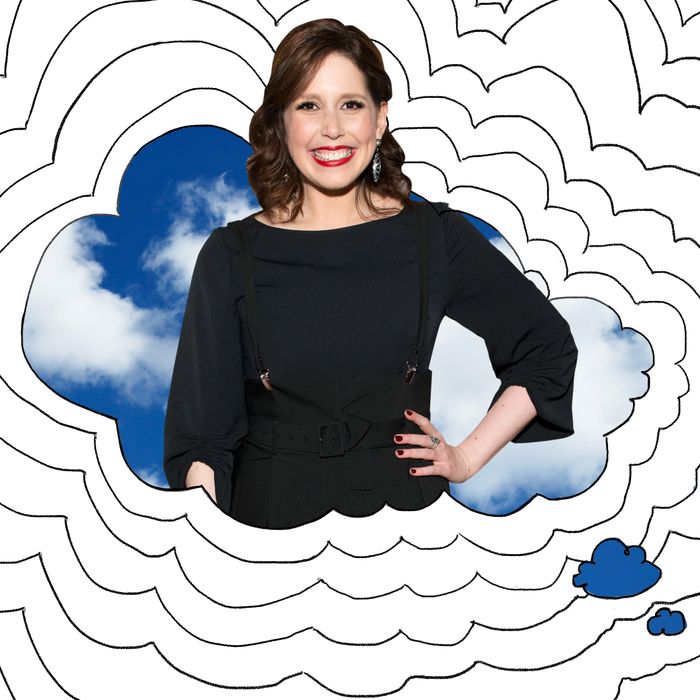 I Think About This a Lot is a series dedicated to private memes: images, videos, and other random trivia we are doomed to play forever on loop in our minds.
I propose a small amendment to weekends: namely, that they start about halfway through Friday afternoon and end whenever Saturday night does. Sunday then becomes its own separate thing — not a workday, but not exactly a day of leisure either. On a Sunday, no one should be forced to pretend they feel anything other than exhaustion, or deep Monday-related dread.
It probably won't catch on. Unfortunately, even though Sundays kind of suck, there is a lot of societal pressure to enjoy them, usually by spending at least $30 on brunch. The New York Times column "Sunday Routine," wherein celebrities and local personalities detail their yoga-heavy end-of-weekend schedules, has helped promote this dangerous culture. While hangovers, accidental sleep-ins, and deep existential despair tend to go unmentioned in "Sunday Routine," wholesome family trips to the farmer's market are ubiquitous.
To date, only one truly brave and radically transparent Sunday Routine has ever been published: that of comedian and actor Vanessa Bayer, back when she was a Saturday Night Live cast member in early 2016. I think about Bayer's hideously relatable routine all the time, especially when still lying in bed at 3:30 p.m. on that final day of a fleeting weekend, lazily Googling food delivery service discount codes.
"A lot of the time I'll go to sleep with all of my makeup on," begins Bayer, who does not rise until after midday. "I'll wash my face because I start to feel like my eyes are stuck together. It's so much makeup from the show. I usually don't shower. There's just no reason." Just no reason! Finally someone admits it.
Things only get beguilingly lazier from there. "I order food from my couch," she admits, "and I don't leave my couch again until it comes. I'll order a bagel. I'll get really mad because they will forget to toast it. It didn't happen when I lived further east, near NYU. Those people were really on it." Recovering from the experience of receiving a sub-par bagel takes "a good 10 minutes," which, to me, seems absolutely fair.
Whereas Today Show host Savannah Guthrie spends her Sundays waking up at 6 a.m. then enjoying an action-packed day with her children, and actor Josh Charles fills his with biking and guitar-playing, Bayer wiles away the hours by watching TV she's DVR-ed: Real Housewives, General Hospital, and "stuff on Bravo." For dinner, also delivered to her door, she switches over to HBO. She'll contemplate calling or texting some friends and relatives, but ultimately decides against it because "I find if I am watching TV, I have to focus on the show."
To be fair to Bayer, she does diligently remind us of her celebrity class status by explaining she partakes in 20 minutes of Transcendental Meditation. This aside, hers is an odd addition to the much-loved genre of routine-based journalism, which is generally fluffy and unattainable and expensive. This is the Into the Gloss era, after all, and the daily habits of highly effective people — Bayer might come off as a relatable everywoman in her Sunday Routine, but is absolutely successful enough to justify a day spent ordering food from her couch — are more popular reading material than ever.
Whether we're obsessed with skin-care steps or diets, many of us are now acquainted with the perverse pleasure of literally wasting our own time by learning about how someone else is maximizing theirs. And while idly reading endless articles detailing how business people and Instagram models use up those same 24 hours that everyone else gets has become part of my own daily routine, the experience can be quietly demoralizing. Relating to the more familiar narrative of being too exhausted to leave my apartment on my one day off is probably a way healthier way to procrastinate doing laundry.
Not that I'm actually hoping more celebrities will follow Bayer's lead. No way. The allure of these interviews obviously lies in their aspirational qualities. Sundays really are the worst, after all — and a glamorous famous person's alternative reality can help distract from your malaise, rather than remind you of it. But sometimes it's just nice, as I brush crumbs off my pajamas and onto my mattress, to momentarily feel seen.