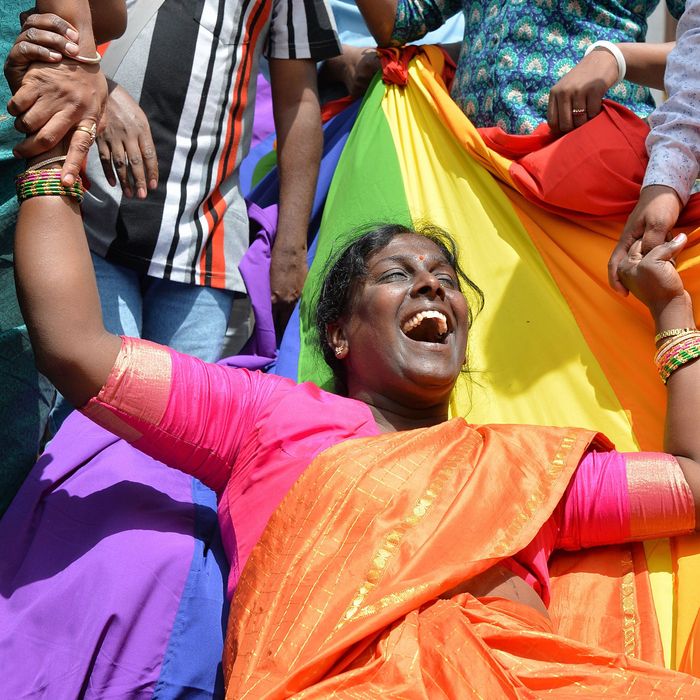 A member of India's LGBT community celebrates the Supreme Court decision.
Photo: MANJUNATH KIRAN/AFP/Getty Images
Gay sex has been illegal in India since colonial times, but the country's Supreme Court has now officially deemed that unconstitutional. The landmark verdict struck down Section 377, a law imposed by British colonizers that deemed sex "against the order of nature" punishable with potentially lifelong jail sentences. Since the ruling was announced on Thursday, crowds of activists have taken to the streets in celebration.
"It's an emotional day for me. It's a mix of feelings; it's been a long fight," rights campaigner Rituparna Borah told CNN. "There was not enough media or society support earlier but we have it now. People will not be seen as criminals anymore."
Gay-rights activists have had much pushback in India, where homosexuality is often swept under the rug or outright rejected. When the Delhi High Court ruled Section 377 unconstitutional in 2009, the Supreme Court overturned the ruling following outcry from religious groups. In 2013, the Supreme Court said that LGBT individuals make up a "minuscule faction of the country's population," and that repealing the act would therefore be "legally unsustainable."
Last year, however, the Court ruled to uphold the right to privacy, which included matters of sexual orientation. Though religious groups and some leading politicians denounced that decision, it became clear that Section 377 would not last long.
The law was introduced by the British in the 1860s and, though not typically enforced in full, had remained more or less unchanged since. Of the estimated 48 former British colonies that criminalize homosexuality, there are 30 which still enforce colonial anti-LGBT legislation, according to Lucas Mendos, co-author of the 2017 International LGBTI Association "State-Sponsored Homophobia" report. And while the legal basis for discrimination against the Indian LGBT community is eroding, challenges still lie ahead. Activists are now focusing on ensuring the right of gay citizens to marry, adopt children, and inherit funds.
"Laws getting passed is one thing, but changing the society is a big challenge," said Yashwinder Singh, of Mumbai-based LGBT rights group the Humsafar Trust. "Our work has started multifold now. We have to go and talk to people and change their mindset so that they accept every human as one."