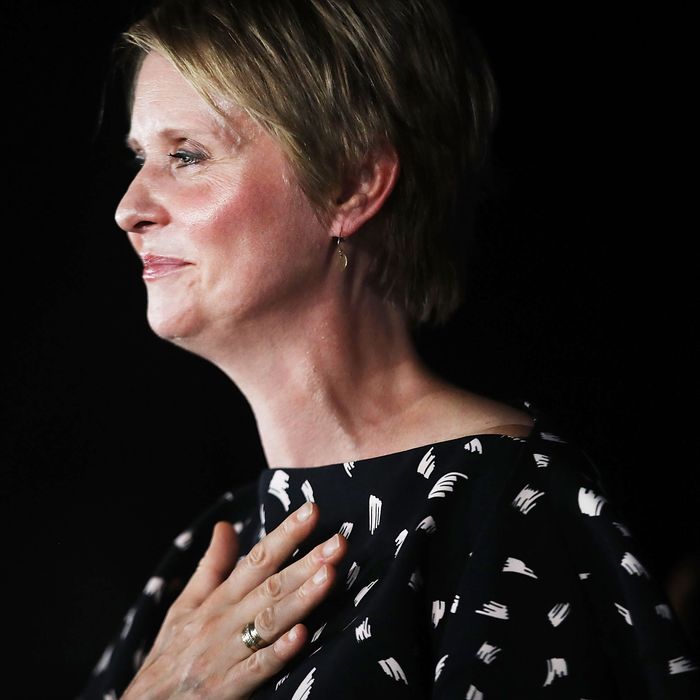 Cynthia Nixon.
Photo: Spencer Platt/Getty Images
Halfway through Cynthia Nixon's primary night party, when every room was so tightly packed that people could barely move, I saw someone I immediately recognized but couldn't place. Was she a friend of a friend? Someone I vaguely knew in college? An old co-worker? Then it hit me: I was looking at Ash Sarkar, the woman who went viral for yelling "I'm a communist, you idiot!" at Piers Morgan on live TV.
"I'm not sure if you lot realize how much we're looking at these primary races," Sarkar, an activist and journalist who lives in London but is visiting New York, told me. "Back home, everyone is talking about Ocasio-Cortez and Cynthia Nixon." A young man wearing an "Abolish ICE" shirt and large silver earrings approached as we finished our conversation. "I don't mean to be weird as fuck …" he told Sarkar, before gushing about what a huge fan he was.
Sadly, the intercontinental hype wasn't enough to beat incumbent Governor Andrew Cuomo, who swiftly defeated Nixon by over 30 percentage points. The festivities were also meant for Zephyr Teachout and Jumaane Williams, who ran for attorney general and lieutenant governor, respectively. Both of those races ended in losses too.
But the mood at Cafe Omar and the connecting 1744 Hookah Lounge in the East Flatbush neighborhood of Brooklyn stayed generally buoyant. Supporters downed beers, beef patties, and plantains as they watched the results roll in throughout the evening. Actress Mary-Louise Parker and Palestinian-American activist Linda Sarsour were among those in attendance.
"I'm just feeling honored and privileged, humbled, excited," Sarsour told me. "And I'm ready for 2020."
For the briefest of moments, Williams looked as if he had taken the lead over incumbent Kathy Hochul, causing the crowd to erupt in cheers. Even when he fell behind, the noise continued for the young progressives — like Julia Salazar, Jessica Ramos, Alessandra Biaggi, and Zellnor Myrie — who took down long-term state senators, one by one.
This hopeful attitude would ultimately come to define the night. (That's not to say there wasn't a fair share of hugging and crying.) Yes, the progressive wing had lost the top of the ticket — but that was more or less expected. Rather than dwell on that, there was a repeated emphasis on the victories: a new crop of state senate hopefuls had crushed the old guard, and wiped out the remnants of the Independent Democratic Caucus.
Around 10:30 p.m., Nixon took the stage to give a fiery concession speech to a sweltering crowd ready to chant her name and effusively boo every time Cuomo was mentioned. (Subject to equally disdainful and dramatic heckling was a photographer near the front who stood on a chair and blocked some people's views.) The soulful Resistance Revival Chorus, dressed entirely in white, provided a musical interlude until it was Teachout's turn to speak, at which point the audience had significantly thinned out — but still broke out in chants of "Zephyr, Zephyr, Zephyr." After unsuccessful bids for governor in 2014 and a congressional seat in 2016, she admitted that she's "not planning to run for office anytime soon." But she, Nixon, and Williams all agreed that there was still much work to be done.
"This race for the Democratic nomination may be over," Nixon said. "But the fight for the soul of the Democratic Party is just beginning."