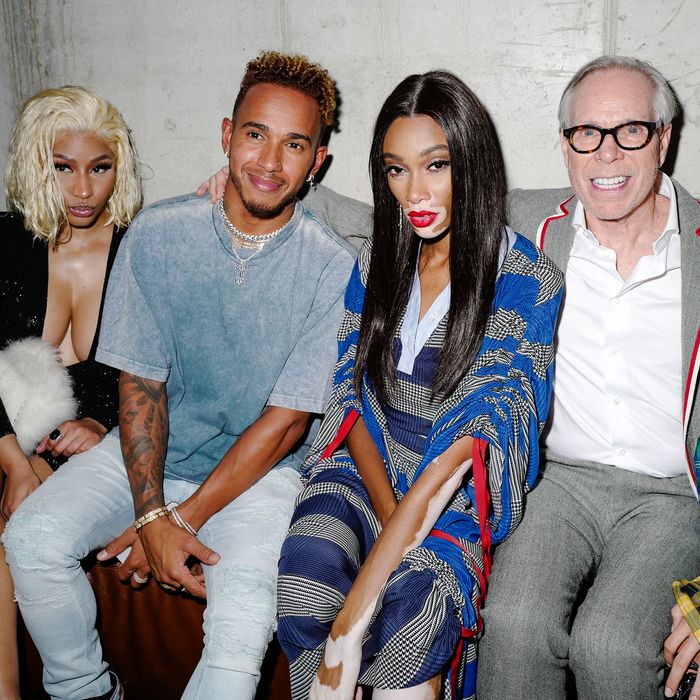 Nicki Minaj, Lewis Hamilton, Winnie Harlow, Tommy Hilfiger, Hailey Baldwin.
Photo: Courtesy of Tommy Hilfiger
Everyone was Juuling at the New York Fashion Week launch party for TommyXLewis, Tommy Hilfiger's latest collab with Formula One race-car driver Lewis Hamilton. The room at the PUBLIC Arts club was filled with models wearing the new sportswear line, which features lots of red, white, and blue varsity jackets and crop tops (in true Tommy fashion). With models posing against a fence propped up opposite the bar, the party could almost pass for a scene from high school, albeit a CW-filtered version in which there exists primarily jocks — and few people below five-foot-eight.
Alongside Tommy and Lewis arrived Nicki Minaj, seemingly unbothered by her latest "humiliating" encounter with Cardi B as she sat perched in the VIP corner. Also in attendance were Gigi Hadid, in a red jumpsuit and Tommy Hilfiger boxing robe, with her parents, Yolanda and Mohamed; Hailey Baldwin; Winnie Harlow; Jasmine Sanders; and Moto Man — a staple of the Fashion Week party circuit, his face cloaked in a mask, motorcycle helmet, and sunglasses. The night capped with a performance by Travis Scott, which had the crowd moshing amid a cloud of theatrical smoke and mango-scented vapor. (Kylie was given a shout-out.)
The crowd mingled as the rosé flowed and cones of French fries were passed around; some ate them, while others posed with fry in mouth, cone in back pocket. Around midnight, they trickled out onto Chrystie Street, allowing the rain to drizzle while they belted out the chorus of "Stargazing." Worry not for the future of fashion — the kids are all right.