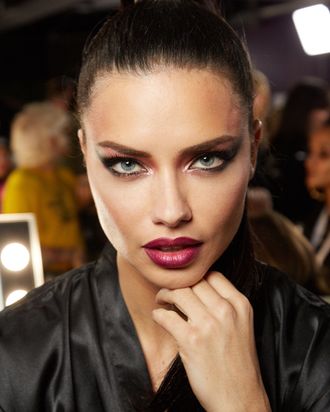 Adriana Lima.
Photo: Courtesy of Maybelline
Adriana Lima is very excited for New York Fashion Week. As one of the world's top supermodels, how could she not be? She's watched the event change and evolve for years ("When you've been doing this as long as I have, you think and speak in decades.") This year, she is getting involved in festivities even further as a spokesperson for Maybelline House, an exclusive NYFW destination for beauty and fashion enthusiasts and influencers. The longest-serving (and highest-earning) Victoria's Secret Angel spoke to the Cut about how runway walks have evolved over time, what TV show she would like to guest star in, and how, yes, even she used to shy away from using bold lipsticks.
How did you first develop your runway walk, and how has it evolved over time?
In the '90s, the girls would twirl a lot on the runway. They would walk to the end, would stop with their feet in a ballet position, and twirl maybe two or three times at the end. Then it would be back to the middle of the runway, turn around, and go back again! That ballerina walk was so elegant and strong. It doesn't happen anymore. You don't spend as much time on the runway. It's simpler now; everything is more straightforward and direct. It's about a more natural way to walk.
I did learn the '90s-style walk when I first started — walking with the hands on the hips and moving them as much as you could. I still like the turns and not just a walk where you look straight ahead. I think you can be a little bit more playful, so I'd like to see a little bit more of that '90s walk back. [Laughs] If the '90s are back, then let's go all the way!
You're doing a meet-and-greet at New York Fashion Week on behalf of Maybelline. What are you looking forward to the most about that?
Seeing all the upcoming new collections, makeup trends, and new products. We'll have two days where Maybelline House will be open to the public, so they can come in and look at our new collection. If you have questions about the correct foundation for your skin tone, there will be people there to help you find the perfect shade. Also you can create your own shades of the SuperStay Matte Ink, which is my go-to lipstick [Editor's Note: This experience is available privately on Friday, only.] We have a lot of new colors coming out, but I'm most excited about Burnt Sienna and Raw Nude.
I remember last year we had music, cocktails, a place to check out trends, a place to do your makeup. It's a really fun event where you can connect with some cool fashion people.
Are there any beauty products that used to intimidate you that you now use more frequently?
Lipstick! I always thought my lips were too big and that if I wore such a bold color, they were going to look even bigger. I was so self-conscious. I was always afraid to wear red lipstick. Believe it or not, now it's like my trademark. [Laughs] I was terrified to wear it, I promise. I could not do it.
I can't believe that you felt self-conscious in lipstick!
I know! I remember being 18 or 19 and telling my friend that, and she was like, "Trust me, in a few years you are not going to think like that." Now, I'm like, "Okay I get it!" I just fell in love. Red lipstick makes me powerful. I feel sexy and confident, something about that color now makes me feel strong.
You have expressed an interest in pursuing more acting opportunities. If you could book a guest spot on any current TV show, which one would it be?
Everyone is so crazy about this series, so if I had to pick something, it would be Vikings. I'm obsessed. It has to be action, though. I like the vibe of Vikings and Game of Thrones.
How do you keep yourself motivated?
It's not easy to keep yourself motivated. I do have days when I'm tired, I don't want to get out of bed, and I don't want to do anything. But you know, you force yourself to get up and start your day, maybe just put some cool music on and get yourself going. I have two beautiful kids and as soon as they wake up, I see those big smiles on their faces. There's no way I couldn't find motivation from my kids, you know? They're my inspiration.