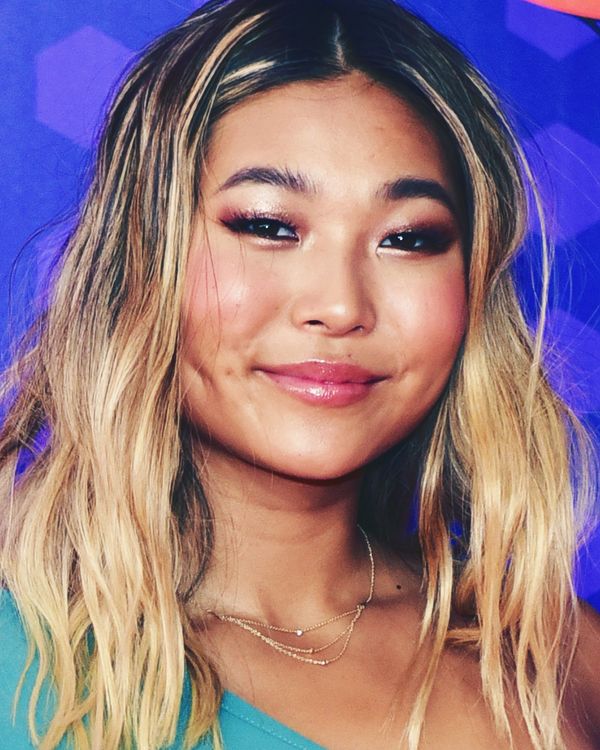 Photo: Rodin Eckenroth/FilmMagic
In February, teen snowboarding phenom Chloe Kim became America's sweetheart when she swept gold at the Olympics. Since then, Kim has been busy dispensing advice on Twitter and acting as the face of Korean beauty brand Laneige (oh, and she was also accepted to Princeton.) The Cut talked to Kim about her bleached hair, her lucky toe, and how she feels about being called an immigrant success story.
When was the first time you dyed your hair?
I was 14. My mom said, "If you win the X Games, I'll let you dye your hair." She said that because she didn't think I would actually win. I was like, Game on. I won it, and then she was like, Whatever. That's why me and my parents are so close.
I did a super-subtle, barely there ombre the first time. Next I wanted a light pink but it became red-brown. Then I started bleaching it. I've wanted to do rose gold for a really long time. As far as inspiration, if I see a cool color, I just think, I want my head that color. I'm going to dye it that.
For a lot of people, taking care of bleached hair is so time-intensive that it feels like a hobby. What do you do?
I don't really do hair masks. It gets messy. I use ColorProof shampoo and conditioner. I do the Paul Mitchell Skinny Serum when I get out of the shower. I brush it through when my hair's still wet and braid it before I go to sleep, and then it's really nice and smooth the next day.
I laughed when you said at the Olympics that you didn't want to cry because you didn't want to mess up your eyeliner. What's your eyeliner routine like?
If I'm going somewhere and want to look cute, I'll do liner and eye shadow. Laneige has a good liquid liner that I am obsessed with. Technically, I could have cried at the Olympics because it's waterproof, but I didn't want to risk it.
The first time I did eyeliner, I was 14 or 15. Fifteen was maybe when I learned how to do the wing, and I've been doing it ever since. I didn't learn from YouTube or anything; it was super random. Even my mom was like What? How did you learn that? I just follow the line from my lower lash line. I flick it up from there, see where it goes, and connect the ends. It works every time. I usually do the right one first and then match it to the left.
The only thing that has changed are the products. The first time I used a brand my mom found in Korea. I would shower and it would still be on my face. Then I used the Stila, the Kat Von D, and got the Laneige in the mail a couple months ago.
What is your skin-care routine like on a practice day?
When I'm practicing, I'll get off the mountain, and I will look at it first.
The mountain?
No, my face [Laughs]. In the morning, I'll do the Water Bank Essence, BB cushion, my eyebrows, and eyeliner, and go out the door. It's 10–15 minutes and super easy. I'll get home and take my make-up off. If it's really dry, I'll do toner, essence, cream, and the Water Sleeping Mask. I got this eye cream — the eye gel, I'm obsessed with. I like putting it all over my face. It feels so good.
If I try a new product, I'll try to keep some things consistent and familiar for my skin and not change it all of at once, so it doesn't freak out. It's like putting a new fish in a water tank, you know?
What do you remember about the first time you went snowboarding?
I remember sliding down on my butt the whole time. I went to a really sketchy mountain one-and-a-half hours away from L.A. so it was just one sheet of ice. I would turn and fall and look at my dad like, I'm on the giant slide again! I had so much fun.
Olympians are often described as having extraordinary or special physical characteristics that help them to be so good at their sport. Do you think you have that? What makes you such a good snowboarder, apart from practice and hard work?
I have a really long toe on my left foot — like really long. It's the second toe, but it's just on one foot. A centimeter is too much, but it's maybe a half centimeter longer.
I showed my mom because I noticed it last year and she was like, Oh my God, what is that? I have an extra knuckle on it too, it's disgusting. I wanted to get it cut off so bad. Sometimes, I'll curl my toes on purpose so no one can see it. I showed my friend Sean and he was like, You didn't need to point it out. I see it. My other friends are like, You need to relax your feet. It's weird but it's fine.
But that foot with the extra long tie is my back foot, and where I carry most of my weight. I don't know. It could be that toe. It might be it.
With Asian Olympians, the narrative is often about growing up with super-strict parents. What were yours like?
My parents were so chill; they were never super strict. My dad is 64 or 65. My mom is like 44 — they're from a bit of a different generation. When my dad was in school, he went to the club all the time. In Korea, high-school students had to get a buzz cut, it was a regulation haircut. My dad and his friends would buy wigs to get into the club because they would let you in if you had hair.
Back in the day, passports also meant you had money. He carried his around. If he saw a good-looking girl, he would throw it on the ground and pick it up in front of her so she knew he had some type of money. My dad was a partier, to say the least. His attitude about everything is like, Back in my day, I did stuff like that, maybe even worse. I have a pretty cool dad.
My mom is a little conservative. She used to be like, Why is your belly showing and tug at my tank top. Now she's like, That's cute. That is so cute. We've all grown together. Sometimes people lock themselves in their homes and don't explore other cultures as much. My parents were very open to it after I got really into it.
Your story is often painted as an immigrant success story. How do you feel about that?
My dad calls me his American Dream. But I started snowboarding because I loved it. There's no other way I would have done it. I had two Korean parents who were really supportive of that. A lot of people don't have that — doesn't matter if they're Korean or not.
My dad straight-up quit his job and my mom was home alone all the time without us. I'm just really lucky to have been born into such amazing people's lives. When you have that, you have to succeed because you're just so fortunate. My dad drove me every weekend for 5.5 hours to the mountain, just because I loved it so much.
To all the parents out there, if your kid is really good and passionate about something other than school, let them do it. Kids can always go back to school, and they're so smart and creative nowadays. They may not be in the Ivy League school you want them to go to, but the option of education is always there.
If I had to go to school and my dad didn't let me snowboard, I would probably be terrible at it because I would be thinking about it all the time. But they believed in me. I had a friend whose dad used to play football until he was 26 or 27. Then he became a dentist — because he wanted to. To me, my story is more about having incredible, loving parents.
Chloe Kim's Favorite Products
If you buy something through our links, New York may earn an affiliate commission.