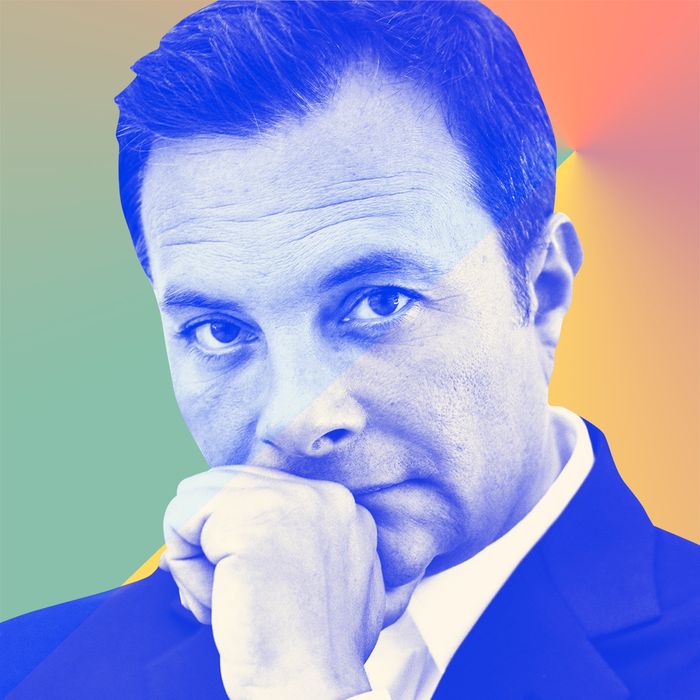 Photo: Courtesy of Ivan Bart
Ivan Bart has always had opinions. "I cold-called a CEO," recalls the president of IMG Models and IMG Fashion. "I said, 'I've been watching your commercials and I really think they're outdated.' And he hung up on me."
The then 22-year-old, who was an assistant to the assistant at PR firm Grossich and Partners, called right back and procured a meeting, which his boss excluded him from weeks later. But the CEO wouldn't start it without him. They got the account and Bart was promoted.
"My boss asked me, 'What do you want to do?'" remembers Bart. "I pointed to the door of the modeling division, Punch, and said, 'I want to go in there. I think I'd be good working with models.'"
He went on to earn his stripes at Ice, Wilhelmina, and Ford modeling agencies before becoming creative director at IMG Models in 1994. Eighteen years later, WME acquired the company and named him president.
Since then, Bart has broken the mold of what "model" means by championing names such as Maye Musk, Hari Nef, Ashley Graham and Jillian Mercado. He's made it his mission to humanize beauty.
"It's about looking within too," he is quick to add. "What imagery are we putting out there? What messages are we saying?" In May 2018, IMG announced that Bart would also oversee the company's global fashion events business, LENS and Made to Measure. Among these is New York Fashion Week.
"We're a business of fashion and fantasy and creating beautiful images, but it's still so intimidating," he complains. "We have to start changing our own narratives and stop being mean!"
Bart spoke with the Cut about his disdain for low-hanging jeans, his sartorial crush on Virgil Abloh and the unavoidable nickname he had as a kid.
Bath or shower? Bath with Epsom salts! I love a good soak.
What is always in your shower? Love a good bar of soap — particularly those handmade soaps by local craftsmen at farmer's markets. I always have a big fat bar of inexpensive lemongrass soap from Chariots of Fire in Venice Beach, but I also like Dr. Bronner's shower gel.
Facial cleanser of choice: Cetaphil.
Shaving cream of choice: Collistar Linea Uomo.
Razor of choice: Harry's.
Who cuts your hair? Losi at Martial Vivot has been my groomer for more than two decades!
Did you ever go through a longer hair phase? Of course! I went through a bleached blonde "Billy Idol" phase. It eventually hit my mid-back and I loved my long flowing hair.
How about facial hair? I had a goatee phase and was fully bearded a few years back. I kept visualizing myself as a Williamsburg hipster, but looked in the mirror and saw an old professor staring back.
Scent of choice: Hermès Un Jardin En Mediterranée.
Scented candle: The Santal scented candle by Diptyque.
What beauty look on a woman do you love? Mascara and a nude lip.
Who's your favorite beauty icon from the past? Katherine Hepburn — a timeless beauty with effortless American style.
Daily carry-all of choice: My bike pannier! I keep it stocked with head and rear lights, chargers galore, Avène sunscreen, Martial Vivot hair paste, Hermès Mediterranean fragrance, Nexium, and a pen.
Suit of choice: A classic blue or black sports coat by Armani.
Tie of choice: I'm a fan of Hermès, Lanvin, Dior, and Epaulet (a great label I found in a hipster store on Smith Street in Brooklyn). But most of all, I love Charvet, both for their shirts and ties.
Preferred daily underwear: Calvin Klein briefs.
What fashion look do you not get? Jeans hanging below someone's butt.
What fashion look do you struggle with achieving? Flat-front pants and a flat stomach.
Top item currently at the top of your fashion wish list: Virgil's black LV monogram bag with orange chains. I would sashay down the center aisle of a plane and slowly stow it overhead.
Style icon: George Clooney.
Netflix and chill outfit: My oversized Hillary campaign T-shirt that is so worn in and comfy (I am still clinging to hope!) and simple H&M drawstring shorts or long pants, depending on the season.
Favorite piece of furniture you own: My 1961 George Nakashima 9 foot long sofa.
Bed linens of choice: Frette, in white of course, paired with a monochrome vintage French quilt.
Towel brand of choice: Yves Delorme.
Do you have pets? Sophie and Spencer our two rescue cats. Sophie poses all day long while Spencer sits by his food bowl.
Super neat or a secret slob? Both — it depends on the day! I can be a bit of a hoarder, but then I get very motivated, pile up boxes of clothes and stuff and head to Housing Works!
Which Spice Girl would you be? I would like to say I'm Posh Spice as I really admire Victoria Beckham and all she has created beyond the group. But I'm probably more Scary Spice, since I'm as talkative as Melanie B!
Money or Power? Money, for sure. I'd choose the financial freedom to travel the world and do charitable work.
Who are the beauty icons of the future? Ke'Andra Samone and Imari Karanja, two IMG girls with brilliant futures ahead of them.
Aside from it being super hard work, what do most of us not realize about being a model? Looks are important, but personality and attitude are what make supermodels.
Do you possess impressive runway skills? Do I ever! I have been known to give lessons on many occasions.
What phrase or word are you known for saying? "Just sayin'" and "Let's unpack this!"
What drives you crazy? People talking about "snack-able content." When did that become such a buzzword?!
How do you usually get around the city? Oftentimes by bicycle, but if the weather's not cooperating or I've got a crazy day, the good old MTA subway works for me!
Last great book you read? Isaac Bashevis Singer's Enemies, a Love Story
What would the name of your autobiography be? I Managed the World (But I Forgot to Manage Myself!)
Who would star as you in the film adaptation? Nick Robinson (Love Simon) as my high-school self, Matt Bomer in my 30s, and Nathan Lane as my current self.
What do you do or take when you can't sleep? Melatonin. Sleep Assure is the best!
Cold cure: Zicam nasal spray. I swear by it.
When you've got a cold, are you stoic and strong or wimpy and weak? Stoic and obsessive.
Nickname you had as a child: I hate to say it, but when your last name is Bart, you can count on someone to make a fart joke.
What item stresses you out if you're running low on it? Amora mustard from France. It's the kind you get in any Paris bistro. It tastes good on anything.
Describe your most starstruck moment: When Meryl Streep sat at an outside table across from me. I went over and introduced myself. She actually came back to say good-bye!
What or who in your formative years altered the path you were on? My very first client, Marni Malinosky. With African-American and Russian roots, she was the most stunning woman I had ever met. A brand called and I really couldn't think of anyone stronger than her for the opportunity, but they said no!
I asked, "Why not?" They answered, "We're not considering black women." This was 1987 and the Civil Rights Act had been passed more than 20 years earlier. I was in shock and disbelief — and I was mad! I gathered her best materials — portfolio, press clippings, and VHS — and I marched to their offices to demand a presentation. Marni got that job. I knew I had to sell to win, and aside from peaceful protests, I had the power to make change from within!
If you could hire anyone, who would it be? We actually just hired her! Bozoma Saint John, the new powerhouse CMO at Endeavor.
Who appears to have the best life on Instagram? Our IMG managers, Luiz Mattos and Lisa Benson.
What beauty trends do you expect this coming year? This coming year will be all about inclusivity, versus exclusivity. Brands like Flesh, promoting shades for all, will head to the front of the line.
If you won the Power Ball tomorrow, what are the first five things you would do? (after, of course, donating the majority of it to your top charities…) My charitable donations would focus on finding a cure for AIDS, wiping out hunger, replanting rain forests, and saving our waters.
Then I would buy a small cottage on every major body of water , from the Mediterranean, to the Caribbean, the Pacific, the Gulf of Mexico and the Indian Ocean and spend a few years traveling between to find the best location for each home.