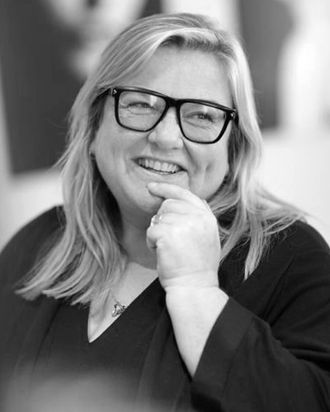 Linda Cantello.
Photo: Armani Beauty
The beauty community is generally a drama-free environment. But last January, after the Cut published an article suggesting that makeup artist Linda Cantello was the inventor of the smoky eye, the objections came in fast and furious. It turns out that there's a lot of debate among beauty editors, makeup artists, and other insiders about the origins of one of the beauty world's most well-known looks. And people feel passionate about this: We almost got barred from backstage at a fashion show after innocently trying to corroborate Cantello's claim with another very important makeup artist.
Cantello, international makeup artist for Armani Beauty, is standing her ground. The Cut caught up with her a few months ago to put the controversy to bed (or to pan, if you prefer Reddit-speak). Here are her thoughts on the topic, once and for all — along with her views on what makes a color look expensive, the best light for practicing no-makeup-makeup, and how to create products for real women.
When we last spoke, you declared you were the inventor of the smoky eye. But we got some feedback from people who had their doubts. They point to examples like Brigitte Bardot.
She wore eyeliner; she didn't do a smoky eye! How weird. I obviously don't care. There's always someone who's going to say something. There's a guy in China with a chain of schools who claims he invented it. In China — where it was communist 30 years ago, so people weren't even wearing makeup. I don't think that's true. I'm sorry.
Did smoky eyes exist prior to the '90s?
Before then, it was more structured. There was the banane [technique], there were dark eyes. But it was the deconstructing that really made it smoky. Maybe I should have been more clear.
What about Cleopatra?
Oh, because that was real smoky! [Laughs] If you're a makeup artist and you don't see the difference between a smoky eye and Cleopatra, that makes me wonder about you. Listen, I honestly don't care. Do I think I invented it? Everyone said I did. Was there someone that did it before, perhaps in Timbuktu? Maybe they did. I don't know what to say. Sorry to arouse so much consternation.
You've been doing makeup now for many years. What still interests you about it?
I love to create. The day I go work with the lab is my favorite day. But I also like to try and make women's lives easier. If I can, then I've done a good job.
It's very different now. In the '90s, I used to do a tons of shows and had the discipline to try out the trend of the season. I lived a very fashion-oriented life. My only access was to models. I didn't think about real people. As I become more accomplished and product-driven, it changed. A runway show is for show and entertainment. A model is paid to wear makeup. She might be like, I don't like this look, but that is her job. But a real person has to look good and be happy.
When you have access to real women, you realize trends mean nothing to them. It's a different discipline. I have to make products that look good for women. The only trend now is technology. People choose for themselves what looks best on them. It's not up to me to be like, Oh that looks so bad. That's not on-trend.
Do you find makeup empowering?
Makeup is extremely empowering. It's such a psychological tool. The people at the counter are shrinks. It's trying to make them feel good about themselves. If I put on mascara or foundation, I perk up. It's a fundamental part of our lives.
Speaking of real women, makeup artists have done all sorts of looks, but a common thing I've heard from them is that no-makeup-makeup or natural makeup, is the hardest to do. Do you agree?
It's true. It's the test that I give my assistants backstage to determine their abilities. You want to look as though you aren't wearing any makeup at all. You need to be light-handed, make the skin look good, seem imperceptible, and emphasize features.
There's a bit of a joke that it takes more products to achieve a no-makeup makeup look than a look that's more obvious. What do you see as the essentials?
There are certain brands that say you should wear a lot of products. A big one dictates that their assistants have to wear at minimum 12 products, even for the men.
For me, I think it's moisturizer and concealer. You cannot get away with no moisturizer. It should be a ritual. Every night you clean your face and put it on, and same thing in the morning. If you have good concealer, you can get away with not wearing any additional makeup. You want to find a concealer that's bit elastic and has a glow.
How does one get better at natural makeup?
If you want to learn to do it, you should practice in the harshest light you can find: Cruel daylight. It's very gray, there's no sun. If your makeup looks good in this light, then it will look good everywhere. You need to try it with the minimum, and really take the time to apply foundation and concealer. The skin is really important. Lipstick you can just smudge it on, it can become a stain. But the skin is the most time-consuming part.
You also need to play and experiment. I learned to do makeup on myself. Go to a counter you trust and find a person there who you have an empathy with. Find a brand you understand. Test things out and ask for a lesson.
It comes quite easily to makeup artists, but how does a normal person figure out if a lipstick shade is actually flattering?
Sometimes, people are drawn to a shade but it doesn't suit them at all. Even when you shouldn't wear a bright color, you can be drawn to it. The simplest thing is to try it on and see. For example, I have really pale lips. I look terrible in beige colors. But there are so many shades that it's very hard to have a rule of thumb.
People say there are rules about cool or warm tones, but there are exceptions, too. I know people who are very pale and look great in bright orange. Sometimes it just works. The easiest way to judge is by people's reactions. You should look healthy and not dead when you put on a lip color. Lips should look a few shades darker than your skin tone. I suppose if I had to do a rule, I would say that when you're trying a nude tone, it looks better with a blue or brown undertone. Blue on the lips makes them look darker.
The 400 red shade in Armani is known are the brand's one true red — one rumored to look good on everyone. How do you create a color that looks good on everyone?
The 400 is not too blue or yellow. It really does suit everybody. It looks alive. Some reds look dull and dirty. This is a very clean color — it doesn't have much black in it. A little-known fact is that at the base of some makeup colors, including lipsticks, there can be black in the color. Black is an inexpensive pigment. When it's formulated like that, it looks dirty.
What does a dirty versus a clean color look like?
Well, a clean color is pure. It uses pure pigment. There are often a lot of fillers in products to make it cheaper — things like titanium dioxide. With lipsticks, the basic gref (that's what the French call the base) is made up of pink or raspberry tones. Like painting, you can add different shades of pigments.
When I first started doing consulting, I had no idea that lipsticks had black in them. The cleaner, brighter and clearer the color, the most expensive it usually is.