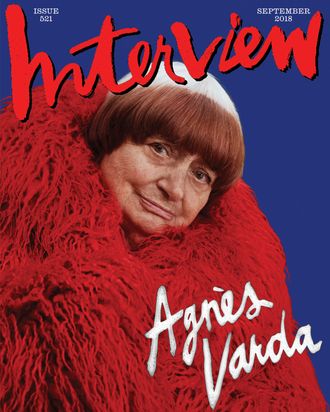 Second chances are rare in fashion, but thanks to the United States Bankruptcy Code and some optimistic investors, Interview magazine relaunched this week with a September issue and a completely made-over masthead. This is just four months after the publication was declared dead.
In February, the magazine was reportedly "kicked out" of its office after its parent company, Brant Publications (founded by billionaire Peter M. Brant) failed to pay rent. Employees and collaborators also claimed to have been stiffed large sums of wages and expenses, with some filing lawsuits. Former editorial director Fabien Baron said he was owed about half a million dollars alone.
In May, Interview filed for Chapter 7 bankruptcy, leaving its staff without work and debts still unpaid. At the time, Business of Fashion reports that the magazine owed over $11 million, had $17,000 in the bank, and was valued at a mere $25,000.
Four days after filing, the magazine's publisher, Jason Nikic, sent out a memo saying that Interview would live on, adding that — great news, guys! — the brand's Instagram account had gained 15,000 followers since the news broke.
This August, Interview put its assets up for auction at a starting price of $1.5 million. Here's where it gets tricky: Peter Brant then won these assets under his newly formed company, Singleton LLC, where he transferred his secured debt the month before Interview filed for bankruptcy. Then, Singleton sold Interview's intellectual property, trademarks, subscription list, and archive back to the magazine's new parent company, Crystal Ball Media, which is helmed by Nikic and Brant's daughter, Kelly Brant. According to BoF, the court set aside only $500,000 to distribute among debtors.
Now, just like that, Interview magazine is back. Brant told BoF that her father holds "no position" in the company or the magazine anymore. "He is not an investor in the company and he has nothing to do with the magazine," she said. She declined to reveal who her new mystery investors were, though.
Nick Haramis remains editor-in-chief, but Rihanna's longtime stylist, Mel Ottenberg, has taken the role of creative director, replacing Karl Templer (who said he was owed $300,000 when he left this spring). Interview's new September cover, released Thursday, features the Gucci-wearing French filmmaker Agnès Varda, who was interviewed by the art curator Hans Ulrich Obrist and photographed by Collier Schorr. Varda appeared on Andy Warhol's first edition of Interview in 1969, so this is something of a second coming.
The question remains: even if Interview's slate has been "wiped clean," so to speak, why would anyone want to resuscitate it — let alone work to pick up the pieces — in this economy?
"I understand there is a certain amount of baggage that the brand itself brings with it," Nikic told BoF. "[But] the brand itself is the thing is worth saving."