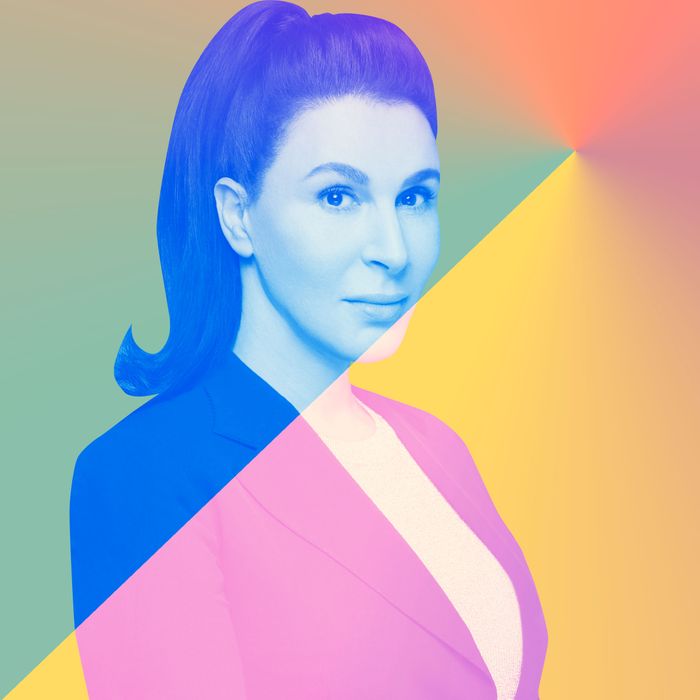 Photo: Original photo by Dusan Reljin
In 1985, Sue Nabi read an article about something called "biotechnology." "I loved the word, even though I didn't really understand what it meant," remembers Nabi, who was 17 at the time. Twenty-nine years later (with partner Nicolas Vu), the former Lancôme president launched Orveda, a clean, vegan, and yes — biotechnology-based skin-care line.
After graduating with an engineering degree and an MBA, Nabi rapidly rose up the corporate ladder at L'Oréal, working at Maybelline and L'Oréal Paris. It was Nabi who convinced Julia Roberts to sign her first and only beauty contract, and together, in 2012, they launched La Vie Est Belle, one of Lancôme's most successful fragrances.
Less than a year later, she left it all to return to her teenage biotechnology dream, focusing it on what she saw as a void in skin care.
"Around that time, people were starting to question certain ingredients: 'Is this good for you? What about that?' The first guilty guy was parabens, but others followed, and it was a concern for brands," says Nabi. "I decided to create a new line, but one that contained none of these guilty guys. We looked at what might become 'guilty' five years ahead, and we looked for alternatives."
But clean alternatives and efficacy weren't enough; they had to speak to the elevated consumer. Indeed, the formulas in the 19-product line glide over skin and smell light and lovely, but Nabi's goals are loftier than hearing that the textures feel nice and the jars are chic-looking.
"We're not dreaming of becoming huge, we're dreaming of becoming the favorite," she says. "We [want] people to say, 'This is the best thing that's happened to my skin, ever.'"
Nabi spoke with the Cut about her thoughts on the importance of supporting the "silver economy," her favorite "healthy" hot chocolate, and why she stopped getting in-office procedures.
Do you prefer the bath or shower?
Shower. I use Orveda Deep-Cleansing Botanical & Enzymatic Oil to avoid stripping my body of its natural oils.
What, if anything, is usually on your lips?
IT Cosmetics Vitality Lip Flush.
What shade, if any, is usually on your toes and/or hands?
No shade. I am against nail enamel as it suffocates nails and makes them become yellowish and brittle over time. I am lucky to have good-looking nails that I like to keep short, square-shaped. I use our oil on them.
What beauty look do you struggle with achieving?
The smokey eye. It makes me look 20 years older!
What do you find most curious or puzzling about the U.S. consumer these days?
I like individuality, so I am sometimes puzzled by the uniformity that I can see online when it comes to women's makeup looks, especially in regard to brow shapes.
What do you splurge on?
It used to be cosmetic procedures (I love trying anything new that looks serious), but now I am rebuilding and strengthening my skin barriers instead, with skin care.
Bed linens brand:
I recently discovered a vegan bed-linen brand called Nimbus.
Towel brand:
Any bamboo towel. I like Nandina Organics.
Daily carryall of choice:
Balenciaga backpack. I stopped using anything that is not a backpack, to protect my back. But I also love Giambattista Valli purses.
Work shoe of choice:
Balenciaga Race Runner sneakers.
What clothes do you stay home and watch Netflix in?
An old, large and comfortable T-shirt in my bed, under my bedsheets.
Who was your icon growing up?
A mix of David Bowie, Michael Jackson, and Audrey Hepburn.
Are you more interested in money or power?
Knowledge is power, and money is just a consequence of hard work.
What fashion look do you not get?
The leopard-print look.
What fashion look do you struggle with achieving?
All of them, except athleisure. I love a mix of sporty and chic items.
What phrase or word are you known for saying?
"Honestly" (which is not ideal because it looks like you are not honest most of the time …).
What word do you overuse?
"Glow."
What word or phrase do you think Americans overuse?
"Amazing!"
What drives you crazy?
Lack of sleep.
Last great book you read?
Robert Charles Wilson's Spin, Axis, and Vortex. I am a fan of sci-fi.
How do you cure hiccups?
Several deep breaths.
How do you cure a cold?
No medication. I take vitamin D supplements throughout the winter; wash my hands several times a day, and get a lot of sleep. I don't use any antihistamines.
When you've got a cold, are you stoic and strong? Or wimpy and weak?
Stoic and strong. I hate to complain, in general.
Where do you go when you need quiet?
Anywhere with ear plugs.
What do you do or take when you can't sleep?
I used to rely a lot on sleeping pills including melatonin, but since I have discovered more about the self-healing powers of our body, I stopped all of these (it took time!). Now I sleep well. If I can't sleep, I get up from bed and read a good book for 90 minutes, waiting for the next sleep cycle to arrive. The worst is to fight insomnia.
Favorite smell?
Galbanum. It's a natural, green scent known for centuries to help relax the spirit and it's what we use in our products.
Least favorite smell?
Ammonia.
What item stresses you out if you're running low on it?
Naturya Organic Cacao Powder. It contains iron, potassium, cooper, zinc, and magnesium as well as lot of proteins. It is the healthiest hot chocolate to have every morning (and you know I am French, so this is a must!).
What do you wish you had invented?
Airplanes.
What are you working on mastering?
Controlling my impatience. Patience is the mother of all qualities.
What preoccupies you?
My back, and injustice.
What technology or app do you rely on most?
WhatsApp, yet I also believe digital detox is a must nowadays.
Favorite instagram:
@chemist.confessions and @iamorveda, of course.
Favorite meal and where:
Thai cuisine at "Up Thai." It's a tiny but very good restaurant in Paris 8th arrondissement.
Comfort food:
Greek yogurt.
Comfort music:
Any song from the Pet Shop Boys.
Most recently binged TV show:
[La] Casa de Papel on Netflix.
Favorite spot in the entire world:
A little house on top of a mountain in Skopelos, Greece.
What product in your domain is misunderstood and should be a best seller?
Visibly Brightening & Skin Perfecting Masque. It's the only product in our range that provides post-biotic brightening actives to skin. Similarly, our Nutritive Plumping Massage is an amazing cream-to-oil satin skin treatment that should gain traction in the winter.
What do you foresee as the top beauty trends in 2018?
The end of the "No pain, no gain" era. The future of skin care is all about strengthening our skin barriers, including our "second skin," our healthy bacteria, to make our skins more resilient, and almost age-proof, rather than aggressing, weakening, or scarring the skin to get quick results. You can achieve very visible results if you use a mix of proven actives rather than relying solely on one aggressive active such as a retinol or peel. Being kind to your skin — and working with, not against it — is key.
If you won the Powerball tomorrow, what are the first five things you would do? (After, of course, donating the majority of it to your top charities …)
Invest in the silver economy to make it more human and more benevolent. Hire new teams to create a new beauty brand that will do a better job and offer products that really work or are worth their price. There is still a lot of room for that.
Invest in a biotechnology company that works on the brain. Our brains are the next unknown frontier. Invest in a company that works on using biotechnology to clean the oceans from the plastic invasion. (Orveda uses less than 5 percent plastic across the range. It's a plight close to our hearts.) Lastly, anything that could bring knowledge for every one!