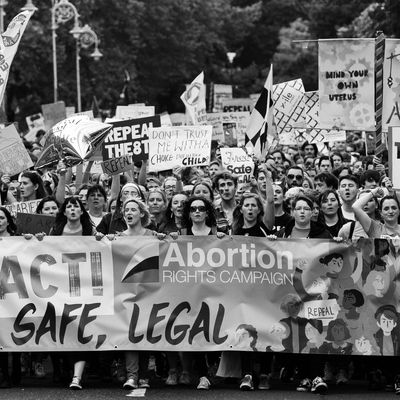 Women protesting for abortion rights in Ireland.
Photo: Tom Honan/PA Wire/PA Images
Just 24 hours after Irish President Michael D Higgins signed Ireland's abortion referendum result into law, thus striking down a TK-year old ban on the procedure, Health Minister Simon Harris announced the service will be cost-free as soon as country's the new abortion law is in place.
In May of this year, following abortion-rights activists' successful campaign to repeal Ireland's ultra-restrictive abortion ban, campaigners paved the way to entirely remove the Eighth Amendment from the constitution — a move that Higgins formalized on Tuesday. Following the president's signature, the Irish Examiner reports that Harris, who is in the process of drafting the country's new abortion law, told a group of reporters that he intends for the services to be free through the Irish health-care systems, as he doesn't want women who wish to terminate pregnancies to feel as if they must leave the country or seek out private clinics.
"I've said from the start that I don't want cost to be a barrier, because if cost is a barrier you get into a situation where one of two things happen: You get abortion clinics to develop or you can see people having to continue to travel," he said. "I want [abortion services] to be provided as part of our health-care system, our public health-care system and part of our primary health-care system."
Harris is expected to submit his draft to the legislature next month, and the law could be enacted as early as January 2019.