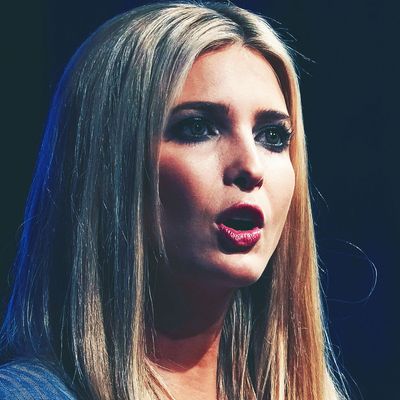 Ivanka Trump.
Photo: Alex Wong/Getty Images
To wake up and consume the news is to immediately be inundated by a wave of angry, screaming voices telling you how the world is going to end. But not everyone is drowning. During a talk at the Concordia Summit in New York City on Monday, First Daughter and senior adviser Ivanka Trump said that she copes with the "daily chaos" of the White House by "ignoring the noise," Newsweek reports.
"I have seen people care so much and want to do good work, but then they start getting Google alerts," she said. "Then it starts to take more of their time, and they get defensive and suspicious of those around them, they start to ask who circulated certain things. It's pointless, drains energy and causes their internal compass to go awry. Getting too engaged in the daily chaos is distracting, I don't pay too much attention because it would be unhealthy."
Perhaps not paying "too much" attention is what led her to courageously denounce the Trump administration's family-separation policy as a "low point" six weeks after it ended, and caused her and her husband Jared Kushner to fill out government forms incorrectly.
Her father, meanwhile, has been luxuriating in the noise, calling Dr. Christine Blasey Ford and Deborah Ramirez's sexual-misconduct allegations against Supreme Court nominee Brett Kavanaugh "False Accusations," speculating about why they didn't come forward about their attacks earlier, and getting big laughs at the U.N. when he touted his administration's accomplishments.