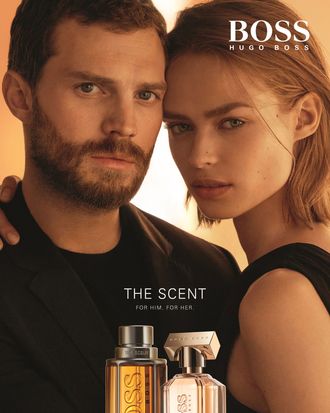 Jamie Dornan.
Photo: Courtesy of Hugo Boss
Fragrance ads need to hold their own award shows (maybe they could be called The Spritzys?). The kind of unique storytelling on display in a brief ad is compelling and noteworthy. Even some of Hollywood's brightest stars are taking off their shoes and diving in headfirst. The nearly two minutes of the new ad for Hugo Boss's BOSS THE SCENT (yes, all caps) is no exception.
The film features Irish hunk Jamie Dornan and Dutch babe Birgit Kos, who meet at something that can only be described as a concert-meets-virtual- reality-sexy-times. The premise plays with the notion of technology both improving and limiting human connection. The entire audience at a concert hall put on virtual-reality glasses and listen to a master pianist (why at the same time? I'm not sure). Everyone is seemingly enraptured by the music but Dornan and Kos only have one thing on their mind, and it's not piano.
As they leave the concert and run around a big modern building thing mildly reminiscent of the 1997 movie Gattaca, you can't help but feel their very palpable chemistry and tension. They're both super hot, so I get it. If Jamie Dornan smells like BOSS THE SCENT, I'm sold.
Photo: Courtesy of Hugo Boss
If you buy something through our links, New York may earn an affiliate commission.