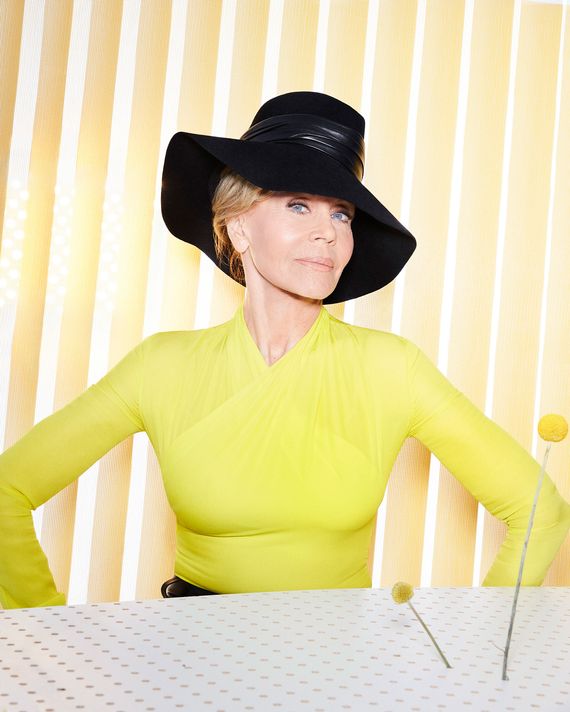 Versace
silk viscose yellow bodysuit, $1,125, price upon request.
Saint Laurent by Anthony Vaccarello
black wool hat, $1,095 at
YSL
.
Photo: Charlie Engman
It's the first full day of the Traverse City Film Festival in Michigan, and outside the State Theatre, Jane Fonda's 1970 mug shot is blown up to poster size. Even if you've seen it countless times, the photo will still stop you in your tracks: the undeniable movie-star glamour, the fist raised confidently in the air, the almost blasé look on her face, as though getting arrested (for alleged "drug possession" — actually vitamins) were completely normal.
On the curb, the real-life Jane Fonda gets out of her car and bounds over to embrace Michael Moore, who founded the festival and will be presenting her with a Lifetime Achievement Award later in the evening. She's wearing a blazer with a ONE FAIR WAGE button on the lapel; yesterday, she served as emcee at a ceremony in Detroit honoring restaurateurs who promote livable wages for their workers. She's been campaigning around the state for a ballot measure to raise the minimum wage for tipped workers, a movement she got involved with after meeting Saru Jayaraman, an attorney and organizer Fonda calls the Cesar Chavez of restaurant workers.
Fans behind a rope line hold their cell phones aloft, stepping on each ­other's feet to snap pictures. As they look on, Fonda walks over to the mug shot — it's the poster for Jane Fonda in Five Acts, a new documentary about her life from American Masters creator Susan Lacy. Standing beside the famous photo, she raises a fist in the air. The crowd shouts, "We love you, Grace!" — the character she plays opposite Lily Tomlin on the Netflix show Grace and Frankie — and "Jane for president!"
Fonda is 80 years old, and this summer, she's been in Sacramento lobbying for employment-reform measures inspired by the #MeToo movement, and in Washington, D.C., advocating for female farmworkers. She just finished touring Michigan (with Tomlin) to rally support for the restaurant workers, and says she has plans to make another swing through the state in the fall, ahead of the midterms. "Activism brings you back into your body," she tells me. "I did not expect or plan on being active like this into my 80s, you know? But it's all I care about."
Lots of women experienced the 2016 election as a galvanizing event. For Fonda, though, this wasn't anything new; it was more of an opportunity to renew her commitment to the work that's defined much of her life. She's been an actress and activist for going on 50 years, but the two roles have never blended as seamlessly as they do today. Back in the 1970s, when Fonda was speaking out against the Vietnam War, she was rebuked by the State Department, boycotted, and burned in effigy — the symbol of everything cultural conservatives hated about Hollywood. Today, hardly anyone thinks it's unusual to see a performer use her platform for political purposes. If anything, expectations have reversed: Consider, for example, the endless succession of famous women asked whether they identify as feminist (and taken to task for evasive responses), or the outcry when Taylor Swift declined to endorse a presidential candidate. One of the major shifts of recent years has been a growing sense that silence equals complicity. In 2018, it's starting to look like the world has finally caught up to Jane Fonda — or, perhaps, like the world has followed her lead.
All of which makes it the perfect time for a reexamination of Fonda's life and the culture she helped create. Having a movie in theaters and a popular show on Netflix doesn't hurt, either. This year, Book Club — in which Fonda and three friends find empowerment via Fifty Shades of Grey — did nearly $80 million at the box office; the fourth season of Grace and Frankie came out in January, and a fifth is on the way. In September, HBO will release Jane Fonda in Five Acts, which chronicles the radical transformations of Fonda's life and career, from political defiance to personal heartbreaks. Few people have embodied the epochs of the past American century quite like her, and few have lived such dramatic, public lives.
"I hope that my legacy is to make people understand the importance of living with intention, and, instead — this is really trite — of being a leaf in the river, kind of floating where the current takes you, being in a boat with oars and steering against the current to where you think you need to go. I have been a leaf in the river for a lot of my life," she tells me. She knows that might seem surprising to ­people — that someone who grew up with her level of privilege didn't feel she had agency. "It has to do with gender," she says. "It's why I think the documentary is important, because people can see that these issues transcend class and race, that they're gender-based, and that you can get over them, but it doesn't just happen. You have to think about the end of life and what you want. You want to go out without, Oh, God, why didn't I do that? Why didn't I say that?"
The first four acts of the movie are named for the major men in Fonda's life, beginning with her father, Henry. Jane is a master ­storyteller — it's one of her most underappreciated qualities — and it comes through when she describes what it was like to be the daughter of a man who played the hero onscreen but was equal parts domineering and distant as a dad. When she recounts her childhood — her father's absences and betrayals, his cruelty and anger, and the request for a divorce that preceded her mother's ­suicide — it's with a tone of what you could call radical empathy. "He was a hero to so many people, but these kinds of men aren't always good fathers. It's hard to be both," she says in the film.
I tell her backstage at the theater that I was struck by her compassion for a man who obviously caused her major hurt. She nods, overcome with emotion; her chin drops to her chest. She keeps it there for a long moment, excusing herself. When she straightens up again, her voice is still choked up. "I've worked hard on forgiveness, and that includes for my three husbands," she says. The next sentence comes out in a rush: "God, when you get old, forgiveness is so important. And you know, the reason that I can be articulate about my life is because I spent so long researching myself" — she sniffles, laughs — "and you can say, Well, that's really narcissistic, and maybe it is! But I really believe in the importance of an examined life, of an intentional life."
Those insights manifest themselves in surprising ways — including her attitude toward Donald Trump, whom she met briefly when she was married to Ted Turner. "We can't forget that bad behavior is the language of the wounded, and I include Donald Trump in that," she says. "We can hate what he does and what he says, but we have to love him."
She makes the distinction that Martin Luther King used to make, between liking someone and loving them, in the Christian sense of the word. "We have to love him. I feel compassion because I know why the behavior comes — I know the wound that it comes from, that originates with the father and a mother that didn't protect him," she says. "And I just think, in this polarized time, it's important for all of us to really think about that, because we have to welcome under the tent people who may have voted for Trump and understand why they did it." That's not to excuse the people who voted for him out of pure racism, she says. But Trump's opponents can't give up on trying to convince people: Compassion is necessary to effect real change. And also, she says, "Whoever we elect, we can never again sit back and say, 'Well, we've got a good guy or a good gal in the White House.' Things happened under Obama and things really happened under Bill Clinton that should never, ever, ever have happened. And we can't let that happen again."
Today, a reality-TV star is president and a Sex and the City cast member is making a legitimate run for New York governor. But back when Fonda first joined the antiwar effort, her celebrity and her politics seemed to be in conflict. "It kept me separate from the people that I was working with. I was super-conscious that I would never be able to close the class divide between me and the people that I was being arrested with or marching with," she says. It was a meeting in Detroit at the beginning of her career as an activist that changed her thinking. She was telling Ken Cockrel Sr., of the League of Revolutionary Black Workers, that she felt she needed to quit acting to fully commit to the movement. "I said, 'You know, Ken, I think I'm going to leave the business. I just don't want to be in Hollywood anymore,' " she remembers. "And he said, 'Stop right there. The movement has hundreds of organizers. We don't have movie stars. You not only can't stop, you have to pay much more attention to your career. You have to do it with intention, because the more successful you become, the better it is for the movement.' "
The women organizers she met, meanwhile, welcomed her. "You felt seen and heard, you felt that you mattered. Now, that may sound weird coming from me, but I'd always been treated like a celebrity and especially in that Barbarella had just come out, so people, feminists, sometimes treated me like I was this exploited woman — which maybe I was, I don't know!" she tells me. "But then there were the organizers who treated me like one of them, like someone who was new at it, but could learn."
Jane Fonda in Five Acts also touches on her difficulties as a young mother joining the peace movement. In it, Nathalie Vadim, Fonda's stepdaughter and the child of ex-husband Roger Vadim, describes what it felt like when Fonda decided to leave France to devote herself to activism in America. "She tends to move on from things," Nathalie says in the movie. "We got left behind."
Her failures as a parent, Fonda tells me, are "a pain that I will take with me always." They made watching the documentary a bittersweet experience. But it contained welcome surprises, too: Tom Hayden, her second husband and a hero of the 1960s radical left, gives her some long-overdue credit. In an interview recorded before his death in 2016, Hayden admits to personal failings that contributed to the end of their marriage and credits Fonda's famed visit to North Vietnam as a factor in the Nixon administration's decision to back down from bombing the North Vietnamese dikes — a move they believed would kill at least 200,000 people. Fonda says she was shocked. "I mean, look! It took how long for Tom Hayden to say publicly that he was a womanizer and an alcoholic? I never thought I'd live to see the day that he did that," she says.
There's a sense you get, watching the movie, that the major conflicts that once defined her life — as a celebrity turned activist, as a woman who tended to lose herself in marriages to larger-than-life men — have finally found resolution. In the film's final act, Fonda is single for the first extended period in her adult life. Earlier this year, she made headlines when she told Extra she'd "closed up shop down there." And these days, she says, her most fulfilling relationships are the ones she has with her female friends. Working with Tomlin on Grace and Frankie is a big part of that. It's the first time Fonda has ever worked with a team led by women, and her collaboration with Tomlin has also drawn in a new generation of female fans.
Inside the State Theatre, a thousand stars glitter on the ceiling, and the audience laughs and applauds as Moore and Fonda share a lengthy exchange of mutual admiration. Moore first met Fonda, he explains, when he was 16 and she and Hayden were touring the country meeting with religious groups opposed to the war. "You were such an inspiration for me," he says. Fonda tells Moore his documentaries have been "life-altering."
After about an hour of their banter, volunteers appear with microphones for audience questions, and what the fans have to say is a testament to Fonda's many phases. A woman in a smock dress with long wavy hair asks about the inspirations behind Jane Fonda's Workout, which Fonda created to generate income for her and Hayden's work supporting progressive causes. Next, a young woman — who identifies herself as 20 years old, black, and one of the underpaid restaurant workers Fonda is campaigning for — takes the microphone; her roommate is trans, she says, and when they watch Fonda's movies, "while we love them, we don't feel fully represented in them." Fonda says that the upcoming sequel to her 1980 comedy 9 to 5 will be a chance to do better: "We've all grown and learned a lot since the '70s in terms of inclusivity," she says.
A few minutes later, an older man in a dark shirt with a baseball cap slung low over his eyes walks into the aisle. "Hi, Jane Fonda," he says.
Maybe it's nerves, but his voice sounds clipped, and there's a hint of trepidation in her voice when she says, "Hi, sir."
"I'm a veteran from the Vietnam days," he says. In the room, there's a collective shift: Here it comes. Fonda has been answering for this for years, ever since she sat on that North Vietnamese anti-­aircraft gun in 1972, producing a notorious photograph that, for a generation of conservatives, came to epitomize Hollywood's out-of-touch liberal elitism. She was investigated by the federal government; she was spat on; one Maryland politician said, "I wouldn't want to kill her, but I wouldn't mind if you cut her tongue off." Over time, the facts of what Fonda did — meet with prisoners of war, appear on the radio asking soldiers to remain human — mingled with fiction: that she told them to disobey orders, that she lied about the conditions she saw. That photo op made it all worse. In the documentary, she reflects on the awfulness of the image — Barbarella on the enemy anti-aircraft gun — and says, "As I've said many times, I will go to my grave regretting that." But for some, apologies won't ever be enough. (Later, an AP report describes "dozens" of Vietnam veterans protesting the festival over Fonda's appearance.)
The man at the State Theatre, though, has something else he wants to say. "If I could, what I would do right now is, I would come up to you," he tells her, "and I would drape the Congressional Medal of Honor around you." The tension is broken, and the crowd begins to rise to their feet. "I'm so proud, so proud of you," he says, as the applause starts to drown him out, "for all the work you've done and all that you have endured, the adversity, and your courage." The audience gives her an extended standing ovation, and Fonda just sits there, looking stunned. After several moments, she seems to come back to herself, thanks him, and stands up to direct her applause back to him.
Moore moves on with the conversation, and a few moments pass before Fonda collects herself. Abruptly, she turns back to the man in the audience — she's found the words she hadn't had for him before. "Thank you, sir. I appreciate it," she says. "It makes me very happy because it tells me that you understand that I made a terrible mistake by sitting on that gun, but that I never was against soldiers. I never was against the soldiers."
The Q&A session has gone way over time, but Moore doesn't seem to want it to end; Fonda, for her part, doesn't mind. At the end of their talk, he asks, "What's the age when we can start saying whatever we want?" And her response is immediate: "Eighty."
*A version of this article appears in the August 20, 2018, issue of New York Magazine. Subscribe Now!