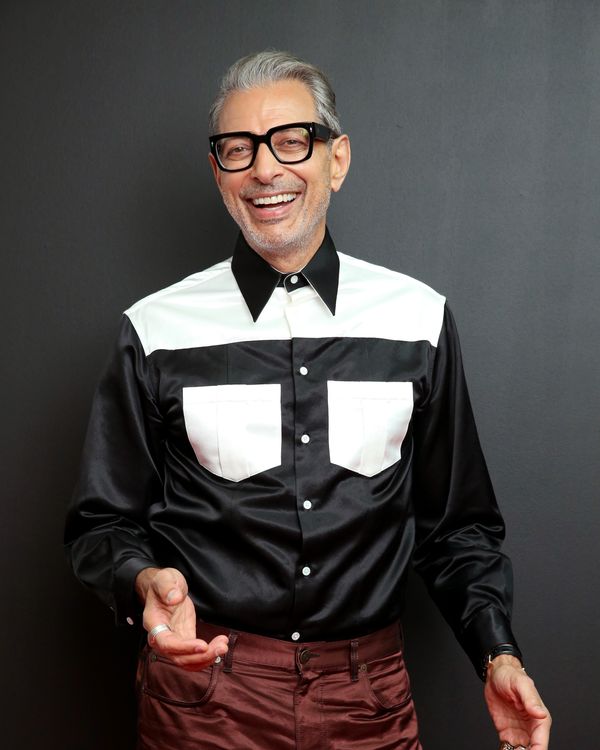 Jeff Goldblum wearing Calvin Klein.
Photo: Monica Schipper/Getty Images
Everyone was totally soaked at Calvin Klein's spring 2019 show, which took place on Tuesday night during New York Fashion Week. Not only because models walked the runway with wet hair (the collection was inspired by designer Raf Simons's favorite movie, Jaws), but also because the actor and America's favorite daddy, Jeff Goldblum was sitting front row.
Before the show began, Goldblum told the Cut that he hasn't been to a fashion show in years — not since Armani in Milan — but he seemed right at home. "I love being here," he said with a smile. Swoon!
Ever since Vogue declared Goldblum the "Ultimate Cool-Dad" in 2016, he has become something of a style icon. Specifically, a "zaddy" icon, or someone whose designer dad shoes, gray hairs, and cool well of confidence make them endlessly attractive to the internet. This summer, Goldblum's flaming Prada shirt, for example, caught The New Yorker's attention for being "an elevated version of an embarrassment perpetrated by one's father at a backyard barbecue." But on Goldblum, it was a, "Yes, Papa."
At Calvin Klein on Tuesday night, Goldblum turned heads in a satin, Western-inspired top from the brand's fall 2018 collection. "Does it make you feel even more like a daddy?" the Cut's editor-in-chief, Stella Bugbee asked.
"Yes," Goldblum replied in a gentle baritone, rubbing his hands over the satin top. "Yes it does."