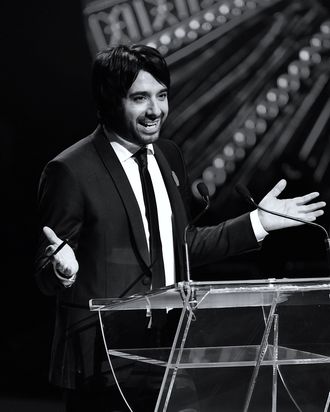 Photo: George Pimentel/WireImage
Before anyone knew anything else about him, it was charm that made Jian Ghomeshi a big deal. It began in the mid 2000s, when he hosted a Canadian arts-and-culture radio show, Q. In one episode, the actor Billy Bob Thornton was a guest, and a singularly obnoxious presence; but in the face of his monosyllabic answers and looks of blank hostility, Ghomeshi retained his composure and his warmth. Eventually, the actor accused Canadians of being boring audiences, like "mashed potatoes without the gravy," and Ghomeshi gently pushed back, replying: "Oh we've got some gravy up here." The YouTube clip, of this good-natured radio host defending his country's honor against a discourteous megastar, went viral, cementing Ghomeshi's place as a national icon and skyrocketing Q's popularity. And so when, five years later, in the course of an onslaught of sexual allegations against him, the public discovered that behind the scenes of their beloved show, Ghomeshi was allegedly telling his producer he wanted to "hate fuck" her and terrorizing his staff, the sense of disjunction was severe. "Captain Canada," as he sometimes called himself, had turned out to be an alleged monster.
Canadians felt betrayed; Ghomeshi's whole thing was that he was the nicest guy you knew. And that's why the rumors about him choking, slapping, and abusing women circulated for so long before gaining real traction. It's also why his essay in the latest edition of The New York Review of Books is so dangerous. The "nice guy" we once knew is being given the opportunity to repaint himself as just that.
I know what it's like to fall for his charm. He and I first met in spring 2010, when we began a brief relationship. (I've previously written about what it was like to date him.) At first, his behavior seemed romantic. He'd drop by my apartment and surprise me, text me in the morning to tell me that he was thinking of me throughout the show. He took me to concerts and premieres. I was 24 and dating a celebrity 19 years my senior and I was enthralled. Everywhere we went people would come up to talk to him like they knew him. With them, Ghomeshi would be like the guy they heard on the radio show — affable, friendly, familiar. I loved watching the effect he'd have on people just by shaking their hand.
But the longer I was with him, the more he became something else. He would demand that I show him effusive public affection and get sulky if I said I was uncomfortable. He exploded at me if I changed our plans. One night, when we were kissing good-bye in his car, he pushed me up against the window so hard it hurt and wouldn't let go until I struggled away from his hands.
In what the NYRB has cutely titled "Reflections from a Hashtag," Ghomeshi reflects on what it's like to go from being a celebrity to an "outcast." He describes the depression, self-loathing, and professional consequences he's experienced since 2014, when multiple women alleged that he'd subjected them to physical and sexual violence. (The case eventually went to trial, where Ghomeshi faced four counts of sexual assault and one count of overcoming resistance by choking, but was ultimately acquitted.) In the four years since the trial concluded, Ghomeshi recounts being abandoned by his closest confidants, contemplating suicide. "There has indeed been enough humiliation for a lifetime," he writes.
The essay could be considered part of a genre that's recently emerged, in which men who have been exposed by the #MeToo movement attempt to return to the spotlight by throwing themselves pity parties in the country's most prestigious publications. On Wednesday, John Hockenberry, another disgraced radio host, published a similar piece in Harper's titled "Exile." Hockenberry denies the sexual allegations that were brought against him late last year, and describes the grand injustices that he feels the #MeToo movement has wrought. The question of how "exiled" either of these men really are, considering national magazines are granting them space to tell their story, is certainly worth considering.
In 2014, it took months for reporter Jesse Brown of the Toronto Star to gather all of the horrific, twisted allegations against Jian Ghomeshi. In the end, more than a dozen women came forward with stories of him slapping, choking, punching, and biting them without consent. Two of the women said that before he abused them, he introduced them to a stuffed bear in his bedroom and asked them to turn him around, saying that "Big Ears Teddy shouldn't see this." Ghomeshi doesn't address any of that in his piece. Instead, he qualifies his treatment of women as being "emotionally thoughtless" and admits that he should have "respected" women more. It seems he'd like us to think of him as just your average selfish dude — the kind of guy who might not return a text or a phone call. I wonder what the woman who said he punched her so many times she couldn't see straight would say to that.
Ghomeshi denies the allegations brought against him. In any case, his essay isn't really about the the claims, or the women who made them, at all. He spends his pages reflecting on his own pain, without considering the damage he's done. He's so self-obsessed, he can't even bring himself to apologize to the women he's hurt. "In a maelstrom of confusion, humiliation, resistance, and conflicting feedback from those around you," he writes, "how much can anyone really inhabit "I'm sorry"? Has he contacted any of the women who he allegedly abused? Has he done any kind of real, measurable work to understand what went wrong? No. This is nothing more than an expression of one man's ego.
In about 3,400 words, if you care to read them all, Ghomeshi does his best to remind us how likable he is, that underneath all that "sexual assault" nonsense he's still the charming guy we know and love. Most notably, anecdotes of recent interactions with women bookend the piece. In the opening scene at a karaoke bar, he befriends a woman who's initially skeptical of him. "Chalk up one more human being who no longer thinks I'm a creep," he writes, clearly chuffed at his success. The essay concludes with a woman he meets in Paris thanking him for a great conversation. Throughout the piece Ghomeshi cites the "female friends" who've stood by him. Look, the ladies love me! he seems desperate to convey.
Eight years ago, the more I got to know Ghomeshi, the more I realized that something didn't feel right. But I was so caught up in who I thought he was that I didn't want to let go. There were two Jians — one in public and one in private. I see much of this same behavior in his essay. An attempt to mask what's beneath; a desire to control the experience of engaging with him. This time, his manipulations exist between the lines. This piece — which, by the way, only exists because he chose to write it — is his chance to tell the story he wants us to believe. It's his attempt to try to blind us into accepting his version of truth, without acknowledging the depth of the pain he's caused. But we already know who Jian Ghomeshi is, and it's not the man portrayed in The New York Review of Books. Make no mistake: This essay is not a reckoning. It's just another charm offensive.