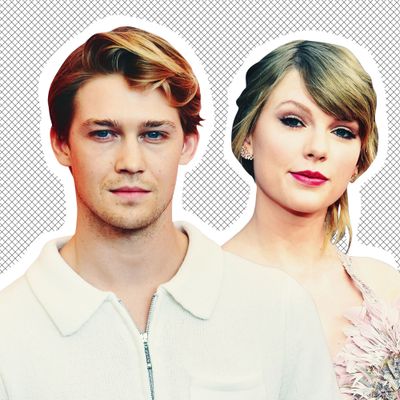 Joe Alwyn and Taylor Swift.
Photo: Getty Images
It's been a year and a half since Taylor Swift (singer) and Joe Alwyn (Pisces) started dating; nine months since they were first spotted holding hands; and five minutes since I searched YouTube for "joe alwyn voice?" and found out he sounds like this. And now, finally, after all the rumors and speculation about their notoriously private and hoodie'd relationship, Joe Alwyn has spoken for the first time publicly about his relationship with Swift. Let's hear what he has to say!
According to People, in an upcoming interview with British Vogue, Alwyn says, "I'm aware people want to know about that side of things. I think we have been successfully very private and that has now sunk in for people … but I really prefer to talk about work."
Wow, there you have it. That clears a lot of things up, like (1) Joe Alwyn is alive; (2) he has an upcoming interview in British Vogue; (3) he's employed; and (4) what a Pisces, amirite?
The "work" he referenced is his upcoming role in The Favourite, a movie about Olivia Colman as a grouchy queen and Rachel Weisz and Emma Stone as her feuding attendants and I can't tell who Joe Alwyn is from the trailer but I think he's the blond guy who tries to kiss Emma Stone at one point before she kicks him in the crotch.
Who knows, maybe we'll hear more about the couple's relationship when Swift is promoting her role in Cats.