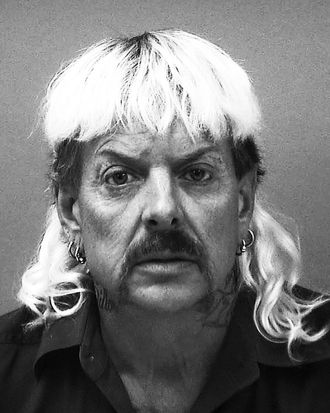 Joe Exotic.
Photo: Santa Rosa County Sheriff's Office
Take a look at this man. What do you see?
If you answered, "A man known as Joe Exotic who once ran a suspicious exotic animal park and has been arrested in an alleged murder-for-hire scheme for trying to kill a Florida big cat rescuer" you're exactly right. And if you didn't, come on. That's clearly the only possible answer.
Joseph Maldonado-Passage, a.k.a. "Joe Exotic," was arrested Friday for, according to a statement from the Department of Justice, "hiring an unnamed person in November 2017 to murder 'Jane Doe' in Florida." Carole Baskin, the CEO of Big Cat Rescue in Tampa — a sanctuary for abandoned and abused exotic big cats like lions, tigers, and leopards — says she is the Jane Doe in question, and that she and Maldonado-Passage have butted heads several times in the past over what Big Cat Rescue saw as his mistreatment of animals.
"A significant part of our mission has been to stop mistreatment and exploitation of big cats at roadside zoos, particularly those who rip tiger cubs from their mothers at birth to charge the public to pet and take photos with them," Baskin wrote in a statement on Facebook following Maldonado-Passage's arrest. She called the zoo he worked for, G.W. Exotic Animal Memorial Park, "one of the most notorious cub petting roadside zoos in the country" and said she urged malls not to invite him to bring his cubs to be played with as entertainment.
Maldonado-Passage did not take kindly to Big Cat Rescue's interventions, and once posted a video in which he says, "Carole Baskin better never, ever, ever see me face to face. Ever, ever, ever again," and then turns and, with a large silver revolver, shoots a blonde blowup doll meant to look like Baskin.
According to the DOJ, Maldonado-Passage began asking an unnamed person to find someone to kill Jane Doe beginning in July 2016. In November 2017, he gave allegedly another unnamed person $3,000 to travel to Florida to shoot Baskin, agreeing to pay more after the murder. It is unclear what happened with that plan, but Baskin was not harmed. In December 2017, Maldonado-Passage got in touch with another gun-for-hire, who turned out to be an undercover FBI agent. Just over nine months later, he was arrested on two counts of hiring a person to commit murder.
"Because Big Cat Rescue has been a leader in working to stop what we view as abuse of big cats and been very effective in our work, I have received multiple death threats over the years, including at one point a number of snakes placed in my mailbox," Baskin said in her statement. "According to the FBI, animal abuse is highly correlated with human-to-human violence."