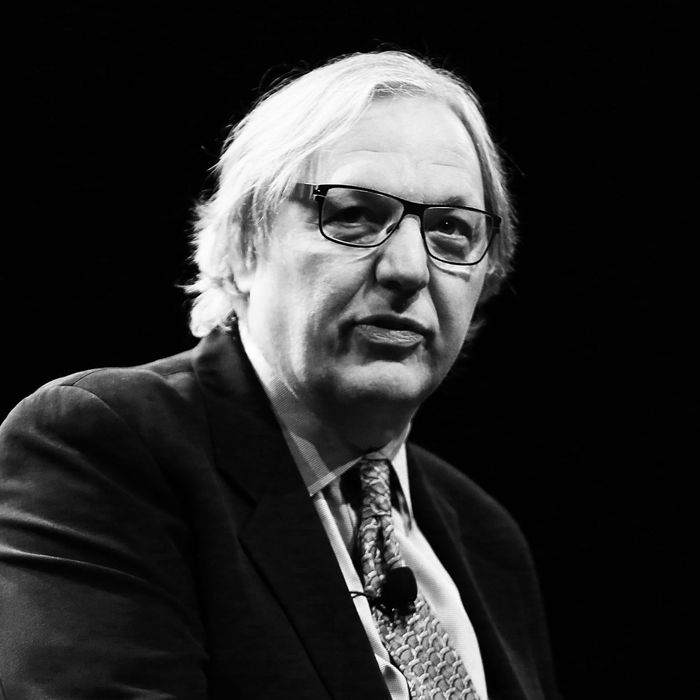 John Hockenberry.
Photo: Astrid Stawiarz/Getty Images for the 2014 Tribec
Last December, in an investigation published on the Cut, public-radio icon and longtime co-host of "The Takeaway" John Hockenberry was accused of harassing several female colleagues. Ahead of the allegations coming to light — which ranged from forcibly kissing a female colleague at her desk to creating a hostile work environment through bullying behavior — Hockenberry left WNYC*. Now, in an editorial published by Harper's, he's joining the ranks of several other prominent men who were exposed by the #MeToo movement, disappeared from public view, and are now attempting to step back into the spotlight.
Already, many have expressed strong reactions to the piece, some with direct connections to Hockenberry. "There are stories about abusive behavior from John Hockenberry at least going back well over a decade," Hockenberry's former "Takeaway" co-host Celeste Headlee, who publicly accused Hockenberry of abuse and bullying, told the Cut on Wednesday. "Why aren't we talking about redemption for the people whose careers were injured?"
In the essay (which is not yet available online, though it does appear in print in the magazine's October issue), titled "Exile," Hockenberry ruminates on what happened to him, and why. (For context, Harper's also published Katie Roiphe's much-criticized take on the #MeToo movement and the Shitty Men in Media list this year.) Hockenberry writes that he believes he has been "targeted" because of an "overcorrection" in society: his downfall, from his perspective, is not because of his actions (which include allegedly groping, sending suggestive emails and Gchats to, and undermining female colleagues). Instead, he believes that he has been penalized for being a difficult co-worker, a disabled man (he uses a wheelchair), and "a romantic." He writes, in part:
Being a misguided romantic, or being born at the wrong time, or taking the wrong cues from the sexual revolution of the Sixties, or having a disability that leaves one impotent at nineteen — none of this is a justification for offensive behavior toward women. But is a life sentence of unemployment without possibility of furlough, the suffering of my children, and financial ruin an appropriate consequence? Does my being expunged from the profession in which I have worked for decades constitute a step on the road to true gender equality? Is my life a reasonable price exacted in the pursuit of justice, or is my situation an injustice born of a deeper dysfunction in the matters of gender and a fear of confronting anything beyond revenge, purges, and humiliation?
Since his downfall he has also made claims and aired grievances about his interactions with accusers and former colleagues. He writes, "For my work colleagues I have said my piece and have run out of energy. I have also faced unrelenting anger from both male and female colleagues. Or, more common and more painful, I have faced their stony and, in my view, cowardly silence. Only one of my accusers reached out or responded to my heartfelt queries."
Headlee takes issue with this. She says she has not heard from Hockenberry since her allegations were published. Headlee also said that she did not hear from him after she left "The Takeaway." Furthermore, she told the Cut that she repeatedly attempted to speak with him about his abusive behavior while they worked together, but that he never agreed to meet with her about it.
"To pretend as though he has made an honest effort to reach out to his accusers — I find it very difficult to take it very seriously," Headlee told the Cut. "Many of us are in touch on a regular basis; we speak to each other. As far as I know, none of the five women that I discuss this with regularly have heard from him. I certainly have not. And frankly, I have nothing to say to him." Likewise, former "Takeaway" producer Kristen Meinzer, whose accusations against Hockenberry were also published by the Cut in December, tweeted on Wednesday: "Why would we reach out? Are victims now expected to comfort the people who abused them? What world is this?"
Writer Suki Kim, who wrote the Cut's December investigation after her own experience of being harassed by Hockenberry following an appearance on his show, called out Harper's use of the term "exile."
Hockenberry laments that in today's society, a person would get fired for sending a love poem to a co-worker (he cites the "passion" of a poem written by Lord Byron as an example). "In the workplace, there's no place for Byron's 'gentle winds, and waters near [that] make music to the lonely ear.'" He asks how the "romantic composers" of yore, including Chopin, would consider the #MeToo movement, and cites the late feminist writer Andrea Dworkin's Intercourse, wondering if she would tell people to focus on "the larger global struggle for gender equality on people like Malala Yousafzai in Pakistan and women's rights activists in Saudi Arabia," rather than the #MeToo movement. His essay ends with a call for "a return to romance."
However, Headlee told the Cut that what needs to happen next has nothing to do with romance — "It's inappropriate to use the word romance to describe any professional relationship," she said — but instead, needs to be an attempt to push the #MeToo conversation forward in a way that leads to actual institutional change.
"The reason John Hockenberry became such a monster is because there is a management system in place — not just at WNYC but at other places in other industries — that doesn't just tolerate this kind of abuse but in many ways encourages it and rewards it," she told the Cut. "While that system is still in place, it will be creating new monsters. We will always have the next John Hockenberry. So forget John Hockenberry — let's deal with the management structure and management system that in some ways creates these abusers."
*Correction: This article originally incorrectly stated that Hockenberry left WNYC following the publication of Suki Kim's investigation. He left months prior.