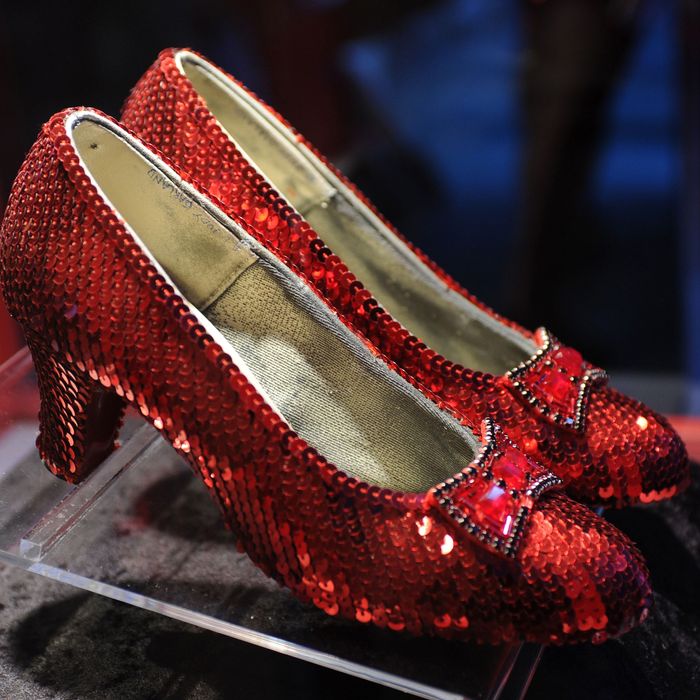 Judy Garland's ruby red slippers.
Photo: Larry Marano/FilmMagic
The ruby red slippers Judy Garland wore to tap herself home in the Wizard of Oz were stolen 13 years ago. They were taken out of the Judy Garland Museum in Grand Rapids, Minnesota, in the late summer of 2005, and the thieves left nothing but a few shards of glass and a solitary red sequin.
The FBI found the missing slippers, the agency announced in a press conference Tuesday afternoon. According to the Star Tribune, the slippers were found in Minneapolis in August, and the FBI discovered them after receiving a tip last year.
The shoes were one of only four pairs used on the 1939 film, and are considered to be extremely valuable. At the time they went missing, they were insured for $1 million and on the ten-year anniversary of their disappearance, an additional $1 million reward was offered for their return.
"France has the Mona Lisa. America has The Wizard of Oz," John Kelsch, the executive director of the Judy Garland Museum, told the Star Tribune. "It's our national masterpiece, so much a part of the American experience."
Newsweek originally reported the theft, and many at the time believed the slippers were stolen by an insider — security cameras and alarms were off at the time of the robbery. The FBI has not identified the thief and is asking the public to help with the investigation.