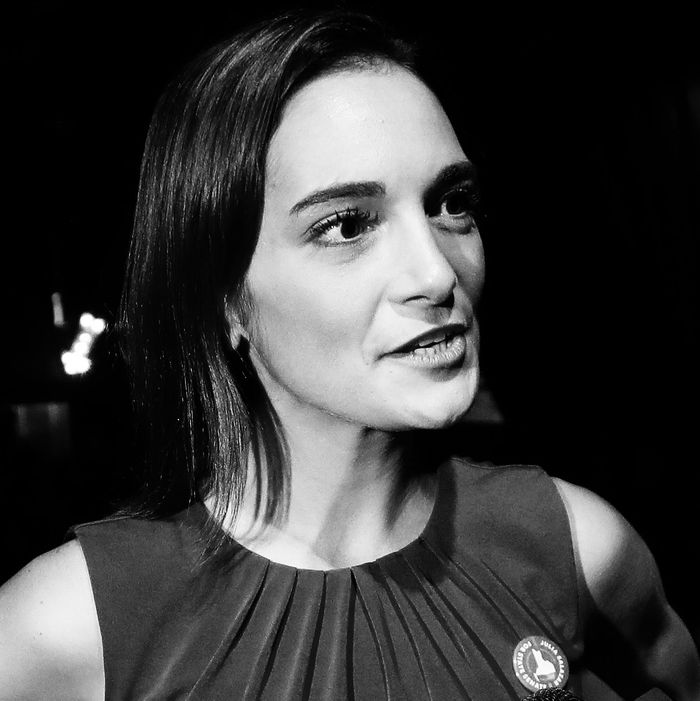 Julia Salazar.
Photo: Julie Jacobson/AP/REX/Shutterstock
Julia Salazar's victory in her State Senate primary last week felt noteworthy in the way many recent progressive wins have felt noteworthy: Despite a campaign marked by intense scrutiny of her background and upbringing, she easily ousted Martin Dilan, a 16-year incumbent who has been criticized for his connections to the real-estate industry, joining the ranks of young, left-leaning women who've successfully challenged the Democratic Establishment. For sex workers, though, the night seemed particularly historic. That's because Salazar openly and unabashedly advocated for their rights throughout her primary run, making her one of the first-ever politicians to campaign on a pro–sex worker platform and win.
"This is a game changer for the movement because it shows that voters are ready to talk about policies on the sex trade with complexity and care, rather than based in pure moral presumption," Lola Balcon, a community organizer for sex workers' rights who worked with Salazar on her campaign, told the Cut. "We hope more people running for office will see the example that Julia set taking a principled stance and follow in her lead."
Salazar, a 27-year-old Latina socialist who is now running as the Democratic candidate in an extremely blue district that encompasses large swaths of Williamsburg, Greenpoint, and Bushwick, championed sex workers throughout her campaign. Balcon, who was introduced to Salazar's campaign team via the Democratic Socialists of America, says she found her "extremely receptive" from the moment she first approached her several months ago.
On August 1, Salazar spoke at a sex worker organizing event with 150 attendees that took place in the back room of a Bushwick bar. The room was so packed that guests trailed into the hallway, craning their necks to see her. "The goal should be decriminalization," she announced to the crowd, speaking softly but firmly.
In the meantime, she continued, she would start by working to strike down New York's criminal loitering statute, which allows police to interpret mundane actions like waving down a vehicle or striking up conversation with passersby on the street as having a "purpose of prostitution." According to research from the Red Umbrella Project, 94 percent of arrests for "loitering for the purpose of engaging in prostitution" in Brooklyn are of black women.
Laws that criminalize and punish sex workers do far more harm than good, advocates say, by needlessly creating conditions in which they're stigmatized, discriminated against, and forced into violent and dangerous situations; criminalization is also disproportionately wielded against members of marginalized communities, like women of color, undocumented immigrants, and trans people. And the argument that exchanging sex for money should be illegal because it's somehow inherently and uniquely exploitative is the result of misguided moralizing, proponents of sex workers' rights say — as though many other industries don't exploit their workers by design.
"Sex work is work," affirmed Balcon, adding that just because not everyone "loves it or feels empowered by it" means we should neglect the labor rights of those engaged in the sex trade. "Labor justice has a history of uplifting the most marginalized workers, and sex work, which is often informal and criminalized (let alone union-busted), should be no exception." And yet, even the most progressive politicians tend to avoid the issue altogether — if they're not helping to pass legislation that actively harms sex worker communities. SESTA, a law that has censored sex workers and forced them offline under the guise of preventing sex trafficking, passed the Senate earlier this year with enthusiastic bipartisan support. (To the dismay of progressives who see sex workers' rights as a pressing labor issue, even Bernie Sanders voted in favor.)
Politicians' reluctance to address the realities of the sex trade stems, in part, from widespread stigma, especially since sex work is often erroneously conflated with sex trafficking. Sex workers are also understandably reticent about coming forward with their experiences, given how they're sensationalized and misrepresented in the media. "Everyone knows a sex worker, they just don't know that they know a sex worker," Balcon said. "People are afraid to talk about their sex working experiences because sex workers have faced real consequences from being outed — losing housing, jobs, relationships with family and friends. As a result, we vastly underestimate the percentage of people who have experience in the sex industry … As we continue to fight stigma, we're going to see the silencing of sex workers and underestimation of the issue's importance change."
By proudly including sex workers' rights in her platform, Balcon says, Salazar helped combat that stigma. Her vocal advocacy was arguably as important as her proposed policies; though other progressive politicians in the state have held similar positions on sex work, they've done so far less assertively. Suraj Patel, for instance, who was running for Congress against New York Representative Carolyn Maloney, also collaborated with Balcon and other organizers, and held a town hall for sex workers in the wake of FOSTA/SESTA's passage, but stopped short of calling for decriminalization. And Alessandra Biaggi, who won her State Senate race the same day as Salazar, has decriminalization in her platform but has not been nearly as vocal about it.
"I'm kind of honored to be a part of this moment and taking a clearer stance on this," Salazar told Splinter in mid-August. Shortly after, she canvassed alongside dozens of sex workers and their allies, who knocked on 600 doors in her district and presented decriminalization to constituents as part of Salazar's criminal-justice platform. "People will say this is radical," she said at the time. "But we all know that it needs to be the norm … By speaking openly about this, we're getting closer to this becoming the norm."
Now that Salazar has won, the hope is that her platform could serve as a template for other candidates to advocate for decriminalization across the country. In addition to calling for an end to the criminal loitering statute, it addresses a host of antiquated, repressive, and discriminatory laws: It condemns massage-parlor raids, which are often used to target immigrant women; advocates for district attorneys to stop charging people with prostitution-related crimes; and calls to an end to the sex-work exemption in New York's rape shield law, which allows prosecutors to enter evidence related to a rape victim's sexual history if she has been convicted of charges related to sex work.
"Basically, sex workers are an untapped pool of single-issue voters … Julia's win demonstrates supporting sex workers' rights is, at the very least, neutral, and at the best, flips you a ton of votes and volunteers," Balcon said. "What I'd like to see sex workers and allies take away from this is: Get your grassroots group together, reach out to a campaign, set up a meeting, do your research and write the policy, organize the canvass events and media, and we'll win."