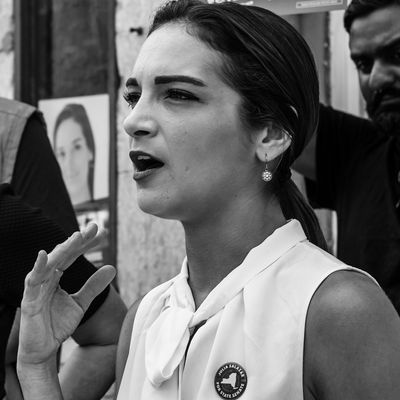 Julia Salazar.
Photo: Pacific Press/LightRocket via Getty Images
With just two days left until New York's State Primary, State Senate candidate Julia Salazar came forward this morning to say that a forthcoming story would out her as a sexual-assault survivor, in an attempt to "cast doubt" on her allegations.
Salazar, a 27-year-old Latina Democratic Socialist running to replace a long-time incumbent, has faced immense scrutiny in recent weeks; stories have included everything from accusations that she lied about her religious identity, immigration status, and class background, to dredged-up lawsuits involving former Mets player Keith Hernandez. Salazar attempted to get ahead of the latest one, which was eventually published in the Daily Caller, by posting her version before the story broke.
"I've been informed that a story is about to run which identifies me as a victim of sexual assault," Salazar wrote in a statement posted to Twitter. "Before this runs, I want to come forward and confirm that I was a victim of sexual assault by David Keyes - the Prime Minister of Israel's spokesperson to foreign media. This story appears to be an effort to cast doubt upon my, and other women's, accusations against Keyes."
"I've spoken to other journalists who were investigating accusations against David Keyes on background about this experience, but have never spoken on the record about it until now," Salazar's statement continues. "There's a reason women don't often come forward after a traumatic experience – because of the triggering and vicious responses that follow. I strongly believe sexual assault survivors should not be outed in this way, and am saddened by the effect this story may have on other women."
In light of this particular development, several people have expressed their support of Salazar and condemned the practice of outing of sexual-assault survivors:
Keyes became Israeli prime minister Benjamin Netanyahu's foreign media spokesperson in March 2016. In early April of that year, the Times of Israel reported that he had been accused of sexual assault in a Facebook post that had been quickly taken down. The woman wrote that the incident occurred in Keyes's Manhattan apartment in 2013, when he was working as a human-rights activist and said that he had "physically coerced" her, despite her repeated attempts to leave.
The poster — identified as a former Columbia student and supporter of the Boycott, Divestment and Sanctions movement — also said that two other women told her similar stories about their experiences with Keyes after she came forward.
According to the Daily Caller, a source who said he was a "former friend" of Salazar's tipped them off to the Facebook post and attributed it to her. They also claim that they reached out to Salazar's camp, who confirmed the story and did not request anonymity:
TheDCNF reached out to Salazar's campaign to ask about the Keyes accusation, at which point her spokesman confirmed that Salazar accused Keyes of sexual assault. The spokesman never asked TheDCNF to withhold Salazar's identity.
"I completely deny the charge," Keyes said in a statement back in 2016. "There was absolutely no coercion in our encounter."
Update, September 11 at 5:50 p.m.:
Shayndi Raice, a national news reporter for The Wall Street Journal, retweeted Salazar's statement this evening, adding that she "also had a terrible encounter with David Keyes."
"The man had absolutely no conception of the word 'no.' No matter how often I said no, he would not stop pushing himself on me. I was able to extricate myself quickly and it was a very brief and uncomfortable moment but I knew as I walked away I had encountered a predator," Raice continued. "In subsequent conversations, I had discovered his mistreatment of women was an open secret."
Update, September 12 at 2:32 p.m.: The Times of Israel reports that 12 women — Salazar, Raice, and ten others who wish to remain anonymous — have accused Keyes of "inappropriate behavior." They allege that said behavior occurred primarily between the years of 2012 to 2015, when he worked as the executive director of Advancing Human Rights, a nonprofit based in New York. The allegations include that Keyes showed videos of naked women in the office and made aggressive advances toward colleagues and professional peers. "There was an unofficial policy that he cannot be alone with interns," one of the women who spoke to the Times said. "It was something that was well known in the office."
Keyes again denied the allegations, saying: "All of the accusations are deeply misleading and many of them are categorically false." The paper also obtained two emails from Keyes to women in which he apologized "for being less than gentlemanly."
Update, September 13 at 11:47 a.m.: After 12 women came forward to accuse him of sexual misconduct, Keyes has announced that he's taking "time off" from his job.
"In light of the false and misleading accusations against me and in order not to distract from the important work of the Prime Minister, I have asked to take time off to clear my name," he said in a statement published by the Times of Israel. "I am fully confident that the truth will come out."
This is a developing story that will be updated as more details become available.