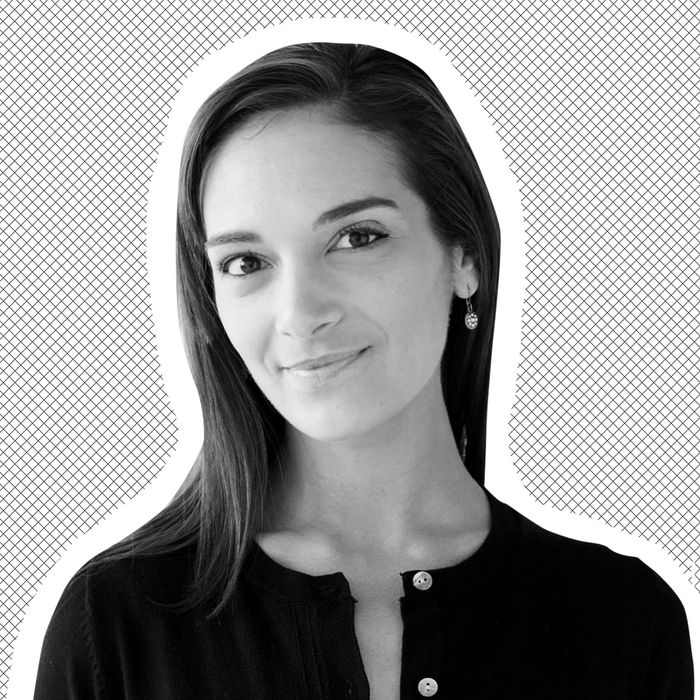 Julia Salazar.
Photo: Salazar for State Senate
What do claims about a fabricated identity, the Democratic Socialists of America, and former Mets player Keith Hernandez have in common?
They're all part of the controversy unfolding around New York state senate candidate Julia Salazar. When Salazar's campaign for State Senate started, it seemed like a compelling — if relatively minor — local politics story. Salazar, a 27-year-old Latina DSA member, was challenging a 16-year incumbent from the left, running on a platform that focused mostly on the unglamorous but urgent issue of expanded tenant's rights and subway reform. (She also supports single-payer health care, abolishing ICE, and decriminalizing sex work.) Then Alexandria Ocasio-Cortez won, and the similarities between their backgrounds and ideologies led to a wave of attention and support toward Salazar's campaign.
With that new national spotlight came new scrutiny, and a series of increasingly bizarre controversies. First, she was accused of lying about being a Jewish immigrant who grew up in a working-class household; then, members of her own family sided with the critics picking apart her biography. As the fervor around her grew, the Daily Mail published an even stranger story, digging up a lawsuit involving Keith Hernandez, an arrest for fraud, and … Pottery Barn vouchers? Salazar, for her part, insists she's a victim of defamation in this last instance, and calls the whole ordeal "one of the most frightening things that had ever happened to me."
The media spectacle has stirred up a frenzy among leftist circles, with some believing it's a smear campaign pushed by real-estate interests and others attempting to process the claims. Their political adversaries, meanwhile, are having a field day. "It's simple," wrote conservative commentator John Podhoretz. "Julia Salazar is a pathological liar and anyone who defends her is falling for it."
Whatever your interpretation, we can all agree that the situation is extremely messy. Here's what to know.
Salazar's pro-life past.
On August 20, a few weeks after it was revealed that Salazar was once registered to vote as a Republican, Gothamist reported that she was the head of a pro-life organization while attending Columbia University. Salazar attributes her previous viewpoints to being raised in a Republican household, telling the Cut that "Fox News was always on on this little TV in our kitchen." Salazar is now firmly pro-choice, includes reproductive justice among her campaign pillars, and holds a position in the NYC DSA socialist feminist working group.
Her religious identity and immigration history.
A few days later, on August 23, Tablet magazine published a story proposing that Salazar was lying about being Jewish. Salazar, whose father was a Colombian immigrant and whose mother is Italian-American, had identified as a "Jew of color." (Her brother, Alex, told Tablet that "there was nobody in our immediate family who was Jewish.") It also stated that, in college, she was a conservative Christian who dropped "praise Jesus" into conversations.
In an extensive interview with Jewish Currents afterward, Salazar said that her late father told her she had a Sephardic last name, which is what sparked her interest in the religion; she told the Cut the same and that she converted to Reform Judaism in 2013 after being involved in Jewish life at Columbia. She also denied that she was a practicing Christian; though she did go on a free Christians United for Israel trip, she said she didn't drop "praise Jesus" into conversations, adding that "it's really funny to even imagine me being that emotive." Some of her friends from college published a letter in The Forward on September 5, "to affirm who we know Julia to be as a Jew and as someone with moral character that we believe more than qualifies her to represent North Brooklyn in the New York State Senate."
Her immigration claims have proven to be thorny as well. Both on her website and in interviews, she said that she was a "proud immigrant" who moved to the U.S. as a child. Salazar was soon forced to clarify that she was actually born in Miami, but still said she was raised "between two different places." A City and State article published on August 30 uses interviews with her brother and mother, Christine, to refute this; they say they only visited Colombia a few times. Reporters also contested her claim in the Jewish Currents interview that her family "didn't all have permanent residence in the U.S." Her father became a citizen in 1984, they say — several years before Salazar was born. But that City and State article also brings us to …
Her working-class background.
Salazar's campaign website says that she's been working jobs since age 14 "to help make ends meet," but Christine told City and State that she did not rely on her daughter for any financial help. This seemed to indicate another inconsistency in Salazar's political image, but Salazar said she never intended to misrepresent herself. "I didn't work those jobs to support my own family," Salazar told the Cut. "I did it to support myself to an extent. Like if I ever wanted to have a car to be able to drive to school, I would need to pay for the gas, for insurance. A lot of young people have these responsibilities. That's not to say, woe is me at all. Just to say that I relied on my jobs in order to make up for what my family wouldn't be able to really provide. It wasn't like I was working for my lunch money." Her brother, Alex, told reporters that "we were very much middle class" and "we had a house in Jupiter along the river, it was in a beautiful neighborhood."
Salazar told the Cut that her mother "was laid off multiple times, and each time that that happened, it was really jarring for our family financially." "That's not to compare my class experience to anyone else's," she continued, "which I think is futile and sort of the opposite of the intent of building cross-class solidarity."
Even City and State pointed out, in that same article: "Skeptics certainly have been given reason not to trust Salazar, but one wonders how many members of Congress could be similarly questioned on their own stories of humble origins if they were under the same microscope that she has been."
The strange Keith Hernandez story.
British tabloid the Daily Mail published a story the morning of September 6 claiming that Salazar was once accused of having an affair with former Mets player and Seinfeld regular, 64-year-old Keith Hernandez. Keith was her neighbor in Florida and a family friend; in 2010, his ex-wife Kai Hernandez accused her of the affair and of stealing $11,800 in cash, $1,175 in Pottery Barn vouchers, and $950 worth of wine.
When she was home from college in March 2011, Salazar was arrested under suspicion of fraudulently trying to access Kai's bank accounts by imitating her voice in phone calls with UBS. She was never charged. The same day the Daily Mail article was published, Tablet released the audio of Salazar's alleged phone calls to the bank.
Everyone involved now says there was no affair, and Salazar sued Kai in 2013 for defamation of character following the arrest. "Kai Hernandez's bizarre and fraudulent attempts to defame and victimize Julia were recognized as baseless by the authorities, who declined to file charges, and this matter was resolved with a monetary settlement of $20,000 in Julia's favor," Adam Hecht, Salazar's lawyer at the time, said in a statement. "Keith, Kai and Julia agree that there was no affair."
Also, Jennifer Owen, a voice analysis expert called in by Hecht, says she is almost entirely certain it's not Salazar on the recordings. "As an expert in voice recognition and speaker identification with over 20 years experience, I analyzed recordings of the calls which Kai Hernandez alleges that Julia Salazar made to her bank in 2010 and compared those calls with both Julia's voice and Kai's," Owens said in a statement. "I determined with 99 percent certainty that those calls were not made by Julia Salazar and were, in fact, made by Kai Hernandez."
Salazar herself addressed the Hernandez situation that same evening, calling it "one of the most frightening things that had ever happened to me." In an official statement, she said the story began when she was house-sitting for Kai and her new fiancé in the Hernandez's marital home in the midst of their divorce. "What I saw in the home concerned me: a lot of drugs, syringes, and several guns," she wrote. "I knew I had to tell Keith what I saw in his home, and I did. He asked me to document what I saw, and eventually he showed up at the house with local police to check it out." She reiterated that no charges were ever filed and that the defamation suit ended in a settlement paid by Kai.*
Ultimately, we'll have to wait until primary day to see if these revelations will actually make an impact in the polls.
The Daily Caller sexual-assault piece.
The morning of September 11, Salazar tweeted out a statement in which she explained that a news outlet was planning to out her as a sexual-assault survivor and that she had decided to make her allegations public first. In the statement, she claimed that David Keyes — now a spokesperson for the prime minister of Israel — had sexually assaulted her. Shortly after Keyes got the job in 2016, the Times of Israel reported that he had been accused of sexual assault in a since-deleted Facebook post; Keyes denied it both then and now.
That afternoon, conservative site the Daily Caller did indeed publish an article outing her as the author of that Facebook post. Since Salazar came forward with her allegations, Wall Street Journal reporter Shayndi Raice posted a series of tweets in which she wrote that she "also had a terrible encounter with David Keyes once and 100% believe her." Raice added that he was a "predator" and that "in subsequent conversations, I had discovered his mistreatment of women was an open secret."
*The original version of this post stated that Salazar won the suit. It has been updated to show that it ended in a settlement.