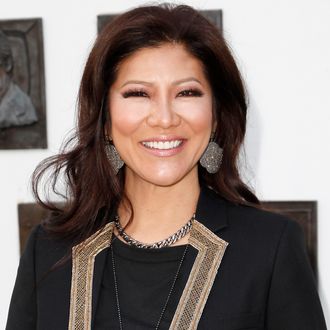 Photo: Tibrina Hobson/Getty Images
Julie Chen has not appeared on the CBS show The Talk since her husband Les Moonves's departure from the network in the wake of a dozen sexual harassment and assault allegations against him. But on tomorrow's episode, Chen is expected to announce she's leaving the daytime talk show, effective immediately. Vulture has confirmed this information with a source familiar with the situation, though reps for CBS did not return emails seeking comment late Monday.
According to CNN's Brian Stelter, Chen will make her announcement via a video message during the The Talk's Tuesday episode. "She has decided that her main focus needs to be clearing her husband's name from accusations made 25-30 years ago and tending to her son," a source told CNN.
Chen issued a statement in support of Moonves after the first six women made accusations against him in late August. (Six more women came forward with accusations against Moonves in early September, shortly before he stepped down from his role as CBS chairman.) Chen's absence from The Talk, where she had also expressed support for her husband, has lead to rumors that she would step aside. Last week, her fellow co-hosts uniformly spoke up saying that CBS should release the results of the two independent investigations into Moonves' behavior.
Chen is expected to stick with her 18-year gig hosting the network's Big Brother reality show, at least until it wraps up its current season next week. She signed off last Thursday's episode of Big Brother as "Julie Chen Moonves," the first time she's used her husband's name in a professional capacity.