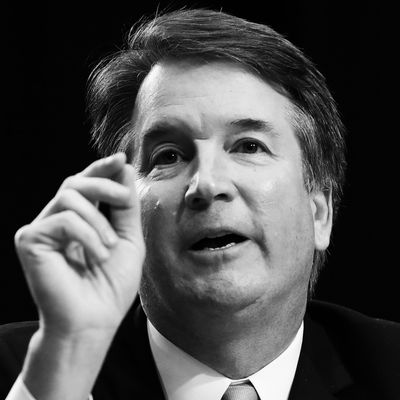 Brett Kavanaugh.
Photo: Chip Somodevilla/Getty Images
Attorney Michael Avenatti had revealed on Sunday that he represented a woman with "credible information" against Brett Kavanaugh. Now, on Wednesday, the lawyer has released a sworn declaration from his client, Julie Swetnick, who alleges she was drugged and gang raped at a party in high school while Kavanaugh was present.
The sworn declaration begins with Swetnick stating that she is a graduate of Gaithersburg High School in Gaithersburg, Maryland, as well as listing a host of active and inactive clearances she holds from working in the U.S. government, including the Department of the Treasury, U.S. Mint, and Department of Justice. She then states that she met Kavanaugh and his friend Mark Judge (whom Christine Blasey Ford claims was present while Kavanaugh sexually assaulted her in high school) at a house party in 1980-81, and described observing them as "joined at the hip." She states that she attended "well over" ten house parties with them between 1981-83.
The declaration reads, in part:
On numerous occasions at these parties, I witnessed Mark Judge and Brett Kavanaugh drink excessively and engage in highly inappropriate conduct, including being overly aggressive with girls and not taking "No" for an answer. This included the fondling and grabbing of girls without their consent.
Swetnick alleges she witnessed Kavanaugh "engage in abusive and physically aggressive behavior" toward girls at these parties, and that she has "been told by other women that this conduct also occurred during the summer months in Ocean City, Maryland on numerous occasions." She states, "I also witnessed such conduct on one occasion in Ocean City, Maryland during 'Beach Week,'" an event listed on the 1982 calendar Kavanaugh recently released to the Senate Judiciary Committee.
The declaration states that, during the years 1981-82, Swetnick became aware that Judge, Kavanaugh and others would "spike" the "punch" at house parties with "drugs and/or grain alcohol so as to cause girls to lose their inhibitions and their ability to say 'No.'" The declaration continues:
I also witnessed efforts by Mark Judge, Brett Kavanaugh and others to cause girls to become inebriated and disoriented so they could then be "gang raped" in a side room or bedroom by a "train" of numerous boys. I have a firm recollection of seeing boys lined up outside rooms at many of these parties waiting for their "turn" with a girl inside the room. These boys included Mark Judge and Brett Kavanaugh.




In approximately 1982, I became the victim of one of these "gang" or "train" rapes where Mark Judge and Brett Kavanaugh were present. Shortly after the incident, I shared what had transpired with at least two other people. During the incident, I was incapacitated without my consent and unable to fight off the boys raping me. I believe I was drugged using Quaaludes or something similar placed in what I was drinking.
Swetnick also states that she is aware of "other witnesses that can attest to the truthfulness of each of the statements."
After posting the declaration, Avenatti shared a picture of Swetnick, writing that she is "courageous, brave and honest. We ask that her privacy and that of her family be respected."
Judge's ex-girlfriend of three years, Elizabeth Rasor, told The New Yorker that he once "told her ashamedly" about an incident in which he and other boys took turns having sex with a drunk woman. She said he appeared to think it was consensual, and that he never named anyone else involved. Brett Kavanaugh has denied both previous allegations of sexual misconduct by Ford and his Yale classmate Deborah Ramirez, and claims that he has never sexually assaulted anyone.
After the declaration was shared by Avenatti, Kavanaugh denied Swetnick's allegations, calling her claims "ridiculous and from the Twilight Zone." In a statement released by the White House, Kavanaugh also said, "I don't know who this is and this never happened."
This post has been updated with Kavanaugh's statement.