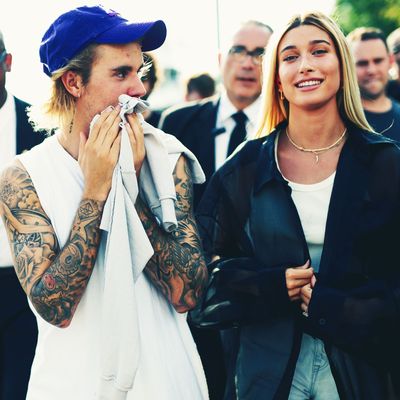 Justin Bieber and Hailey Baldwin.
Photo: Matthew Sperzel/Getty Images
Contrary to prior reports, Justin Bieber and Hailey Baldwin weren't simply obtaining a marriage license at a New York City courthouse on Thursday — according to People, the young couple actually tied the knot right then and there.
From the get-go, Bieber and Baldwin's relationship progressed extraordinarily quickly; they got engaged in early July after dating for just one month. Within weeks, Bieber was already fantasizing about his wedding to the woman with whom he's "soooo in love," but in mid-August, the couple reportedly decided to slow things down.
Well, it seems as though that plan didn't pan out. According to a "religious source" close to the couple, who spoke to People, "They went ahead and did it without listening to anyone." However, the couple still plans on having a "big blowout, in front of God and everyone they love." What a perfect way to combine their two shared interests: partying and praying.
So what's next, a big move to Canada?