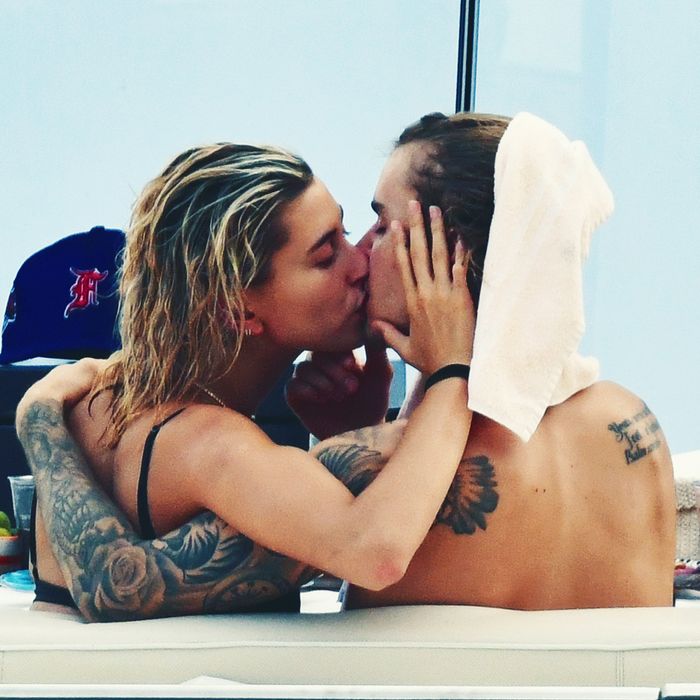 Hailey Baldwin and Justin Bieber.
Photo: XPOS/BACKGRID
This week, world leaders, diplomats, and boy bands from around the globe have gathered in New York City for the 73rd session of the U.N. General Assembly. Notably absent from this summit, New York City Parks Department's Make Out Ambassadors Justin Bieber and Hailey Baldwin, who are maybe married but also maybe not, who knows.
Bieber and Baldwin did not shirk their diplomatic responsibilities, however, and instead of kissing and crying in New York, they took their work abroad, Frenching (ooh la la) on a yacht in Italy (mamma mia!).
According to a story on "Page Six" masterfully titled "Justin Bieber and Hailey Baldwin aboard S.S.PDA in Italy" the two were getting "naughty-cal" on a yacht off of Italy's Amalfi coast after attending Milan's Fashion Week.
They certainly seem to be having a better time than their fellow Citi Bike enthusiast and Youth Ambassador Leonardo DiCaprio, who was recently spotted looking extremely ick-ed out on a yacht in the south of France.
Foreign affairs are fascinating.