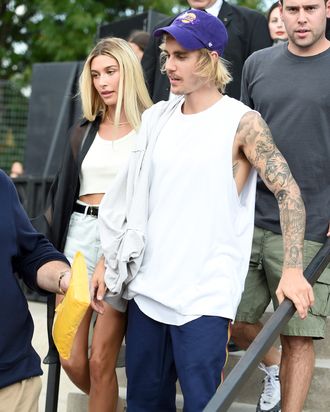 Hailey Baldwin and Justin Bieber.
Photo: Theo Wargo/Getty Images for NYFW: The Shows
Hailey Baldwin and Justin Bieber said they were slowing down their intense summer romance/engagement last month. But it appears "slowing down" includes heading to the Marriage Bureau in NYC.
According to TMZ, the couple went to a courthouse in the city to get a marriage license. A source told TMZ that Justin was crying, and said to Hailey: "I can't wait to marry you, baby."
There was other speculation that the court official they saw was a judge, which could mean they got married, and that they may leave the country soon.
The details of their trip to the court remain shrouded in rumor, but whatever next steps they are taking are sure to be exciting. Congrats Hustin!