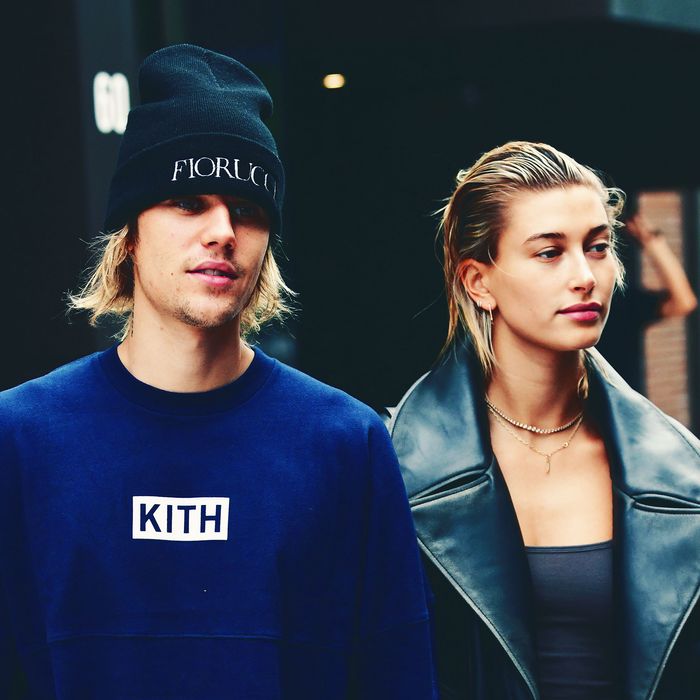 Justin Bieber and Hailey Baldwin.
Photo: James Devaney/GC Images
Rumor has it that after a two-month-long engagement, Justin Bieber and Hailey Baldwin secretly got married last week at a New York City courthouse. Or … did they? In the days since the alleged big day, ambiguity has swirled around the validity of the rumors, leaving us more confused than ever about the status of the famous 20-somethings. Did they really opt out of getting a prenup? Are they moving to Canada? Who's more trustworthy — Baldwin or an anonymous "religious source"?
Below, here's everything we've heard, which could be anywhere from 15 to 90 percent true.
At first, we thought they were getting a marriage license.
On September 13, TMZ reported that the couple was spotted at the Marriage Bureau in a New York City courthouse, where they were apparently obtaining a marriage license. There was also speculation that the couple met with a judge, which ignited further speculation that they had actually gotten married, and that they might soon leave the country.
According to a source who was at the courthouse, Bieber cooed to Baldwin, "I can't wait to marry you, baby" through tears. This seems believable enough — the singer does tend to weep when thinking about was marriage.
So, wait … they actually got married?
Apparently! Just a day after TMZ reported that the couple was simply getting a marriage license at the Manhattan courthouse — and a month after they apparently decided to slow things down — a "religious source" told People that Bieber and Baldwin did, in fact, get hitched.
"They went ahead and did it without listening to anyone," the source said, noting that the couple still plans on having a "big blowout, in front of God and everyone they love."
And it seems like Bieber's mom confirmed the marriage.
Well, that's how some people interpreted Pattie Mallette's tweet on Friday morning: "Love is unconditional."
"Justin Bieber's Mom Might've Confirmed The Singer's Marriage To Hailey Baldwin In A Mysterious Tweet," read the original headline on a Bustle article, until the website had to issue an update because…
Baldwin denied the marriage.
Not long after Mallette's tweet, Baldwin clarified the rumors on her own Twitter account, writing, "I understand where the speculation is coming from, but I'm not married yet!"
But, suspiciously, she didn't leave the tweet up for long. Standing by their original story, People reported that Baldwin was in fact married, but that she clearly didn't consider herself a married woman because she has not yet had a big ceremony.
According to a friend of the couple, Baldwin "feels a civil ceremony and their 'real' wedding are two separate things." A religious source (the same one, or a new one? Unclear.) also weighed in, saying that while "what happened at the courthouse is a courthouse thing — a legal thing," true marriage is "two people making a vow before God and the people they love."
On September 16, Mallette decided to post another cryptic tweet, reading, "Haters gonna hate. #LoveWins."
Per Alec Baldwin, they're definitely married.
Alec Baldwin is clearly invested in his niece's well-being, as he was giving Hailey and Bieber marriage advice before the couple reportedly got hitched. While it's unclear exactly how tight he is with Hailey, he had no problem speaking explicitly to Access about the rumored marriage on the 2018 Emmy Awards red carpet — and he says it definitely happened.
However, he offered no new insight into the situation, simply divulging that "they just went off and got married."
After standing by its original reporting, TMZ conceded that the couple was (apparently) married.
On October 2, after maintaining that the couple was not married, TMZ admitted that "People mag got it right" when the magazine reported on September 14 that the couple had tied the knot. TMZ also reported that the preacher present for the marriage was Jeffrey Quinn, a faculty member at nearby Nyack College, and the witness was Bieber's friend from Churchome, Josh Mehl.
But they did not sign prenups.
Per an Us Weekly report from September 21, the 24- and 21-year-old did not sign a prenup agreement, which yikes! While Baldwin's net worth is approximately $2 million, Bieber's is a whopping $265 million.
TMZ also reported that the couple got hitched without prenups (though they did apparently reach out to lawyers about getting them the day they went to the courthouse.) Next question: Will they get a postnup? (That is, if they truly are married.)