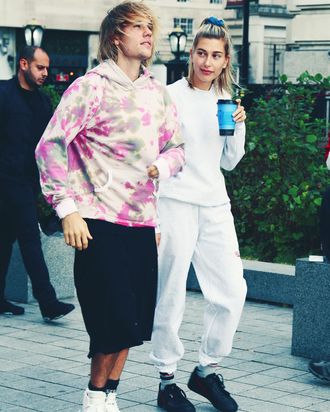 Justin Bieber and Hailey Baldwin.
Photo: Neil Mockford/GC Images
When it's the morning after you've thrown back an embarrassing number of beer-shot combos, and you're simply trying to encapsulate your damaged body in the softest, most shapeless scraps of fabric that scream, I drank too much last night but it's fine, look no further than Justin Bieber and Hailey Baldwin. Although partying is among the engaged couple's favorite activities, they're presumably not hungover all the time; they do, however, certainly dress like they are.
Sure, their beloved sweatsuits probably cost a few hundred dollars, and the reason they can pull off the morning-after look in public is because they're incredibly hot and rich, but that doesn't mean they shouldn't serve as everyone's hangover-outfit inspo — especially when they have a look for every mood.
When you drink so much that your body loses its ability to regulate its temperature, and you get chills indoors.
When you're feeling weepy because your dopamine levels are dangerously low, and you want to wear a "fun" outfit to make yourself feel better.
When you can't wait any longer to have your java and thus wear slippers outside.
When you have to limp to the nearest bagel shop for a bacon, egg, and cheese and the only thing you can find is … a ski suit?
When you're calling a car to take your still-drunk ass to the brunch plan you made the night before.
When it's 9 p.m. the next day and you're still hungover.
When you drank way too many beers the night before but somehow, magically, you're not bloated.
When you show up to a date and discover that your irresponsible sweetie is, again, hungover.