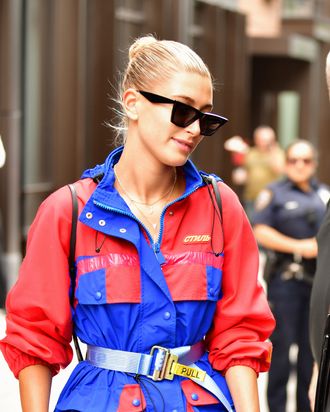 Hailey Baldwin.
Photo: James Devaney/GC Images
Hailey Baldwin and Justin Bieber have had a long and eventful summer romance. They started by getting engaged in the Bahamas, and have since roamed around New York City and Canada, wearing great clothes and getting ice cream.
Their romance hasn't been without it's dramatic moments. There was that time that Justin was spotted weeping in Central Park, and when Justin chastised a photographer for asking rude questions.
But Hailey is not paying attention to the negative attention that has come her way since Justin proposed to her with a very big and expensive looking ring. When asked by Australian magazine Stellar, how all the attention about her new and serious relationship has affected her, Hailey was very chill.
"I don't think it's affected me really," she said. "I have learned to just try my best to ignore the negativity at this time so that I can enjoy this season of my life."
When asked how she feels about the upcoming nuptials, Hailey shared that she was "very excited."