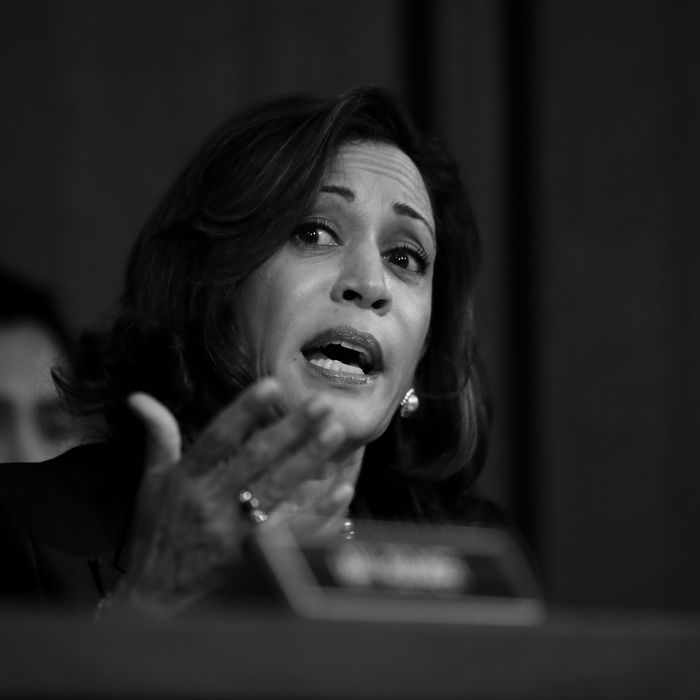 Kamala Harris at Brett Kavanaugh's confirmation hearing.
Photo: Drew Angerer/Getty Images
The second day of Brett Kavanaugh's hearing brought intensive questioning from multiple senators. The Supreme Court nominee was challenged on his views about abortion and racial inequality for much of the night, as the trial went well into the evening.
Senator Kamala Harris asked the second to last question of the night. She asked Kavanaugh if he knew of any laws "that the government has power to make over the male body?"
After she finished, the entire room was silent for three seconds, before Kavanaugh replied: "Um … I'm happy to answer a more specific question, but …"
"Male versus female, " Harris responded curtly. Kavanaugh fumbled a few more moments before Harris repeated the question.
"I'm not aware of any right now, Senator," Kavanaugh finally responded.
He evaded questions about abortion two times earlier in the evening, when Senators Blumenthal and Hirono asked, citing both times that all eight sitting Supreme Court judges did not answer any questions about cases that may come before their bench.
The question came after Kavanaugh's repeated refusal to directly answer questions about his views on Roe v. Wade. Many women's-health advocates worry that Kavanaugh will be detrimental to abortion rights, and many people have been arrested protesting the confirmation hearings.