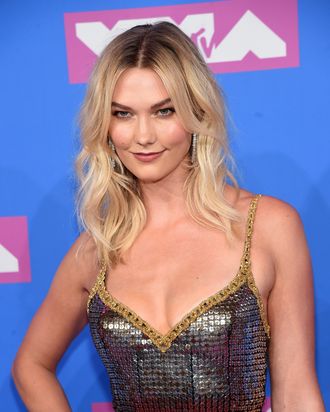 Karlie Kloss.
Photo: Jamie McCarthy/Getty Images
In an interview with Vogue for their October issue, Karlie Kloss shared details about her engagement to Josh Kushner for the first time since making the announcement. She vaguely addressed her future familial relationship with Jared Kushner and Ivanka Trump.
"At the end of the day, I've had to make decisions based on my own moral compass — forget what the public says, forget social media," she told Vogue. "I've chosen to be with the man I love despite the complications."
She also briefly discussed her and her fiancé's political beliefs, which seem to directly oppose that of the Trump administration.
"Josh and I share a lot of the same liberal values that guide our lives and the things we stand for," said Karlie. She shared that she and Josh, who met when Karlie was 19, have a supportive relationship.
"We've really grown together personally and professionally. Josh knows that I'm just a nerdy, curious human being. I think that's why he loves me. We have each other's back."