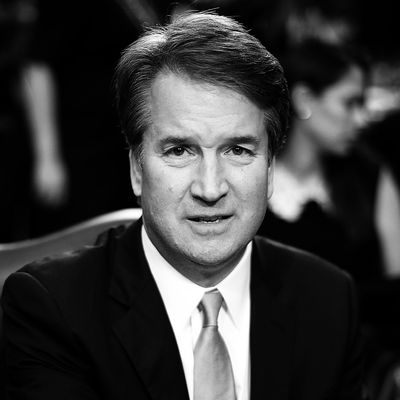 Brett Kavanaugh.
Photo: Chip Somodevilla/Getty Images
After Republican chairman of the Judiciary Committee Chuck Grassley announced that Christine Blasey Ford had until 10 a.m. on Friday to decide whether to testify against Supreme Court nominee Brett Kavanaugh on Monday, Ford told the Senate Judiciary Committee that she "would be prepared to testify next week," as long as senators remain conscious of her safety.
Ford, who recently accused Kavanaugh of sexually assaulting her in the 1980s, initially called on the FBI to conduct a full investigation before she would testify, but Republicans have made it clear that they will not comply with her requested timetable. In an email obtained by the New York Times, Ford's lawyer Debra Katz reiterated that Ford has a "strong preference" that "a full investigation" occur before she go in front of the the Senate Judiciary Committee, but also relayed that she would be willing to testify as long as she and senators agree on "terms that are fair and which ensure her safety."
However, Katz wrote in the email that a Monday hearing was "not possible," and that "the committee's insistence that it occur then is arbitrary in any event."
Since revealing herself to the Washington Post as the anonymous woman whose letter accusing Kavanaugh of sexual assault ended up in Senator Dianne Feinstein's mailbox, Ford has been inundated with death threats, which has compelled her and her two children to move out of their home. Earlier, she had explained to the Post why she had been apprehensive to come forward, saying, "Why suffer through the annihilation if it's not going to matter?"
Katz has requested that by later today, she and top Republican and Democratic aides on the committee set up a call to "discuss the conditions" under which Ford will testify.