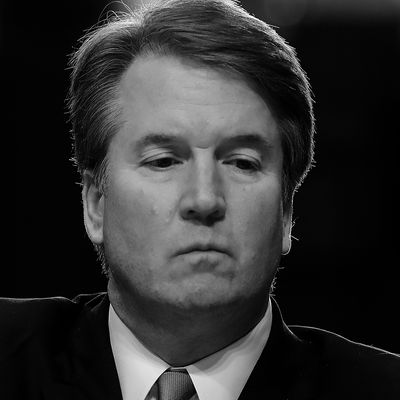 Brett Kavanaugh.
Photo: Drew Angerer/Getty Images
Last week, the New Yorker reported that an anonymous woman had accused Brett Kavanaugh of sexual assault in a letter that eventually ended up in Senator Dianne Feinstein's hands. In the letter, she reportedly described Kavanaugh holding her down at a party, trying to "force himself on her" and putting his hand over her mouth to muffle her screams. On Sunday, after journalists tried to contact her, the letter's author came forward: Christine Blasey Ford, a professor of clinical psychology and researcher at Palo Alto University. She says she wrote the letter with the intention that it would remain confidential, but after it was leaked and widely reported on, she agreed to speak to the Washington Post.
Ford wrote the letter to Dianne Feinstein in confidence in July, when it became clear that there was a strong chance Kavanaugh was going to be nominated for Supreme Court judge. In the interview with the Post, she described, in detail, what happened nearly three decades ago in suburban Maryland.
She said Kavanaugh and a friend, who she characterized as "stumbling drunk," ushered her into a bedroom at party. She said that then, Kavanaugh pushed her onto a bed, groping her and attempting unsuccessfully to pull off her clothing while he pinned her down. She says the friend stood by, watching, and that Kavanaugh covered her mouth when she tried to scream.
"I thought he might inadvertently kill me," Ford told the Post. "He was trying to attack me and remove my clothing."
Ford said that it wasn't until the friend, whom she named as Mark Judge, jumped on top of Kavanaugh and her that she was able to escape the room and leave the party. She didn't disclose the attack until 2012, when she was in therapy with her husband. The following year she sought individual therapy for the incident.
When the Washington Post contacted the White House about these allegations, they sent Kavanaugh's initial response, which he issued when the accusations first went public. "I categorically and unequivocally deny this allegation," he said. "I did not do this back in high school or at any time."
Ford told the Post she was hesitant to come forward with her allegations because she did not want to face the public attacks. On the advice of lawyer Deborah Katz, she took a polygraph test, which concluded that her account of the attack was truthful. By August, Ford had decided not to come forward. "Why suffer through the annihilation if it's not going to matter?" she told the Post.
When The Intercept reported that Feinstein had the letter, the ensuing media coverage circled closer and closer to Ford, causing her to fear that her identity would be revealed. She ultimately decided to come forward.
"These are all the ills that I was trying to avoid," she said. "Now I feel like my civic responsibility is outweighing my anguish and terror about retaliation."
Ford said she didn't think about the attack for years, and never spoke to Kavanaugh again. It wasn't until later that she realized the incident left a lasting impression on her. Not only was her academic and social life affected, but it was difficult to have healthy romantic relationships.
"I think it derailed me substantially for four or five years," she said. "I was very ill-equipped to forge those kinds of relationships."
On Sunday afternoon, Senators Doug Jones, Thom Tillis, and John Neely Kennedy went on television, arguing that the letter should have been released sooner. They also predicted it would not prevent the nomination process for Kavanaugh from continuing.
The Senate Judiciary Committee Republicans released a statement within hours of Ford's story being published. They called her allegations "uncorroborated" and said that Feinstein's decision to keep the letter from colleagues throughout the confirmation hearing was a questionable "tactic."
The New York Times reported that senators on both sides were "blindsided" by the report published by the Washington Post, because most lawmakers were expecting Ford to remain anonymous. Democratic senators are offering support to Ford and calling for at the very least, a delay in the confirmation process, while Republican senators are saying they want to push forward. Lindsey Graham released a statement saying he would gladly listen to anything Ford wanted to say, but that it needed to be done quickly, to stay on schedule.
A lawyer close to the White House told Politico that there was "no way" the nomination was going to be withdrawn. "If anything, it's the opposite. If somebody can be brought down by accusations like this, then you, me, every man certainly should be worried."