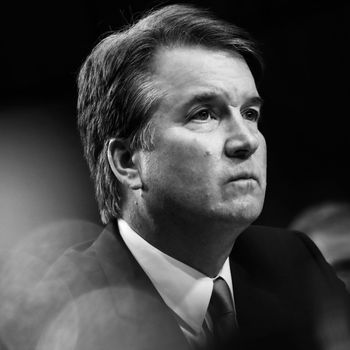 Brett Kavanaugh.
Photo: Drew Angerer/Getty Images
Supreme Court justice nominee Brett Kavanaugh and Christine Blasey Ford, the woman who accused him of sexual assault, are both reportedly willing to testify before the Senate Judiciary Committee about the allegations should they be asked.
Earlier this summer, Ford wrote an anonymous letter to her congresswoman alleging that Kavanaugh had sexually assaulted her at a high-school party in the early 1980s, when she was about 15. Per Ford's account, Kavanaugh — whom she described as "highly inebriated" — pinned her down, groped her, tried to remove her clothing, and put his hand over her mouth to muffle her screams. Last week, the letter became an object of intense media scrutiny after it was reported that Senator Dianne Feinstein had it in her possession but wouldn't release it; on Sunday, after being contacted by reporters, Ford came forward to the Washington Post as its author.
On Monday morning, Ford's lawyer Debra Katz appeared on CNN's New Day, where she was asked whether her client would testify in public to the Senate Judiciary committee, which will continue holding hearings to consider Kavanugh's Supreme Court confirmation this week. "The answer is yes," Katz said, adding that Ford has not yet been asked by lawmakers to testify.
Katz also said Ford considers Kavanaugh's actions an attempted rape: "She believes that but for his inebriation and his inability to take her clothes off, he would have raped her."
Kavanaugh has repeatedly denied the allegations, and doubled down in a statement on Monday. "I have never done anything like what the accuser describes — to her or to anyone," he wrote. He also added that he, too, would be willing to testify: "I am willing to talk to the Senate Judiciary Committee in any way the committee deems appropriate to refute this false allegation, from 36 years ago, and defend my integrity."
Also on Monday, Kellyanne Conway, Trump's counselor, said on Fox and Friends she had spoken to the president and Senator Lindsey Graham, a member of the Judiciary Committee, and that "this woman will be heard." Nevertheless, she then tweeted a link to Kavanaugh's statement, writing, "Judge Kavanaugh is willing to add to his dozens of hours of sworn testimony. He categorically denies the allegations and is ready to defend his honor and integrity."
Ford has repeatedly said that she wished to remain anonymous when she first came forward; the heavy media scrutiny of her letter, however, made it so this was no longer possible. The choice to remain private, Katz said, "was essentially taken away from her as the allegations were leaked. It resulted in a great deal of pressure from members of the media who knew who she was, who then started invading her privacy … She knew her allegations were going to be outed, and that, in fact, is what occurred. As a result, she decided to take control of this and tell this in her own voice."
The Judiciary Committee does not currently plan to postpone the vote on Kavanaugh's confirmation, but several members expressed doubt, urging the Senate to stall the hearings. One key GOP member, Senator Jeff Flake of Arizona, told Politico that he would not be "not comfortable voting yes" until he learns more about the allegations. As one of the 11 Republicans on the committee, which also has 10 Democrats, Flake could potentially tip the vote.
A delay could also pose a threat to Republicans, who hope to have Kavanaugh confirmed before the midterm elections, when their hold on the Senate may slip.