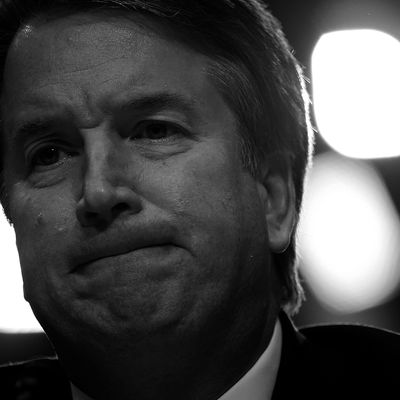 Brett Kavanaugh.
Photo: Alex Wong/Getty Images
On Monday night, Supreme Court nominee Brett Kavanaugh and his wife Ashley Kavanaugh went on Fox News to address, for the first time on television, the allegations that Christine Blasey Ford and Deborah Ramirez made against him. The interview consisted mostly of tepid, repetitive sound bites from Kavanaugh: he wants a "fair process," he wants to be listened to, he totally denies all allegations of sexual assault and misconduct lodged against him.
But when Martha MacCallum asks about the Michael Avenatti tweets that suggested Kavanaugh was involved with a gang rape, he called the allegations "totally false and outrageous." To prove his point, he shared that he was a virgin all through high school, and for many years beyond that.
"When I was in high school, and I went to an all-boys Catholic high school, I was focused on academics and athletics, going to church at Little Flower," Kavanaugh said, outlining that he was focused on "friendship" during high school. "I did not have sexual intercourse, or anything close to sexual intercourse, in high school or for many years thereafter."
While that admission would contradict a rape allegation, the allegations made by both Ramirez and Ford are not made any less credible by Kavanaugh's stated sexual history. It was a detail that did not go unnoticed.
Other than Kavanaugh divulging his sexual history, little new information was revealed during his televised interview. Both he and his wife reiterated previous statements denying the allegations, with Kavanaugh often referencing the women who have signed statements supporting him. He also revealed that President Trump called him and reaffirmed his support for his nominee.