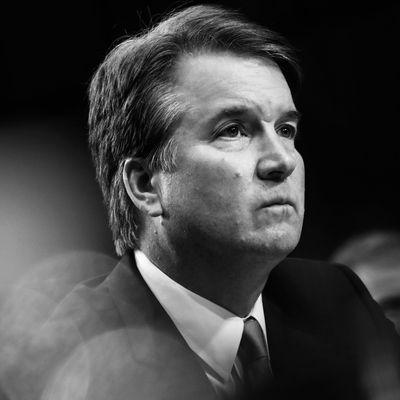 Brett Kavanaugh.
Photo: Drew Angerer/Getty Images
Christine Blasey Ford was hesitant to come forward with allegations of sexual assault against Supreme Court nominee Brett Kavanaugh because she feared facing public attacks. "Why suffer through the annihilation if it's not going to matter?" she said in an interview with the Washington Post.
Her fears were not unfounded. Within hours of revealing her identity, personal attacks were launched against Ford. Some senators expressed their doubts about the truthfulness of Ford's statements. Senator Orrin Hatch asserted that Ford was "mixed up."
Now, the New York Times is reporting that Ford is being sent death threats. An unnamed source told the Times that following the threats, Ford and her two teenaged children moved out of their home. Ford also hired private security. One of the messages reportedly said that Ford had "6 months to live, you disgusting slime."
"Ninety percent of people think she's a hero and are extremely supportive of her, and 10 percent want her to die immediately," the anonymous source told the Times. "Her worst fears are coming true."
A public hearing about the allegations was scheduled for Monday, where both Kavanaugh and Ford said they would testify — though Ford has not yet responded to the Senate's request to appear.