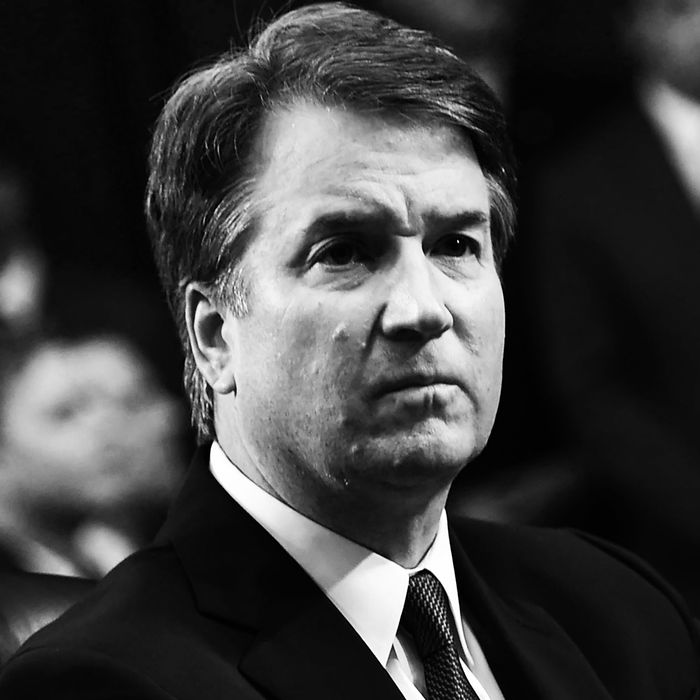 Brett Kavanaugh.
Photo: BRENDAN SMIALOWSKI/AFP/Getty Images
On Tuesday, the Senate confirmation hearings over President Donald Trump's Supreme Court nominee — Brett Kavanaugh — erupted into immediate chaos. Democratic senators called for the hearing to be adjourned; protesters yelled and cheered from the back of the room, as many of them were escorted out by police (all within the first 30 minutes). Senators also spoke over each other and accused one another of subterfuge and "mob rule."
If the first hour of the hearing is any indication, the next four days may also be full of controversy. Here, a list of the most intense moments from the first day of the hearing. We are covering day two of the Kavanaugh confirmation hearings here.
Democratic senators immediately called on the hearing to be adjourned.
As soon as the hearing started, Democratic senators — including Kamala Harris, Amy Klobuchar, and Richard Blumenthal — interrupted Senator Chuck Grassley's opening remarks to call on the hearing to be adjourned or moved. The Democrats argued that they had just been given a late-night document dump the previous evening of more than 42,000 pages relating to Kavanaugh, and that they should have time to review the documents. Harris told the committee, "We have not been given the opportunity to have a meaningful hearing on the nominee." Senator Cory Booker also asked why there was such a rush to confirm Kavanaugh: "What are we hiding by not letting those documents come out?"
Protesters continually interrupted senators on the committee, and were promptly escorted out by police.
Within the first few minutes of the hearing, protesters sitting in the back of the room were escorted out as they cheered and yelled in support of adjourning the hearing. One protester, who was led out by police, yelled, "Cancel Brett Kavanaugh. Adjourn the hearing," as another (who was also escorted out) shouted, "I need you to be a hero. Be a hero. Cancel this hearing." The protests were constant.
In fact, so many people were escorted out that the room contained an obvious number of empty seats within the first half an hour.
Republican senator Thom Tillis asked Democrats if they had plotted to disrupt the hearing, referencing an NBC report.
After NBC tweeted that Democrats had plotted a protest strategy over the weekend, Republican senator Thom Tillis asked his Democratic colleagues if they had participated in the strategy. "There was a phone conference yesterday," Senator Dick Durbin of Illinois said. "One of the discussions yesterday as this whole question of whether this committee is going to hear a nominee to a lifetime appointment of the highest court of the land without access of his public record" as staff secretary to President George W. Bush, Durbin said.
Senator Kamala Harris 'objected' to the hearing and called for more transparency.
Senator Harris gave a powerful statement as she voiced her objection to the hearing, saying in part, "This is a hearing about who will sit in a house that symbolizes our system of justice in this country. And some of the most important principles behind our system of justice is that we have due process and we have transparency. That is why we have public courtrooms, that is why we have requirements that there will be transparency, that both parties will be given all relevant information."
Senator Dianne Feinstein brought up what happened to women before Roe. v. Wade — and the fact that Trump said he would nominate an "anti-choice" justice.
Senator Feinstein talked about the time before Roe v. Wade, saying, "I saw what happened to young women who became pregnant" and that she saw women get sentenced to federal prison for getting an abortion. "The president that nominated you has said, 'I will nominate someone who is anti-choice and pro-gun.' We believe what he said. We cannot find the documents that absolve from that conclusion," she said. "What women have won through Roe and a host of privacy cases, to be able to control their own reproductive systems, to have basic privacy rights, is really important to this side of the aisle."
Senators Chuck Grassley and Mike Lee invoked the so-called "Ginsburg rule."
As predicted, both Senators Chuck Grassley and Mike Lee brought up the so-called "Ginsburg rule," a claim that Ruth Bader Ginsburg refused to discuss how she'd rule on future cases during her confirmation hearings, as a way to say that Kavanaugh doesn't have to talk about his beliefs on Roe v. Wade or abortion. However, a study from NPR shows that Ginsburg actually did discuss abortion and established law at length during her hearing.
Senator Sheldon Whitehouse brought up Kavanaugh's views on presidential immunity.
Rhode Island senator Sheldon Whitehouse brought up Kavanaugh's views on executive (presidential) immunity from the law. "You come before us nominated by a president named in open court as directing criminal activity and a subject of ongoing criminal investigation," Whitehouse said. "…If you are in that seat because the White House has big expectations that you will protect the president from the due process of law, that should give every senator pause."
Senator Patrick Leahy called the process "Orwellian."
Vermont senator Patrick Leahy said that the hearing has started out with "gapping holes" that span multiple holes throughout Kavanaugh's career, including his beliefs on certain topics. "Any claim that this has been a thorough, transparent process is downright Orwellian," he said. 'This is the most incomplete, most partisan, least transparent vetting for any Supreme Court nominee I have ever seen."
Senator Ted Cruz claimed the Obama administration made nuns pay for abortion-inducing drugs.
Texas senator Ted Cruz brought up religious liberty and the Obamacare birth-control mandate. Referencing a lawsuit filed by the Little Sisters of the Poor in 2013, Cruz said: "Our Democratic colleagues want justices who will rubber-stamp efforts like the Obama administration's efforts litigating against the Little Sisters of the Pool. Litigating against Catholic nuns, trying to force them to pay for abortion-inducing drugs." However, in that case, an appeals court found that the Obama administration came up with sufficient accommodations for organizations that oppose birth control (by allowing them to fill out a form that would have a third-party cover the costs).
Kavanaugh refused to shake the hand of a Parkland shooting victim's father.
Fred Guttenberg, whose daughter Jamie was killed in the massacre at Stoneman Douglas High School in Parkland, Florida, attended the hearing. Guttenberg tweeted that, during the recess after the Tuesday morning session, he approached Kavanaugh. "Put out my hand to introduce myself as Jaime Guttenberg's dad. He pulled his hand back, turned his back to me and walked away. I guess he did not want to deal with the reality of gun violence," Guttenberg wrote.
The moment was also captured on video:
Senator Ben Sasse referred to "screaming protesters saying women are going to die" as "hysteria."
During his remarks, Senator Ben Sasse spoke of the "deranged comments" criticizing Kavanaugh, saying that they show that the Supreme Court confirmation process is broken. Then, he continued: "People are going to pretend Americans have no historical memory and supposedly there haven't been screaming protesters saying women are going to die at every hearing for decades." He then referred to such comments and protests as "hysteria that has nothing to do with" Kavanaugh. "The hysteria around Supreme Court confirmation hearings is coming from the fact that we have a fundamental misunderstanding of the role in American life now," he said.
Both Senators Cory Booker and Mazie Horono said they believe Trump nominated Kavanaugh because he believes in presidential immunity.
During her statement, Senator Mazie Hirono said, "We are here to decide whether or not to rubber stamp Donald trump's choice of a a pre-selected political ideologue, nominated precisely because he believes a sitting president should be shielded from civil lawsuits, criminal investigation, & prosecution, no matter the facts."
Meanwhile, during his time to speak, Senator Cory Booker brought up the fact that Kavanaugh wasn't on Trump's shortlist for the position until after the Mueller position began. "He got onto that list after this special investigation got going," Booker said. "In other words, after the president was in jeopardy."
This post has been updated.